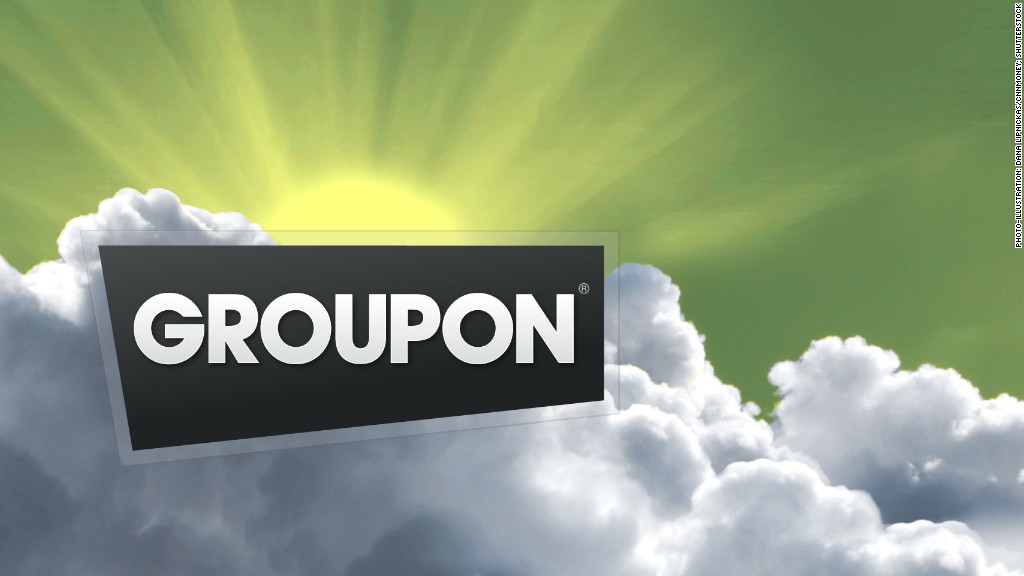 Groupon stock for 50% off! Coupon for business classes!
Groupon's dismal past few quarters inspired tons of overdone jokes from naysayers. But now the joke's on them, as strong quarterly sales sent the company's stock up 22% Thursday.
It's a great one-day gain for Groupon (GRPN). But experts aren't ready to call it a turnaround story just yet.
"I give them credit for taking a sinking ship and getting it to float," said Edward Woo, analyst at Ascendiant Capital. "But we don't have enough data points to say it's full steam ahead for Groupon."
Last quarter, Groupon posted better-than-expected sales and strong growth in North America. That's not a reason to uncork the champagne for most companies, but it's a huge departure from the recent sharp earnings misses that had brought the value of Groupon's stock down by 90% at one point last year.
As Woo put it: "The picture is a bit brighter now, but that's relative."
Other Wall Street analysts echoed that cautious optimism. A few raised their price targets on Groupon slightly, but most kept their ratings at "sell" or "neutral." That widespread sentiment reflects the fact that Groupon's business is still a mixed bag.
Here's what's better:
Reinvention. Groupon got a lot of flak for staking its future on the unproven daily deals business model, and the space has indeed proved challenging for the company and its now-mostly-defunct rivals. But Groupon has worked to reinvent itself with ventures into online retail (Groupon Goods) and processing credit card payments ("Groupon Payments").
"It's definitely a good choice to pick something other than daily deals, because that market reached saturation," Woo said. "They're still a daily deals company -- that makes up the majority of sales -- but I think by the fourth quarter they'll be headed into becoming an online retailer."
Strong performance in North America, boosted by mobile. Analysts and investors pay particular attention to Groupon's performance in North America. Last quarter, those customers bought 30% more in goods and services compared with the prior year.
Plus, nearly 50% of those North American transactions were completed on mobile devices in June, up from 30% during the same month last year. Other companies like Facebook (FB) took a while to start monetizing the rapidly growing mobile market, but that hasn't been a problem for Groupon.
New CEO. Officially, Groupon was CEO-less since the February ouster of founder Andrew Mason. His co-founder Eric Lefkofsky, who had been chairman, had been running the business on an interim basis before officially being named Groupon's new CEO on Wednesday.
Billionaire entrepreneur Lefkofsky clearly possesses a wealth of business experience when compared with Mason, and analysts seem relieved that a grown-up is finally in charge.
JPMorgan analyst Doug Anmuth noted "improving trends under his leadership over the last two quarters."
Stock buyback. Groupon also announced Wednesday that it will repurchase $300 million of its own shares over the next two years. That'll get just about any stock roaring again.
Related story: Groupon soars 27% as sales jump
But there are still concerns about Groupon:
International. The international market has been a problem for Groupon since its inception, and the company has recently posted steep declines abroad. Groupon's sales in "Rest of World" -- its market outside of North America, Europe, the Middle East and Africa -- fell a staggering 26% over the year.
Investing in overseas marketing, offices and staff is extremely expensive, and that expansion hasn't paid off for Groupon outside of Europe.
Tough competition in Groupon's new markets. Daily deals may not necessarily be a lucrative field, but at least Groupon lorded over that market.
The company's reinvention plan, however, involves plunging into spaces already chocked with behemoth competitors. Groupon Goods, meet Amazon (AMZN), eBay (EBAY), Overstock (OSTK), and their dozens of friends. Groupon Payments battles with not only leader PayPal, but also startups like Square, financial services companies including VeriSign (VRSN), and even Google's (GOOG) Wallet service.
"Overall, while some things have fundamentally changed [at Groupon], the jury is still out in my view," aid Woo, the Ascendiant analyst. "I'm not ready to change my view until they show a long string of stronger data."