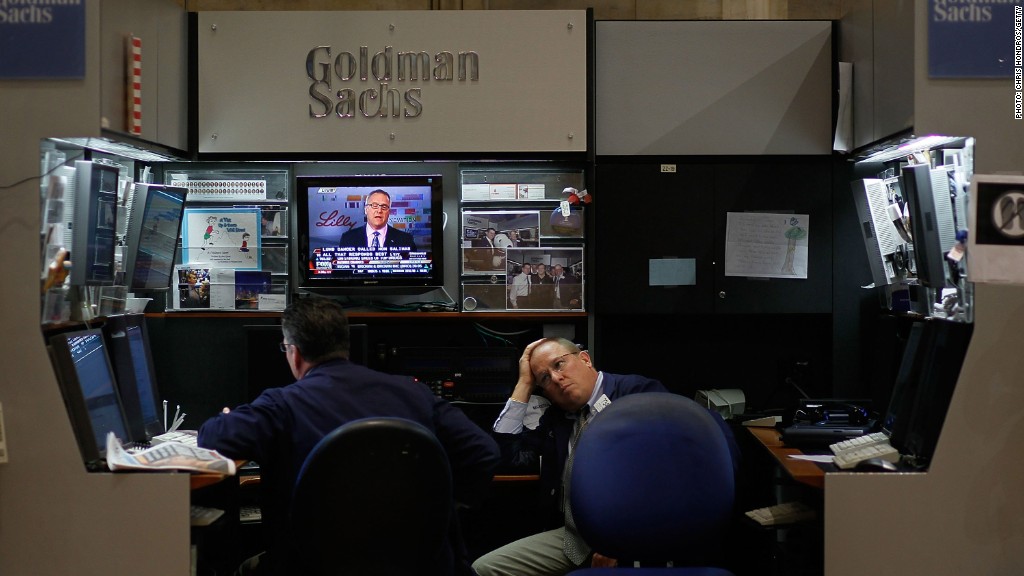 Goldman Sachs became the latest victim of a trading glitch but the impact, in terms of dollars lost, is still being calculated.
Goldman Sachs (GS) said a technical glitch in an internal computer system caused the firm to issue incorrect equity options orders to various options exchanges Tuesday morning.
The NYSE Euronext's (NYX) options exchange issued a notice Tuesday, alerting traders that erroneous trades had taken place. It's unclear how many trades were affected.
"The exchanges are working to resolve the issue," said Goldman spokesman David Wells. "Neither the risk nor the potential loss is material to the financial condition of the firm."
He would not say how many trades were impacted, nor would he provide an estimate of the losses.
The NYSE Euronext's and Nasdaq OMX's (NDAQ) options markets said they were still sifting through the damage. The Chicago Board Options Exchange (CBOE) was unavailable for immediate comment.
This is the latest snafu to plague markets in recent years, as trading becomes more dominated by computers and high speed traders.
Related: Mini-crashes happen a dozen times a day
The notorious "flash crash" in May 2010, which caused the Dow Jones industrial average to plunge nearly 1,000 points, briefly erased $1 trillion in market value and prompted rumors that a "fat fingered" Citibank (C) trader had accidentally typed "billion" instead of "million" on the number of trades.
That crash was actually triggered by an unnamed investor using a computer algorithm, which sold a large number of futures contracts in a short period of time.
"When you're playing with algorithm software, it's very important, obviously, to dot your "i"s and cross your "t"s before you let those algos go," said Dennis Dick of Premarketinfo.com, a trader and market structure consultant with Bright Trading. "A lot of these are probably key stroke errors. One mistake can happen very quickly and be very costly. A computer can send thousands per second."
Related: Zuckerberg's next big idea for Facebook
While the "flash crash" of 2010 was the most disruptive, smaller trading glitches made their mark in 2012. The botched IPOs of the BATS exchange and Facebook (FB) highlighted the frailty of markets in a high speed trading world.
Knight Capital, a market middleman that buys and sells stocks, also experienced a high profile trading glitch last August. The firm lost $440 million after a software snafu affected trading activity in nearly 150 NYSE-listed stocks. Knight Capital was eventually bailed out by investors.