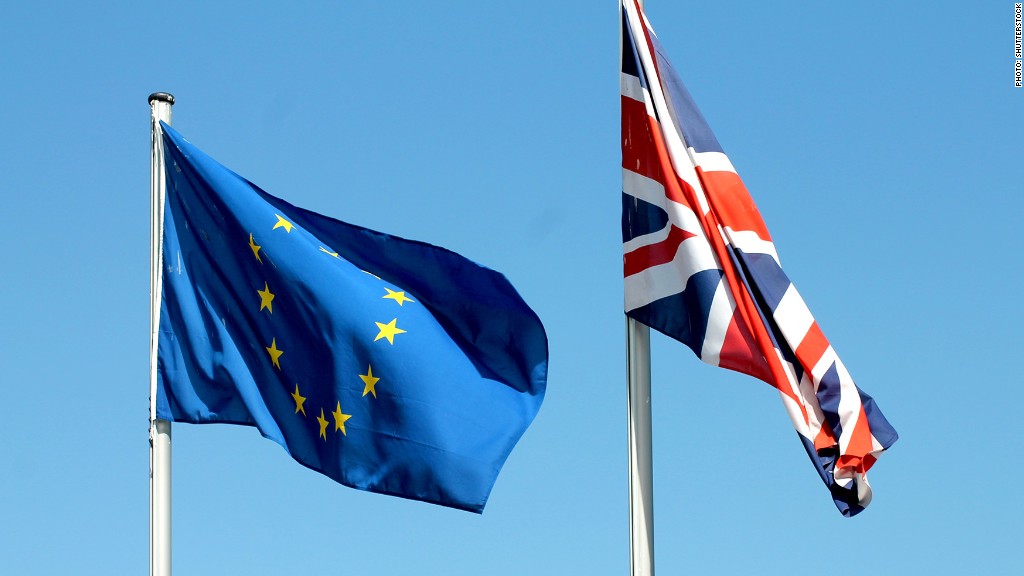 Should Britain quit the European Union? U.K. businesses overwhelmingly say "absolutely not."
Even as leading British politicians consider breaking ties with the EU, eight of 10 businesses say they want the country to remain, according to a new survey by the preeminent U.K. business lobby group, CBI.
Business leaders fear an EU exit would hurt investment and access to other markets, leading the country to lose its competitive edge.
British Prime Minister David Cameron floated the idea of a referendum in 2017 that would allow Brits to vote on leaving the EU. The idea of exiting the EU has been gaining political momentum ever since.
The majority of British companies said EU membership has allowed them to more easily buy and sell products both inside and outside EU markets, as well as recruit staff from across the region.
Related: Bank of England mulls switch to plastic banknotes
Earlier this week, a different report said an exit from the EU, or tighter immigration controls, would hurt the U.K.'s economic growth and worsen the country's public finances.
"Tighter immigration controls will result in a loss of 2% from GDP by 2050 -- £60 billion in real terms," stated the report, prepared by the Centre for Economics and Business Research and the recruitment firm Harvey Nash.