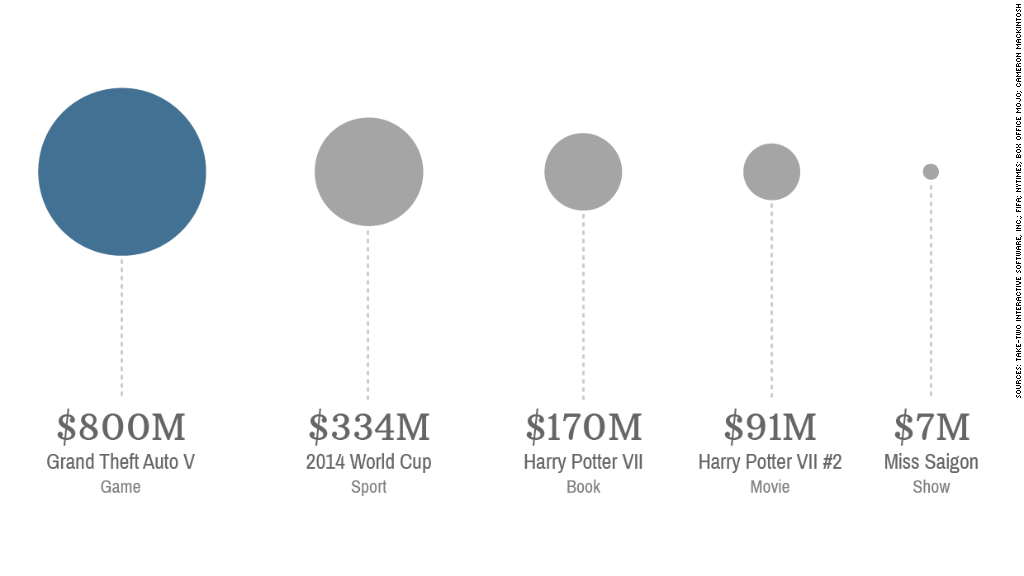 The stock price for Take-Two Interactive Software Video, maker of the wildly popular "Grand Theft Auto" video game, is burning rubber.
Take-Two (TTWO) launched the latest edition of its Grand Theft Auto series on Tuesday, and within one day the frenzied sales surpassed $800 million worldwide, breaking a company record, Take-Two said. Take-Two's stock rose 1.3% on Thursday following its sales announcement, and has surged more than 60% this year.
The company managed to surpass its most prominent game rival, Activision Blizzard's (ATVI) "Call of Duty" game series. "Call of Duty: Black Ops II" raked in $500 million within 24 hours after it was released on Nov. 16, 2012, according to Activision.
Related: Record GTA sales boost Take-Two
"Grand Theft Auto" sales easily topped weekend box-office tallies for the biggest blockbusters, in the latest example of the video game industry's clout compared to other modes of entertainment.
"I believe this is bigger than any blockbuster," said Alan Lewis, vice president of corporate affairs and public relations for Take-Two. "This is the biggest entertainment day launch in the history of any entertainment medium."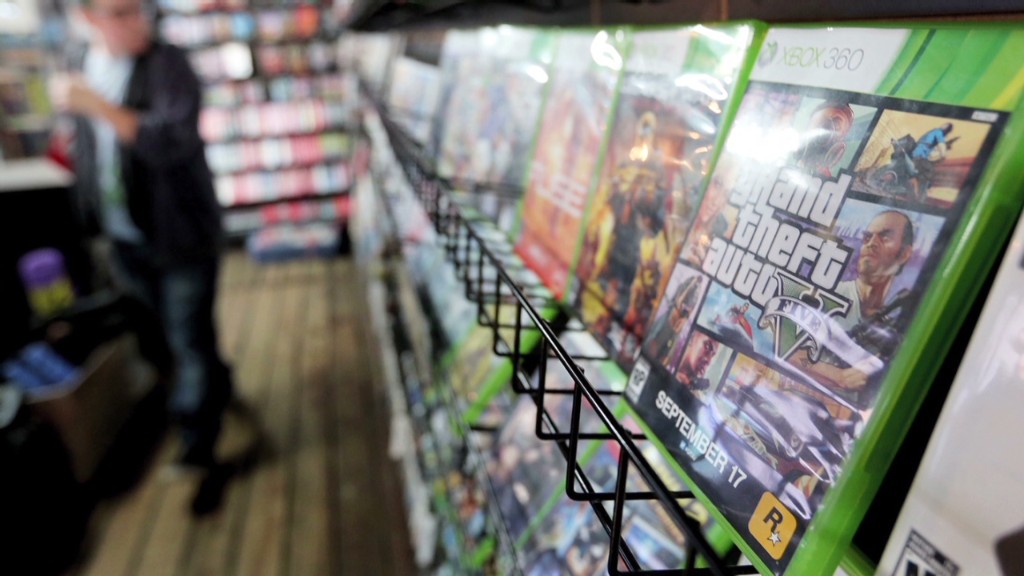 The top-selling blockbuster movie was "Harry Potter and the Deathly Hollows: Part 2," which made $483 million worldwide during its opening weekend in 2011, according to www.boxofficemojo.com.
The Grand Theft Auto series of interactive games has been in existence for 16 years. The games are well known for their graphics, violence and f-bomb dropping gangsters, elements that have helped to fuel their popularity as well as controversy. The game is rated Mature 17+ for "intense violence, blood and gore, nudity, mature humor, strong language, strong sexual content and use of drugs and alcohol."
Related: Grand Theft Auto V launch juggles profit and controversy
The video game industry has been surging this year, with Activision climbing 60% year-to-date and Electronic Arts (EA), producer of sports-themed games, including the recently-released NHL 14, surging 86%.
Beneficiaries of Grand Theft Auto's success include Sony (SNE), since the game is played on its PlayStation 3 computer entertainment system, and Microsoft (MSFT), maker of the Xbox 360.
Sony has started pre-orders for the much-hyped evolution of its video game product, the upcoming PlayStation 4, due for release in November.