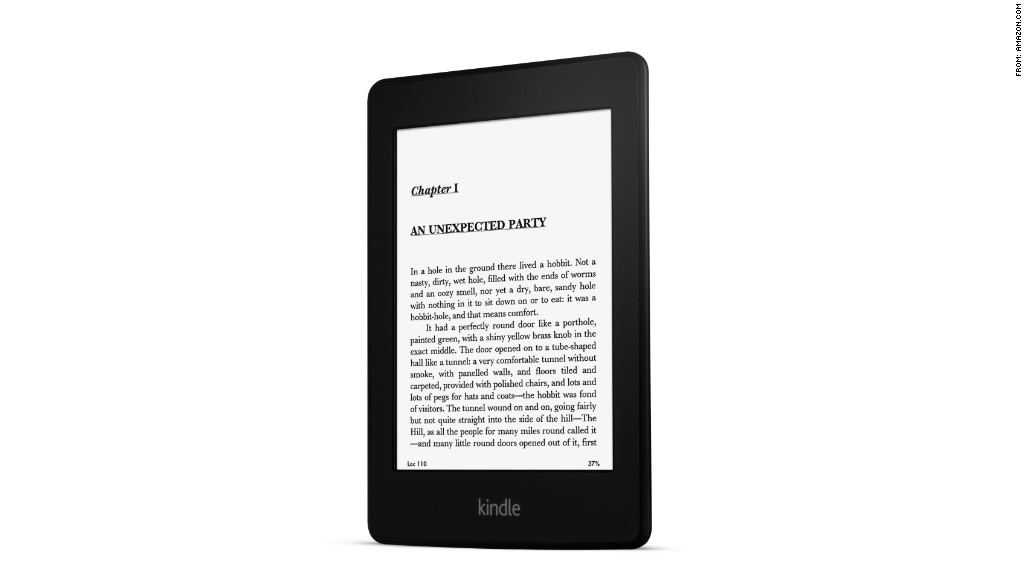 The Amazon Kindle Paperwhite is the best e-reader ever made, end of story.
Once upon a time, there was an argument to be made for the Barnes & Noble (BKS) Nook e-reader, but with the introduction of the Kindle Paperwhite last fall, that battle turned from competitive to no contest.
After producing a few Kindle e-readers of questionable quality, the Paperwhite is the best Kindle that Amazon has designed to date. That makes it CNNMoney's Best in Tech for the e-reader category.
The Kindle Paperwhite finds a perfect sweet spot of size and weight without becoming too difficult to handle or feeling too cheap. The matte rubber back ensures the Paperwhite stays secure in your hand, and it's thin and slim enough to fit in a back or coat pocket.
The display is the biggest selling point of the Paperwhite, and unsurprisingly, it doesn't disappoint. The six-inch display has a nice, sharp contrast, quick refreshes on page turns, and uses an LED front-lighting technology that doesn't leave the screen looking patchy while reading in low light. The touch panel is the most responsive and functional to be featured on an e-reader yet, which is important for those who like to highlight passages, define words, and shop for books using the Amazon store. And while the battery might not last the eight weeks that Amazon (AMZN) claims, it will last most people several weeks before having to recharge.
Related story: Nexus 7 is the best Android tablet money can buy
And then there's the matter of library. Not only is the Kindle e-book library as large and varied as any other out there, but Amazon has done well to develop its own Kindle Singles publishing arm for writers who want to release smaller works -- short stories, serialized fiction, magazine-style non-fiction, etc. All of these works are exclusive to the Kindle platform and come from some of today's best-known writers.
Amazon Prime subscribers also have access to a free library of e-books called the Kindle Lending Library, and though most of the books are free for a reason, there are a few quality selections to be found.
Ultimately there's no reason not to buy an Amazon e-reader right now. It provides the best hardware and the best ecosystem. While Amazon does offer a $70 Kindle with no touchscreen, it has a considerably smaller battery and no screen light (even if you don't read in the dark, the light comes in handy even when your surroundings are dim). If you don't mind spending a little extra, the benefits of the Paperwhite are very real.