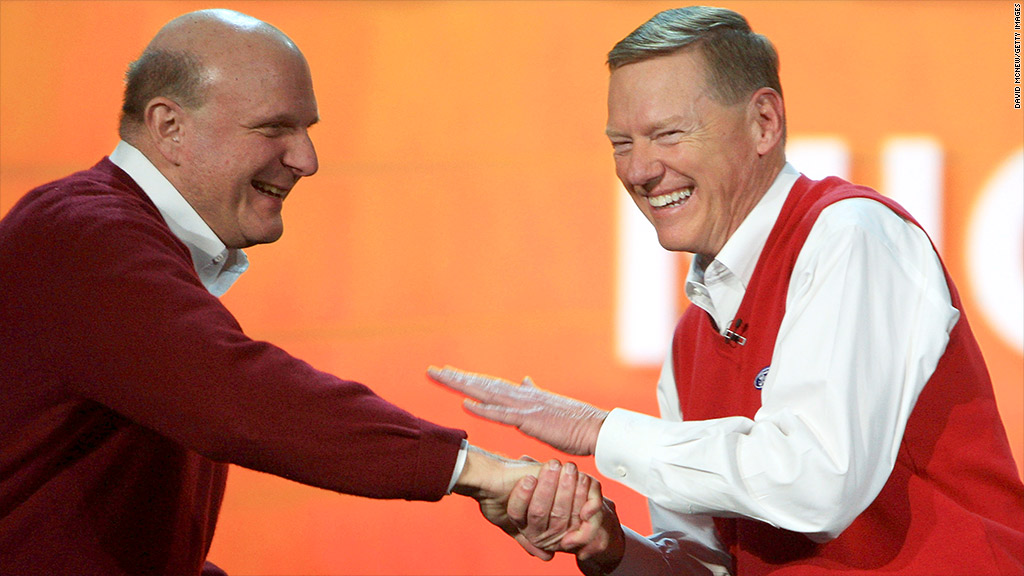 Alan Mulally might not be the next Microsoft CEO after all.
Shares of Microsoft (MSFT) fell 4% on Thursday after Edsel Ford II, the great-grandson of founder Henry Ford and a company board member, told Bloomberg that Mulally will stay on as CEO through next year.
Ford (F) and Mulally have said as much before.
"This is completely consistent with what we've been publicly saying for the past 13 months," said Jay Cooney, a Ford spokesman. "Alan Mulally's plan is to stay on through the end of 2014."
Related: See the new Ford Mustang
Mulally has been widely rumored to be a candidate to replace Microsoft CEO Steve Ballmer, who had announced in August that he would retire from the company by the summer of 2014. If Mulally indeed stays on through the end of next year, that might preclude him from becoming the next Microsoft CEO.
The Ford CEO is a close friend of Ballmer's and consulted with Microsoft on the company's latest strategic restructuring. Ford has also partnered with Microsoft, putting the software giant's "Sync" telematics software in its cars.
Though Ford and Microsoft are not exactly similar companies, Mulally is widely believed to be a management genius, credited with turning around both Boeing (BA) and Ford.
Related: Ford Mustang goes global
Other candidates to replace Ballmer include Satya Nadella, Microsoft's server and tools chief; Tony Bates, who ran Skype and joined Microsoft after it purchased Skype in 2011; and Stephen Elop, Nokia's (NOK) former CEO.
Elop used to work for Microsoft before leaving to join Nokia. But he's back in the Microsoft family now that Microsoft has acquired the mobile device business of Nokia.