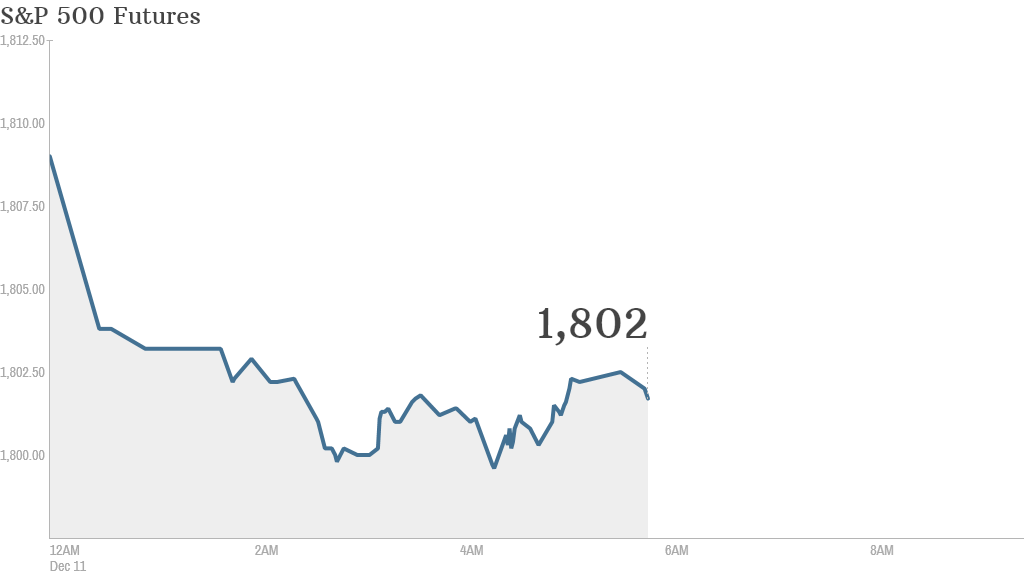 Stocks could take another knock Wednesday as a new U.S. budget deal raises the chances that the Federal Reserve might begin scaling back its support for the economy.
U.S. stock futures were weaker before the open, with the S&P 500 contract down 0.3%.
Congressional negotiators reached a bipartisan budget compromise on Tuesday that would prevent another government shutdown, if approved by the House and Senate. The deal would set spending levels, reduce the deficit and relieve some of the arbitrary, forced spending cuts.
The reduced risk of a damaging shutdown would give support to those arguing for the Fed to begin trimming its $85-billion a month bond purchases as early as next week.
"They could well be helped in this decision by last night's announcement... that a new budget deal could well be unveiled in the coming days," noted Michael Hewson, chief market analyst at CMC Markets UK.
"It certainly does appear that a window of opportunity could be opening up for the Fed to act next week without a sharp market reaction, the only question remaining as to whether they will avail themselves of it."
Related: Fear & Greed Index
U.S. stocks fell Tuesday.
Shares of Mastercard (MA) rose 4% in premarket trading after the company reported it would increase its quarterly cash dividend to investors by 83%, pushing it to $1.10 per share.
Smith & Wesson (SWHC) shares rose in after-hours trading after the gun maker reported quarterly earnings that beat expectations.
European markets were mixed, with only France's CAC 40 managing to push higher.
Asian markets ended weaker, with Hong Kong's Hang Seng Index dropping 1.7% and China's Shanghai Composite falling 1.5%, as heavy pollution blanketed the region. Tokyo's benchmark Nikkei 225 closed 0.6% lower and Australia's ASX All Ordinaries finished the day down 0.7%.
General Motors (GM) said Wednesday it was ending production of its iconic Holden model in Australia, casting doubt on the future of the country's struggling auto industry.