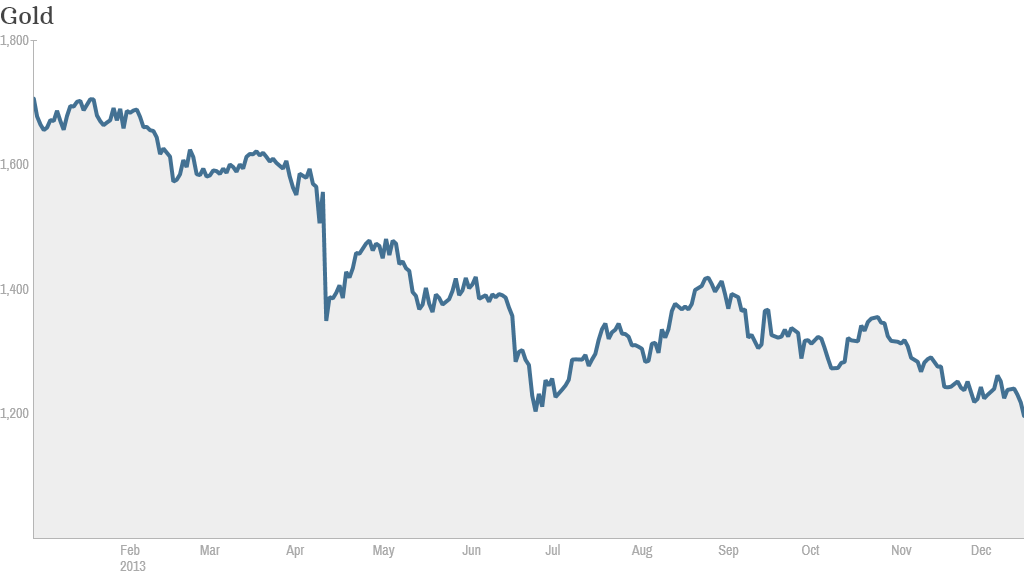 Gold prices fell below $1,200 an ounce Thursday and it hit their lowest levels since 2010.
Gold has tumbled nearly 30% in 2014. That's the biggest drop since 1981, said Kevin DeMeritt, president of Lear Capital, a precious metals firm based in Los Angeles. It's also the first year-over-year decline in gold prices since 2000, according to FactSet.
Investors have been selling gold futures and gold-backed ETFs this year as stocks have soared to record highs. Prices for physical gold, including bars and coins, have fared better thanks to demand from investors in China.
Related: China becomes world's top gold buyer
The rout follows a long-running bull market in gold. Even after this year's losses, gold is still up nearly 350% since 2001, when it traded below $300 an ounce.
Gold hit a nominal (i.e. not adjusted for inflation) all-time high near $1,900 an ounce in 2011.
The latest slide comes one day after the Federal Reserve announced plans to cut back on, or taper, its bond buying program.
While it will be buying fewer bonds, the Fed also stressed that short-term interest rates will remain exceptionally low even after the unemployment rate falls to 6.5%. Investors took that as a sign the Fed will continue to flood the market with liquidity for years to come.
Related: Gold miner Newmont is one of the worst performers in the Fortune 500
The policy changes also suggest the Fed is becoming increasingly concerned about the threat of deflation, said Ashraf Laidi, global strategist at City Index in London.
Inflation has been subdued all year and remains well below the Fed's target level of 2%. Consumer prices, excluding food and energy, rose only 0.2% in November from October, according to government data.
Gold is seen as a hedge against inflation since precious metals tend to hold value better than assets such as stocks and bonds. With no sign of inflation on the horizon, investors have little reason to own gold.
Laidi said gold prices could fall to $1,100 an ounce in the near term on worries about deflation.
Related: Bitcoin prices rival gold
But some analysts say this year's sell-off has been overdone and that gold could bounce back in 2014.
DeMeritt said gold is currently trading at "production value," which is roughly what it costs miners to locate and unearth the metal. That suggests gold has "over corrected" and could benefit next year as investors look for undervalued assets.
His target price for an ounce of gold in 2014 is between $1,375 and $1,400.