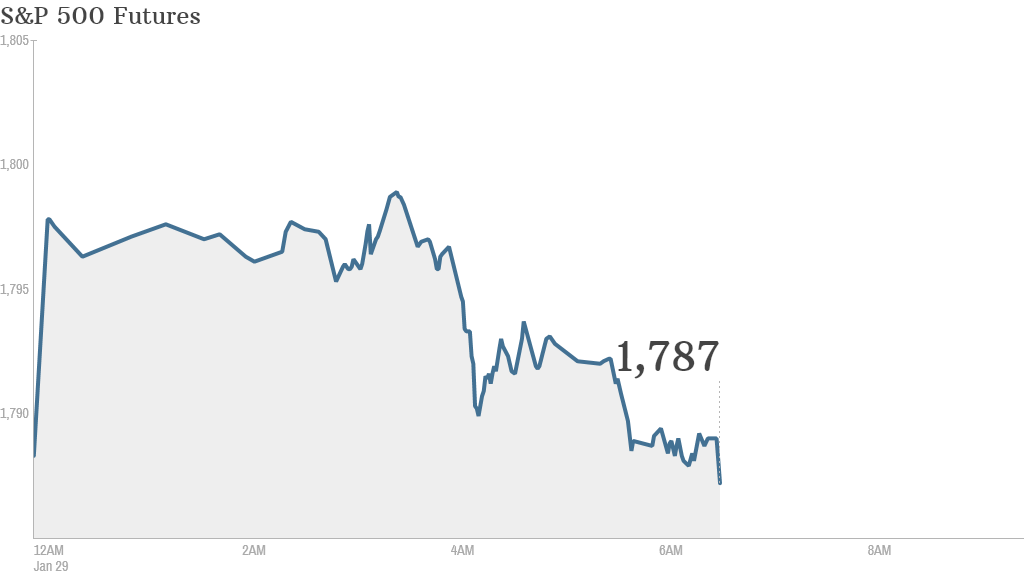 U.S. stocks were poised for a sharp fall Wednesday as investors reacted to disappointing earnings and worries about emerging markets.
Ahead of the opening bell, Dow futures were down more than 150 points. S&P 500 and Nasdaq futures were also down sharply.
Investors initially cheered the decision from Turkey's central bank to increase rates following a sweeping sell-off in emerging markets. But the optimism quickly faded.
The Turkish lira, as well as other emerging market currencies like Argentina's peso and India's rupee, have slid in recent months amid expectations that the Federal Reserve will continue to reduce the pace of its monetary stimulus, which has supported the flow of cash into developing economies.
Central banks in India and South Africa also raised rates.
Investors turned their attention to the Federal Reserve may announce further cuts to its stimulus.
Related: Fear & Greed Index still fearful
The Fed will announce its latest policy moves at 2 p.m. ET. It is widely expected to announce a further pull-back in its bond-buying program, which has helped stimulate growth.
European markets trimmed earlier gains but were still in positive territory, while Asian markets closed with broad-based gains.
Earnings will also be top-of-mind for investors Wednesday.
Dow Chemical (DOW)reported better-than-expected earnings and sales, raised its dividend 15% and boosted its share buyback program to $4.5 billion.
Boeing (BA) and Jetblue (JBLU) are also set to report quarterly results before the opening bell. Facebook (FB) is up in the afternon.
Yahoo (YHOO) shares sank following weak quarterly earnings and sales results.
Shares of Electronic Arts (EA) were higher as investors shrugged off a weak outlook to focus on the earnings and revenue beat.
AT&T (T) was in the red after the telecom firm reported earnings that beat forecast, while issuing an underwhelming outlook.