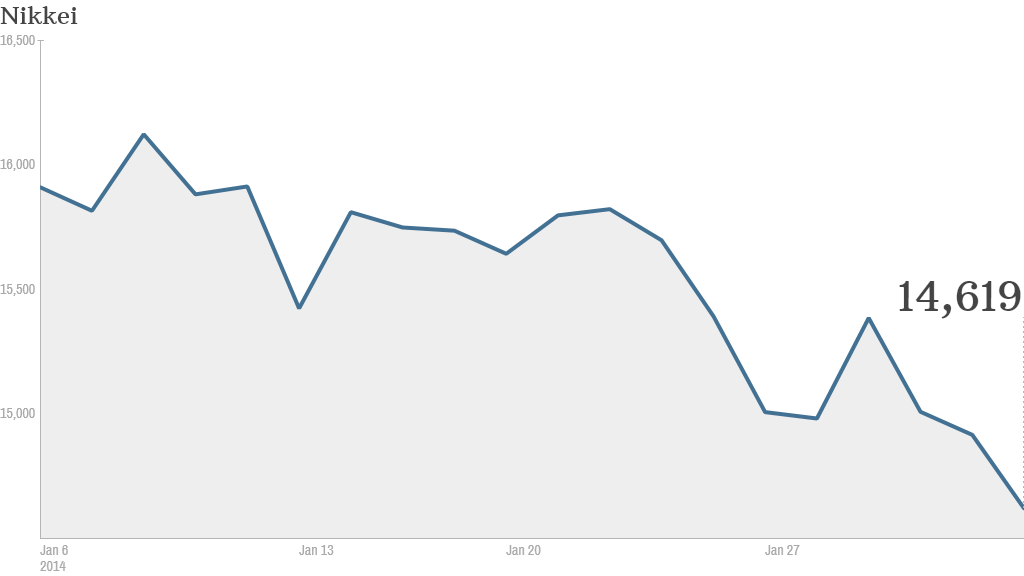 What goes up must come down: Shares in Tokyo fell almost 2% on Monday, continuing to erase last year's runaway gains.
The benchmark Nikkei has tumbled 10.3% so far this year. That means the index is now undergoing a correction, after posting a whopping 57% gain in 2013 -- its biggest annual rise in over 40 years.
Related story: Can stocks shake off January jitters?
Market sentiment has become shaky as investors pull out of emerging markets now that the Fed has started to scale back its bond buying program. That has boosted the yen, as some investors look to relocate their money in traditional safe havens.
The currency has gained more than 3% against the dollar since hitting a 5-year low of 105.4 last month. That's bad news for Japanese shares as it makes it more challenging for exporters to sell goods.
On top of that, emerging markets are facing a grab bag of political risks. Over the weekend, ongoing political protests stalled elections in Thailand.
Related: Worst still to come for Fragile Five
Growing worries of an economic slowdown in China -- exacerbated by weakness in the manufacturing sector -- have added to investor concerns.
Local issues may also be contributing. Aggressive monetary policy and additional government spending have begun to lift Japan out of 15 years of stagnation, but investors want to see Prime Minister Shinzo Abe deliver promised economic reforms.
Growth has picked up, although a surprise slowdown in the third quarter of last year served as a warning that without major reforms, the early success could fade. And inflation is still only half the central bank's 2% target.