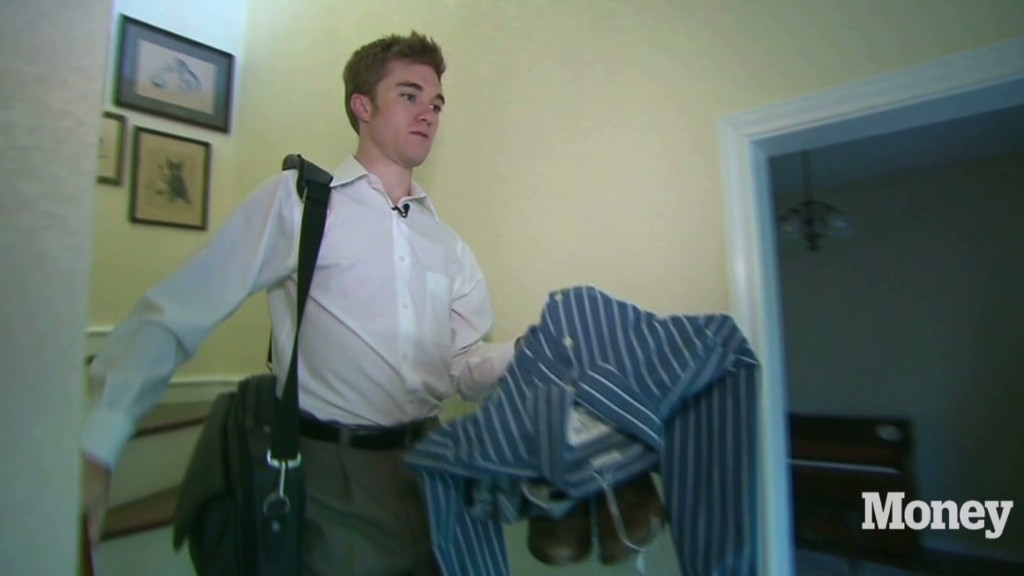 Contrary to conventional wisdom, millennials are actually a pretty conservative bunch -- at least when it comes to investing.
A study this week from UBS revealed that millennials, typically defined as those between the ages of 21 and 36, can't stomach much market risk.
The reason: the Great Recession really spooked them.
Not only were millennials scarred from their own personal experiences related to the job market, but they saw their parents' retirement savings and home values plunge, said Emily Pachuta, one of the architects of the study. "This had a significant impact on their mindsets," UBS said in its report.
Related: Millennials turn up heat against low wages
The report likened the mentality of millennial investors to that of the World War II generation, many of whom came of age during the Great Depression.
"Millennials have kind of a cash-under-the-mattress thinking about saving," Pachuta said. "They feel anxious and fearful of the market."
As a result, millennials are sitting on more cash than any generation, the report found.
"They fully buy into the redefinition of risk as permanent loss," it said.
But this conservative investing philosophy probably isn't doing them any favors. Millennials allocate less than one-third of their portfolios to stocks and hold more than half of their assets in cash.
That kind of strategy is completely counterintuitive to traditional investing advice, which holds that young people should withstand the ups and downs of the market and think longer-term. Millennials arguably need to own more stocks if they actually want to grow their wealth.
For example, a millennial investor who bought a simple exchange-traded fund that tracks the S&P 500 at the beginning of 2013 would have realized a 30% return. While that same investment would be down about 4% this year, it's still holding onto healthy gains when compared to a year ago.
"There's a need for the basics of investing," said Pachuta. She feels millennials should be educated to realize that cash generates basically no interest, and that by hoarding it they're essentially losing money to inflation.
Related: Get an early start on retirement
Non-millennials, in comparison, have 46% of their portfolios in stocks and 23% in cash, according to UBS.
And for those brave millennials who do invest in stocks, they're not shooting for sky-high returns: 83% of those surveyed said they're not trying to outperform the market. .
So where are younger investors going for financial advice? Their parents.
And while millennials are tech-savvy and like to do investing research online, ultimately, they want to speak to a professional before making decisions.
"They are looking for a trusted adviser, someone to have a conversation with face-to-face," claimed Pachuta.
The wealth management industry has been slow to embrace millennial investors, but Pachuta said companies are now sensing a big long-term opportunity.
Still, she added that it may be difficult for financial advisors to convince millennials they need to invest more in stocks.
"You can't go into the conversation thinking I'm going to change this person," she said. "This reaction to 2008 is a very emotional one."