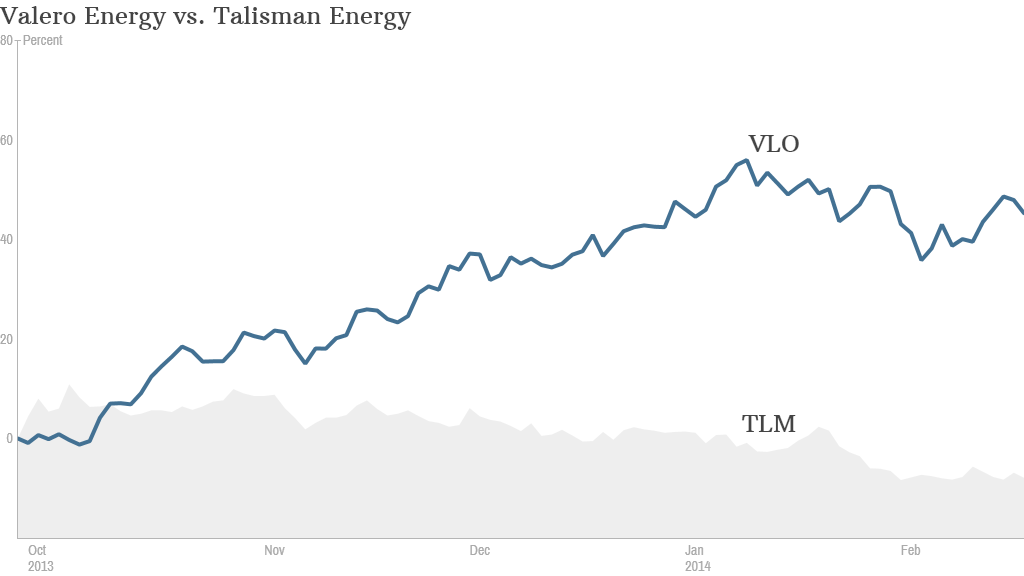 Investors in oil stocks haven't had much to brag about as of late. Just don't tell that to Wall Street's big money players.
The top 50 hedge funds increased their exposure to the energy industry more than any other sector in the fourth quarter of last year, according to research from FactSet.
Energy bet may not have paid off: The funds plowed over two billion dollars into Whiting Petroleum (WLL), Valero Energy Corporation (VLO), Talisman Energy (TLM), and Cameron International (CAM).
While it's unclear when exactly the funds bought the stocks -- or whether they still even own them -- the performance of these companies has been a mixed bag.
Shares of Talisman have fallen about 7% since the first trading day of the fourth quarter, but Valero is up roughly 45% since then.
The Energy Select Sector SPDR ETF (XLE) is up about 5% over that period. But that's lagged the more than 9% gain for the S&P 500.
Related: Good news and bad news about corporate sales
Also among hedge funds' favorites: Apple (AAPL).
The tech giant was the recipient of $1.8 billion of hedge fund money in the fourth quarter. Icahn Associates, Coatue Management and Citadel Advisors each invested $500 million in Apple.
Following Icahn into Apple? Activist investor Carl Icahn of Icahn associates bought another $1 billion in Apple shares this year. But he recently dropped his proposal for Apple to return more cash to shareholders with a $150 billion stock buyback after CEO Tim Cook said the company was already repurchasing a sizable chunk of Apple's stock.
Shares of Apple have rallied over 11% since the start of the fourth quarter
Another tech darling for some hedge funds was Twitter (TWTR), which went public last November. However, ownership was concentrated mainly in two funds, Lansdowne Partners, and Gilder, Gagnon, Howe & Co. The stock is still up sharply from its IPO price, but it has pulled back in recent weeks following its first earnings report.
Related: Twitter forecasts slowing sales and user growth
The top hedge funds were also hot on railroad company Union Pacific (UNP) and cell phone tower owner Crown Castle International (CCI). The funds plowed $1.1 billion into Crown Castle, which made news in the quarter when it bought the rights to towers owned by AT&T (T) for $4.8 billion.
Dumping Netflix and Comcast. Oops? Which stocks did hedge funds hate on in the fourth quarter?
Carl Icahn sold half of his position in Netflix (NFLX) in October, a decision he may now regret. Shares of the video subscription service have soared over 35% since the start of the fourth quarter.
But don't cry for Icahn. He turned a handsome 460% profit on the sale.
Comcast (CMCSA)was also a stock that several hedge funds sold. Shares have fallen a bit in recent weeks after the cable company announced its planned acquisition of Time Warner Cable (TWC). But the stock is still up 15% since the beginning of the fourth quarter. So hedge funds may have bailed on Comcast too soon.