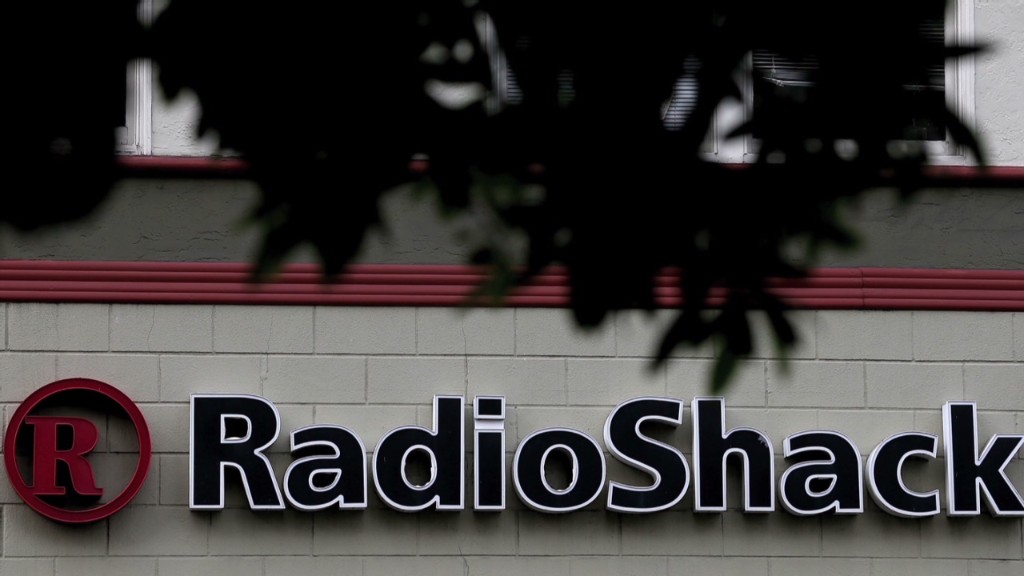 The end may be near for RadioShack.
An analyst at research firm B. Riley & Co. cut his price target on the once-proud retailer from $1 a share -- to $0. That comes one day after RadioShack (RSH) reported a huge loss, a big decline in sales and plans to close 200 stores in an attempt to turn its sagging fortunes around.
Shares of RadioShack fell nearly 8% Wednesday on the news. They plunged 10% Tuesday and have lost more than half their value this year. The stock trades for about $1.27.
Scott Tilghman, the B. Riley analyst, wrote in his report that he was worried about how quickly the company is burning through cash. He said that turnaround hopes are based on "crossed fingers rather than hard data" and predicted that there is a more than 50% chance that RadioShack will have to file for bankruptcy.
Related: Everything must go: There's a flood of store closings
Tilghman added that he thinks the liquidation value for the company is minimal and that it was unlikely a suitor could come in to purchase the company. There have been rumors during the past few years that a private equity firm or firms could purchase RadioShack. But if such a deal were to happen, it probably would have happened already.
"The likelihood of a white knight at this stage of the game is limited, especially given the lack of attention the company has received during the last two years as it burned through $500 million," Tilghman wrote.
Tilghman added in a phone conversation with CNNMoney that RadioShack's problems are similar to Circuit City, the electronics retailer that filed for bankruptcy in 2008 and went out of business in 2009.
He said that vendors may be unwilling to ship products to RadioShack during the next few months -- and that could be disastrous since the back-to-school shopping season and holiday shopping period are crucial.
The biggest challenge?
Tilghman said RadioShack faces too much competition in the wireless market from bigger stores such as Best Buy (BBY) and Staples (SPLS) -- which are facing enough of their own problems and need to be as competitive on price as possible -- as well as stores owned by megacarriers Verizon (VZ) and AT&T (T).
Related: Best Buy turnaround hit a speed bump following the holidays
And the do-it-yourself tech hobbyist market is just no longer large enough to be a profitable niche. Do you know any ham radio operators these days?
RadioShack poked fun of its lost-in-time image with a Super Bowl ad back in February. The commercial trotted out pop culture icons from the 80s such as Mary Lou Retton and Hulk Hogan. The stock even enjoyed a brief blip the day after the game because the ad was among the most popular with media critics.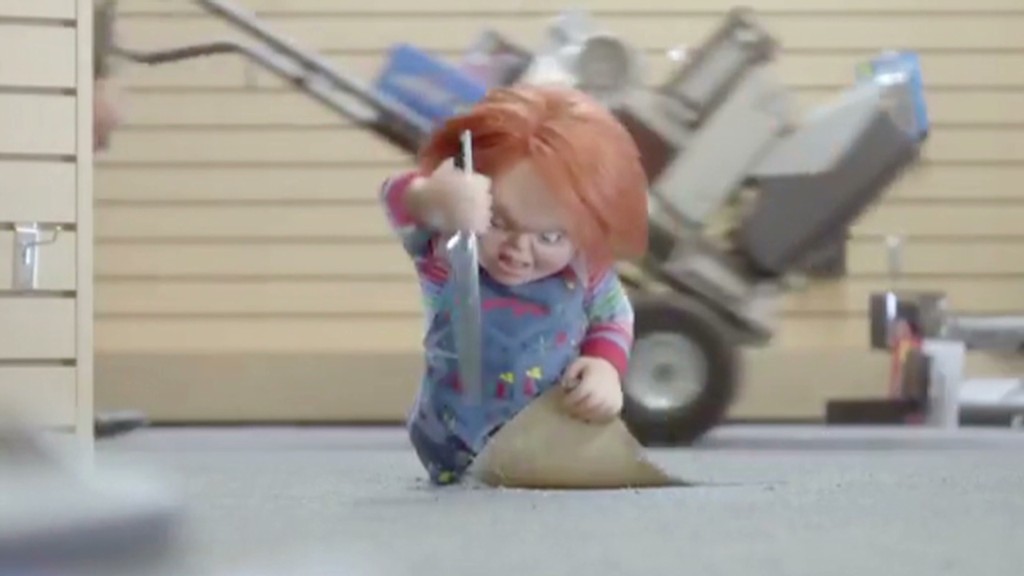 But the sad reality for RadioShack is that the likely reason the ad was so well received was because that's how most consumers view the company: old, stale, an anachronism.
RadioShack declined comment about Tilghman's report.
But analysts who follow RadioShack's bonds are equally pessimistic about the company's turnaround chances. Fitch Ratings put out a report Wednesday with the following bleak headline: "RadioShack Has Limited Options As Liquidity Dwindles." The analysts wrote that unless it can borrow more money, "a restructuring before year end" is possible.
RadioShack currently has about $424 million in liquidity -- with $62 million of that in cash and the remainder of the money coming from a revolving credit agreement with lenders. That total is down from $550 million at the end of 2013. Do the math. RadioShack can't afford to go through $130 million every few months before it will have nothing left.
What's more, the Fitch analysts added that RadioShack needs to close even more stores than currently planned to become profitable.
But how much could RadioShack reasonably cut? Does it make sense to shut all the brick-and-mortar stores and focus exclusively on selling batteries, cables and other low-end tech products online? Probably not.
Unless RadioShack does wind up getting taken over by a suitor with deep pockets (and the proverbial patience of Job) it may be hard to imagine that the brand can stick around for much longer.
And it would be sad if it goes away ... especially since there are many struggling retailers that also face a tough battle to stay alive in a world dominated by Amazon (AMZN) and Walmart (WMT). J.C. Penney (JCP) and Sears (SHLD) (which also owns Kmart) both spring to mind.