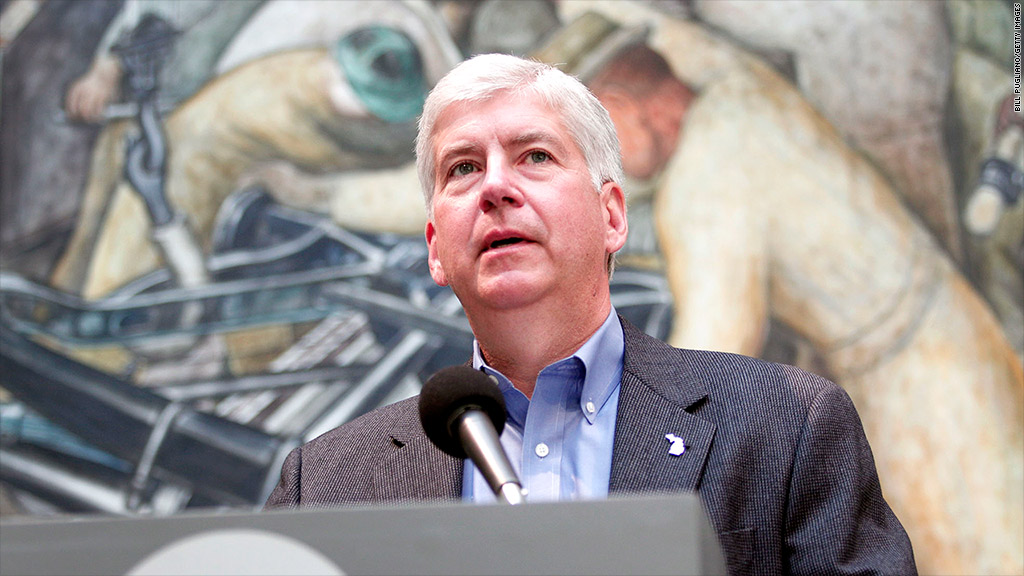 Detroit is getting a $195 million boost that will help end its bankruptcy nightmare and allow city retirees and art lovers to breathe a little easier.
Gov. Rick Snyder will sign a series of bills Friday to give the city the state funds, a key component of Detroit's plan to wrap up its bankruptcy reorganization later this year.
The money is part of more than $800 million that the city will receive over the next 20 years as part of a so-called "grand bargain" to help it climb out of its financial hole. The money will help preserve most pension payments to city retirees as well as prevent the city from having to sell off the art in the Detroit Institute of Arts, the city-owned world-class museum.
Other grand bargain funds are coming from a consortium of charitable foundations as well as labor groups and businesses, including automakers General Motors (GM), Ford Motor (F) and Chrysler Group.
"It's another step on getting Detroit on the path of being a great, exciting city again," Snyder told CNN Friday. "Detroit is one of the hottest places to live in the country. There are a lot of great things going on."
The economy in parts of Detroit have shown a resurgence in recent years, with a building boom and rising real estate prices downturn. But the city's finances are still struggling with $18 billion in debt, poor city services and large swaths of the city filled with abandoned properties that are not paying taxes.
Related: I've been priced out of downtown Detroit
The state bailout was controversial, with critics arguing the city wasn't doing enough to pay creditors on its own. Americans for Prosperity, a public interest group funded by the Koch brothers that advocates for smaller government, vowed to work for the defeat of any legislature to vote for the package. But Snyder and other Republican leaders in the state argued the deal was necessary to protect the state from being on the hook for the billions in underfunded pension plans in the city. The state constitution promises protections of those plans.
"This isn't a bailout. This is a settlement," said Snyder. "It really allows the [bankruptcy] case to move forward faster."
Related: Detroit vote - Key to comeback
Detroit still needs the approval of creditors of the proposed reorganization plan, including a support vote from city employees and retirees who will see their benefits trimmed. Ballots sent out to them are due back by July 11.
But while retirees are seeing deep cuts in their health care coverage, the money from the grand bargain has resulted in smaller cuts in their pension plans than feared when Detroit filed for bankruptcy 11 months ago.
Most civilian employees and retirees will have their benefits cut by 4.5% and will lose their annual cost-of-living adjustments (COLA). Police and fire fighters, whose pension fund was in better shape than the one that covered other employees, will keep their basic benefit level and lose only half of their COLA. The original proposal from Emergency Manager Kevyn Orr, who is overseeing the city's finances during the bankruptcy, was for a 34% cut in benefits for most employees and 14% for police and fire.