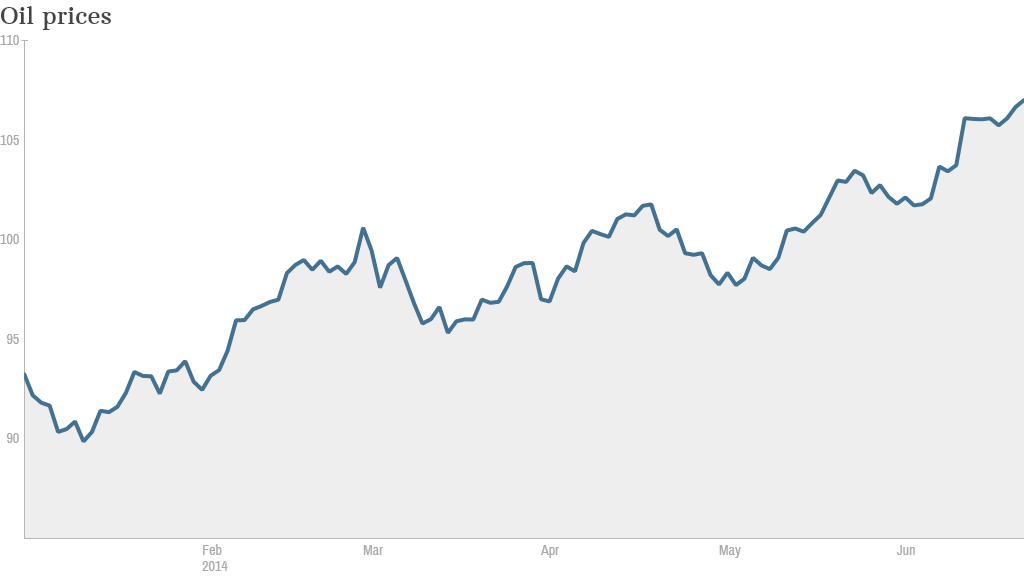 Islamist militant gains in Iraq sent world oil prices higher Monday, sparking concerns that this could hurt global economic growth, especially in Europe where the recovery seems to be faltering.
Crude oil prices in London and New York touched levels not seen since last September after militants from the Islamic State in Iraq and Syria (ISIS) seized city after city over the weekend as they continued their march towards Baghdad.
Costlier energy could spell trouble for European economies still struggling to regain momentum after the region's debt crisis.
Growth in the eurozone has slowed to its weakest pace in six months, according to a June survey of purchasing managers released Monday. Companies across manufacturing and services reported higher input prices.
"Both sectors reported higher oil prices as a key cause of rising costs," survey compiler Markit noted.
Related: Latest on Iraq crisis
Rising energy costs may ease fears of deflation, which prompted the European Central Bank to unveil an unprecedented range of stimulus measures earlier this month.
But they add to worries about growth in countries such as France, where business activity contracted for a second month running in June.
"Most important is the rise of energy prices," said Dominique Barbet at BNP Paribas, commenting on the weak French data. "This will not only add to the production cost of industry, but also put pressure on households' purchasing power."
Related: Gas prices rising but glut coming
The rapid advance of ISIS across northern and western Iraq this month has had little effect so far on exports of crude oil from OPEC's second biggest producer.
But prices have risen above $107 a barrel on the Nymex on fear that supplies could be hit later this year, just as world demand peaks. Prices are up 16% so far this year.
Even if ISIS is prevented from pushing into southern Iraq, which produces the vast majority of the country's 2.5 million barrels per day of exports, energy experts say output could fall back as foreign oil companies withdraw staff due to security concerns.
World growth forecasts have already been cut for 2014, in part due to the deep winter freeze which caused the U.S. economy to shrink in the first quarter.
Further sustained gains in oil prices could make for a weaker rebound in the second half. And it's not just major Western economies that would feel the pinch.
China is expected to surpass the U.S. as the world's biggest importer of oil this year. India, Asia's third biggest economy, is also highly sensitive to rising energy prices.
Operating conditions in China's vast manufacturing industry improved for the first time in six months in June, according to HSBC's preliminary survey of purchasing managers.
But that's likely due to a recent mini-stimulus package, which may do little more than sustain growth at 7.4%, the rate seen in the first quarter. The government has targeted growth of 7.5% this year.