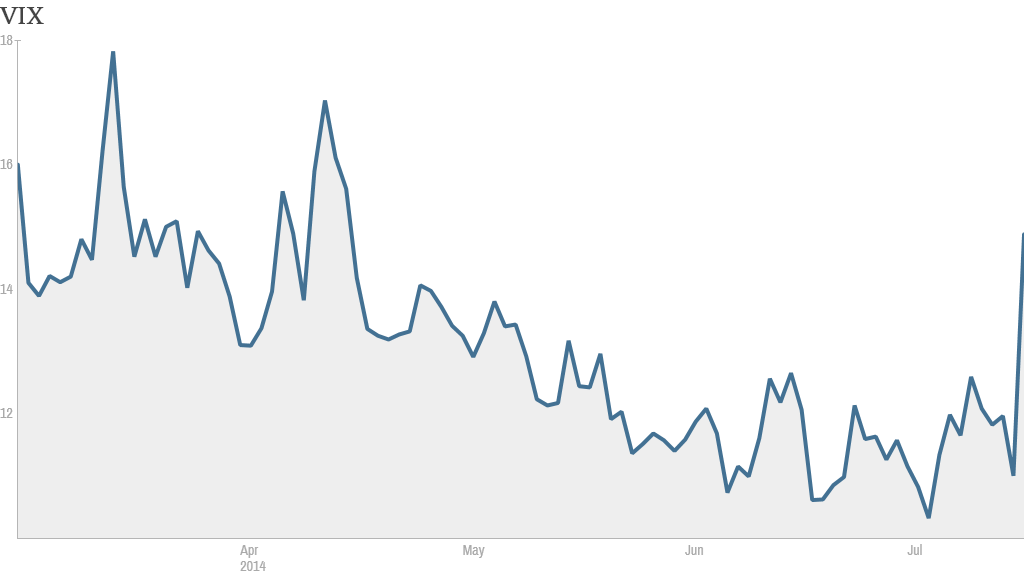 Investors were hit with a flurry of geopolitical concerns Thursday, sending a key measure of market volatility to the highest level in three months.
The VIX (VIX), which is sometimes dubbed Wall Street's "Fear Gauge", shot up 37% following news that Israel has launched a ground offensive in Gaza. The index stood at 15, the highest level since mid April.
Israel has been conducting air strikes in Gaza over the past few days in response to rocket attacks, but the decision to send in ground troops marks a significant escalation of hostilities.
Investors sought safety in hard assets, such as precious metals. Gold prices rose 1.5% to $1,319 per ounce, while silver gained 2% to $21.19 per ounce.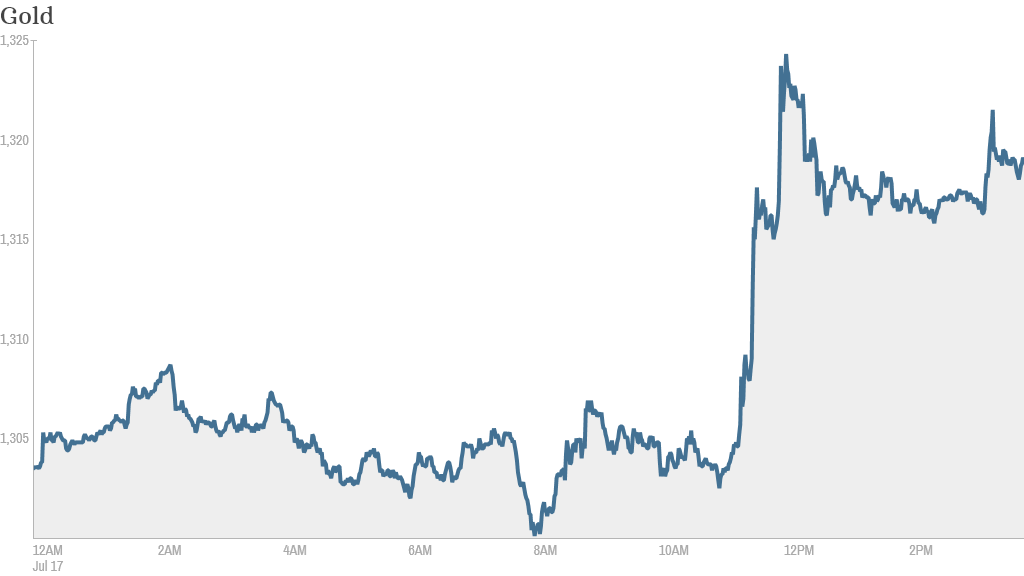 The offensive in Gaza began hours after a Malaysian Airlines plane crashed in Ukraine near the Russian border.
Stocks were already down after the plane crash, and they plunged even further. The Dow fell 160 points (almost 1%), while the S&P 500 lost 1.2%, as investors reduced their exposure to risky assets.
Read the latest on the plane crash here
CNNMoney's Fear & Greed index, which is based on the VIX and other measures of investor sentiment, fell several points too. It's currently in fear mode. A month ago, the index was indicating extreme greed was driving the market.
Malaysian Airlines confirmed on Twitter that it had lost contact with flight MH17, and the plane's last known position was over Ukrainian airspace. The plane was carrying 295 passengers. Ukraine's president acknowledged that the crash occurred, while other officials in Kiev told CNN that Russian separatists were likely to blame.
European markets dropped sharply on the news, which came just before the closing bell there. Germany's DAX lost more than 1%. The Market Vectors Russia ETF (RSX), which tracks the Russian market, is down nearly 5%.
The latest development comes one day after the White House imposed new sanctions in response to Russian aggression in Ukraine.
Russian President Vladimir Putin accused the United States of pushing the Ukrainian authorities toward a continued conflict, whereas Russia wants to see an immediate end to hostilities and a negotiated solution involving all sides.
Related: Russian markets rattled by new sanctions
Tensions have been high between Ukraine and Russia since street protests forced former pro-Moscow President Viktor Yanukovych from power in February. Russia subsequently annexed Ukraine's southeastern Crimea region and a pro-Russia separatist rebellion has been raging in Ukraine's eastern Luhansk and Donetsk regions.
Caution dominates. Investors are taking a cautious approach as they await more details on what caused the crash, said John Canally, Investment Strategist for LPL Financial.
Canally said investors are waiting for clarity on whether the plane was deliberately shot down or if it was a tragic accident.
"If it's a deliberate shoot down, then I think the market gets concerned about escalation," he said. "But until the market can parse out the facts, we're going to be in this cautious mode."
In addition to gold, investors also rotated money into U.S. Treasuries. The yield on the 10-year note fell to 2.48%, down from about 2.5% earlier in the day.
"People are definitely hiding in Treasuries," said Canally. "But in a knee-jerk reaction like we're seeing today, certainly gold is the first place people look for insurance."
-- CNN's Ashley Fantz contributed to this report.