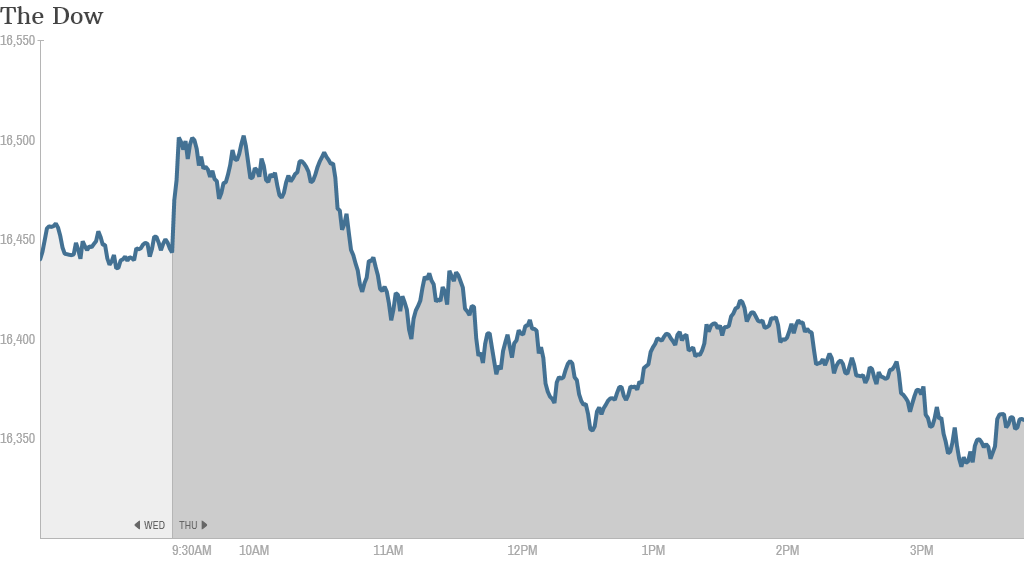 Investors pushed pause. Then they hit rewind.
The big indexes -- the Dow, the S&P 500 and the Nasdaq -- all started the day in positive territory, but ended the day in the red. The Dow closed down 75 points, or 0.46%. The Dow is more than 1% lower since the start of August.
More stock market jitters: In another sign of stock market queasiness, yields on 10-year U.S. Treasury notes are the lowest they've been in more than a year. Bond yields fall when prices rise, meaning more people are buying this "safe haven" investment.
"The 10-year speaks volumes about both the risk-off nature of our trade lower and the sense that our recovery remains void of the risk component that normally is present in a recovery," wrote Peter Kenny, chief market strategist for the Clearpool Group, in an email.
The announcement of potential military air drops in Iraq might be helping spook markets, as have a number of other geopolitical rumblings in recent days. The latest news about Russia's ban on foreign foods might also be having a small impact.
CNNMoney's veteran markets writer Paul R. La Monica offer tips on how to invest wisely in a scary market.
Related: How to stay safe in a scary market
Here are the top talking points of the day:
1) Burger bounce: Jack in the Box and Wendy's both reported their quarterly earnings, and the results are mixed. Jack in the Box (JACK), up 10%, surpassed expectations for revenue and earnings. A particularly bright spot is its burrito brand Qdoba, where Jack is squeezing more sales out of fewer stores.
Wendy's (WEN) was up less than 2% after its results showed that sales were good but profits that weren't quite what Wall Street wanted. Both companies reported same-store sales growth, a sign that more people are coming into their stores. At Jack in the Box, Qdoba sales grew three times faster than the rest of the company.
Related: Which fast food chains have the unhealthiest combos?
2) Adidas reports big drop in golf sales: Global sportswear giant Adidas (ADDDF) reported quarterly results that fell just short of analyst estimates, with better sales numbers overall, but shrinking profits and margins. Notably, its TaylorMade and Adidas Golf sales are down more than a fifth from the same period last year. Adidas shares fell 5%.
Related: Three reasons golf is in the rough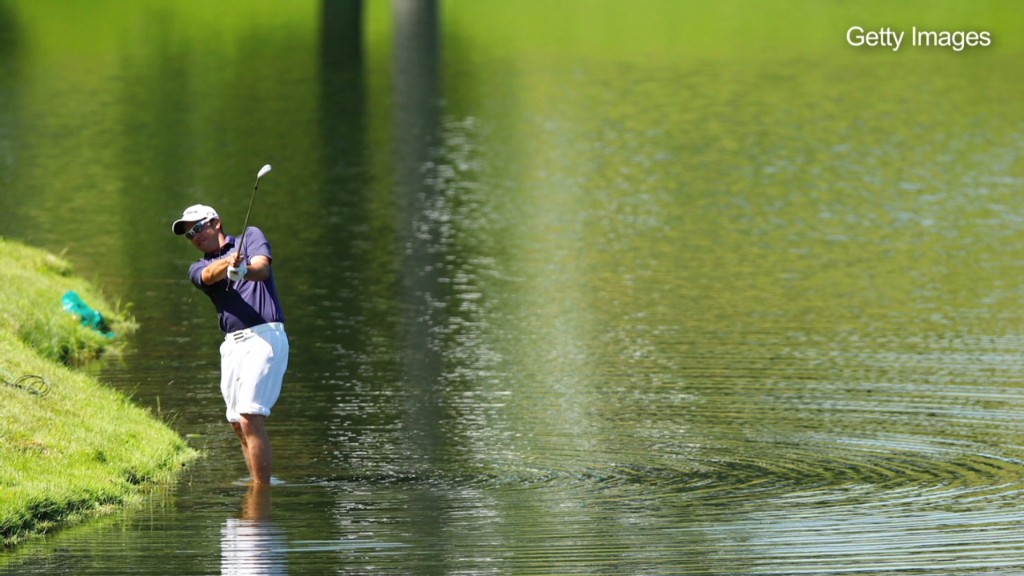 3) Netflix binges on revenue: Netlfix (NFLX) now has more subscriber revenue than HBO. Netflix CEO Reed Hastings wrote in a Facebook post yesterday: "They still kick our ass in profits and Emmy's, but we are making progress." Netflix shares rose 4.5%.
Related: Netflix has HBO in its sights
4) Break-up boost for Fox: Shareholders are happy that Twenty-First Century Fox (FOXA) has squashed any potential deal to buy Time Warner (TWC) (the parent company of CNN and CNNMoney). Rupert Murdoch reiterated Wednesday that the decision to walk away from the deal is "resolute."
Fox shares climbed 5% higher today, which is on top of the gains it registered when it first said it withdrew its $80 billion bid. Time Warner shares fell 3%.
Related: Fox says "We are done" with Time Warner
5) Overseas markets -- Europe goes negative: It was a negative day in Europe despite the fact that the European Central Bank left interest rates unchanged and reiterated its commitment to "do whatever it takes" to keep Europe's economy stable (though it fell short of announcing new asset purchases). The Euro Stoxx 50 index finished about 1.2% lower, and the U.K.'s FTSE 100 dipped 0.6%. The Bank of England also left interest rates the same.
Asian stocks were broadly lower, though Japan's Nikkei snapped a brief losing streak with a 0.55% gain.