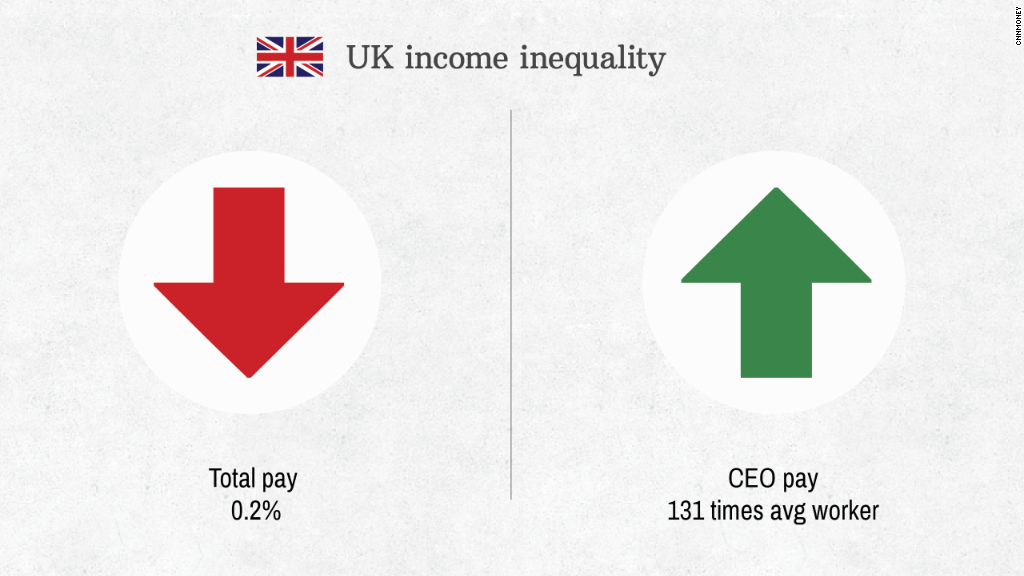 The pay gap between British workers and their bosses just keeps on getting bigger.
Chief executives of big British companies were paid 131 times their average employee wage in the last financial year, according to the High Pay Center.
That's up from a ratio of 47 in 1998, but still leaves CEOs lagging their U.S. rivals -- who make nearly 300 times on average.
The result is similar to research conducted by Manifest/MM&K, which put the U.K. executive pay ratio for 2012 at about 133 times employee pay using a slightly different methodology
Official U.K. figures released last week showed total pay, including bonuses, fell for the first time in five years in the second quarter despite rapid job growth.
And most British workers have been suffering a pay squeeze for much longer, as wages have failed to keep pace with inflation since early 2010.
Related: Wages are falling in this booming economy
The High Pay Center average masks a huge range in executive pay across the companies that belong to the benchmark FTSE 100 index.
Nearly half of the companies pay their CEO 100 times their average employee wage, and some several times that.
Martin Sorrell, the boss of the advertising company WPP (WPPGF) earns £29.8 million, 780 times his average employee.
At the other end of the spectrum are retailer Sports Direct, (SDISY) with a ratio of just 10, and 3i Group at 16 times.
The research is based on annual pay reports published by the companies, and average employee pay for each firm calculated by Pensions and Investment Research Consultants, which advises institutional investors on corporate governance issues.
The High Pay Center has called on the British government to cap executive pay at a fixed multiple of a company's lowest paid employee.
-- Editor's note: An earlier version of this story referred to the average CEO-to-worker pay ratio as 143 times. The High Pay Center has since amended its numbers.