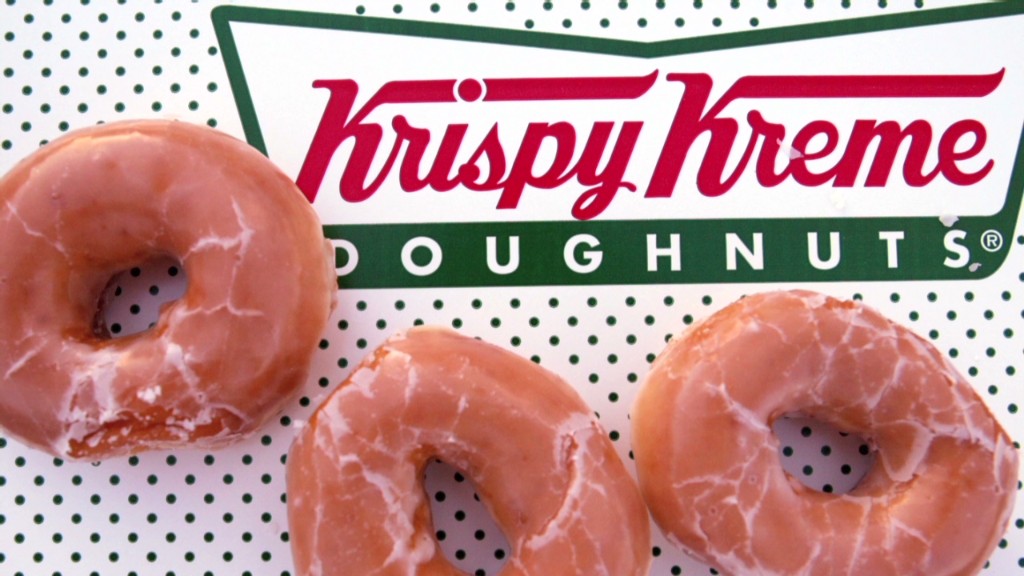 Investors are losing a lot of dough with doughnut (or is it donut?) maker Krispy Kreme.
Shares of Krispy Kreme (KKD) fell 5% in early trading Wednesday after the company reported quarterly earnings that missed forecasts. The stock is now down 13% in 2014.
But even though profits failed to meet Wall Street's estimates, the news wasn't all bad. Net income was actually up 23%. Overall revenue rose nearly 7% and same-store sales, an important measure for retailers and restaurants that tracks the performance of locations open at least a year, were up slightly as well.
New CEO Tony Thompson, who joined Krispy Kreme from pizza chain Papa John's (PZZA) in June, stressed that the company is focusing on ways to boost the number of people at its stores. He wants to do that by expanding the company's beverage menu as well as come up with "more 'every day' doughnut use occasions for our products."
Related: Pork and seaweed donut? There is one in China!
I'm not exactly sure if you should go to Krispy Kreme that often though. The famous saying isn't an Apple Fritter a day keeps the doctor away.
It's worth noting that consumers are embracing healthier food. And so are big businesses.
Cheerios maker General Mills (GIS) announced late Monday that it was buying organic macaroni and cheese company Annie's (BNNY) for a big premium. That news sparked a rally in other organic food stocks, such as Hain Celestial (HAIN), WhiteWave Foods (WWAV) and Boulder Brands (BDBD), on Tuesday.
Related: General Mills buys Annie's for $820 million
But Thompson's emphasis on beverages is on point. Krispy Kreme faces a tough challenge from food and coffee chains Dunkin' Brands (DNKN) as well as Tim Hortons (THI), which is in the process of being acquired in a controversial deal with Burger King (BKW). Krispy Kreme also competes with Starbucks (SBUX) and McDonald's (MCD) in the breakfast wars.
Can Krispy Kreme, once a cult stock that traded for about $50 a share at its peak in August 2003 and is now less than $17, return to its former glory? Investors aren't betting on it.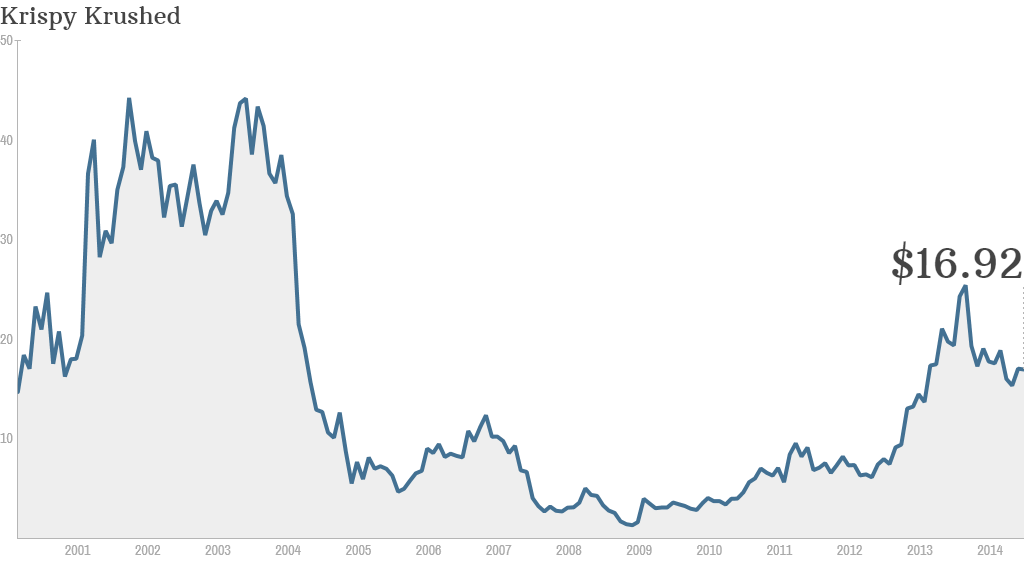 In fact, nearly 8% of the company's available shares were still being held short. That's a significant amount, especially since the stock has already proven the shorts right and taken a nosedive this year.
The bull case for Krispy Kreme appears to, like its signature product, have a hole in it.