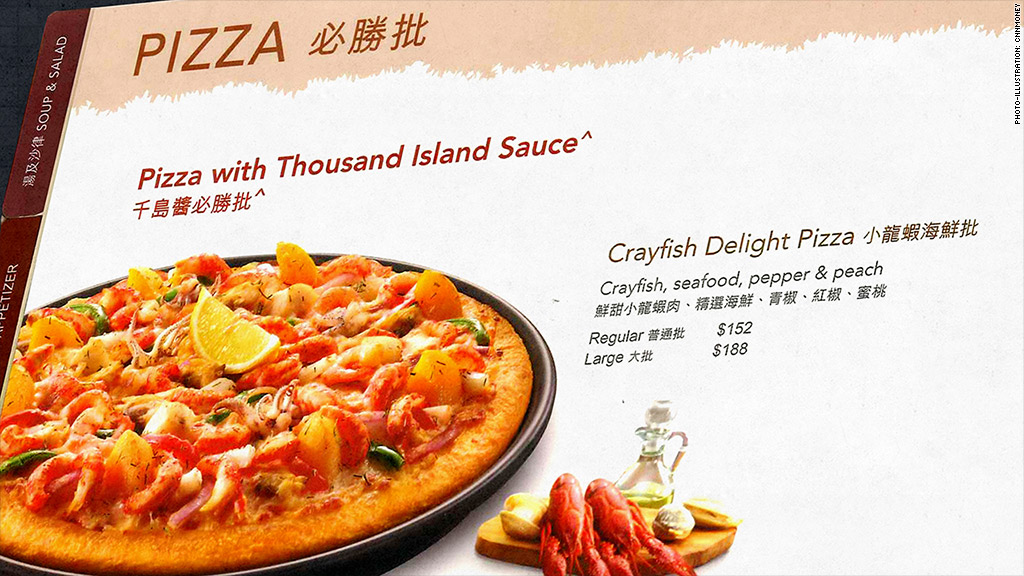 Have you ever craved pizza with mangoes and crayfish? How about a pork and seaweed flavored donut?
Sound strange? Not if you're in China, where these Frankenstein foods are being served up by American fast food chains hoping to dominate foreign markets by catering to local tastes.
The experimentation is endless: Pizza Hut offers Thousand Island seafood pizzas, McDonald's (MCD) serves soy milk and fried dough strips for breakfast, Dairy Queen scoops out wasabi ice cream and Starbucks (SBUX) sells red bean green tea Frappuccinos.
Burger King (BKW), Dunkin' Donuts, Starbucks, Papa John's (PZZA), McDonald's, Pizza Hut and KFC are all competing for a bigger slice of China's $100 billion fast food market.
There's just one problem: double cheeseburgers and pepperoni pizzas aren't exactly typical Chinese cuisine. As a result, the chains are constantly looking for ways to appeal to the local population, while keeping signature items on the menu.
Related: 8 of the world's craziest fast food items
"The trick is, they want to keep as much of their DNA as possible in terms of having core menu items that are recognizable in any market, but also figuring out what the hero products for the specific market are going to be," said Ben Cavender of China Market Research.
McDonald's in Hong Kong, for example, serves noodles, fresh corn and lychee punch. KFC offers rice with its fried chicken meals.
"When we introduce the rice option, we still use a Western flavor ... [such as] mushroom or Chicken a la King," said Alan Chan, CEO of Birdland, the private company that runs KFC franchises in Hong Kong. "We still want to keep the identity of predominantly Western-style fast food."
It's not only the menu that is different in China. The fast food chains are also going upmarket in an effort to stand out in the crowded restaurant industry.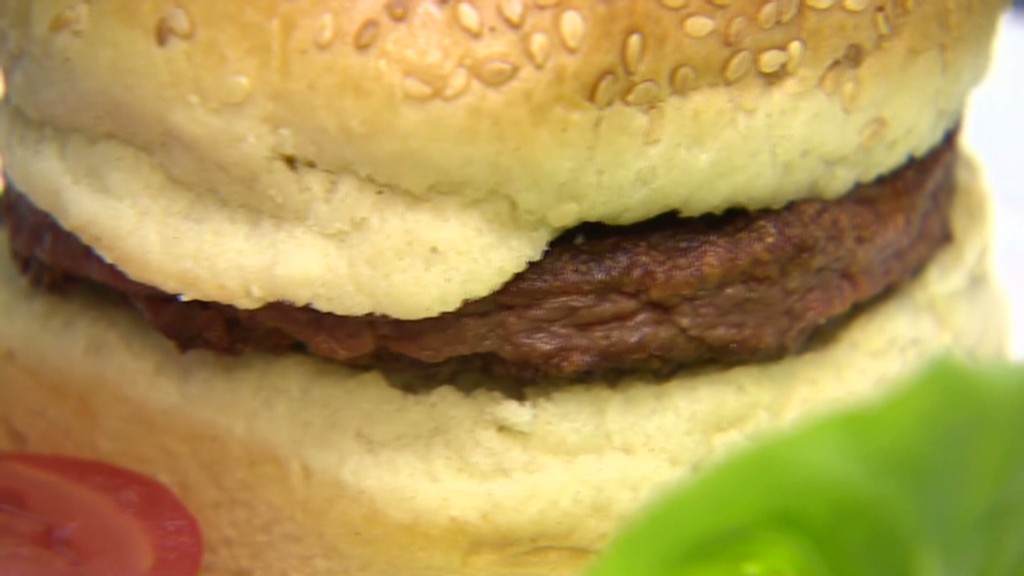 Pizza Hut offers lobster bisque and mussels stewed in white wine. The restaurant is a popular spot for teenagers to spend a romantic evening.
These are "nicely-decorated sit down restaurants," Cavender said. "In most cases, people going tend to be white collar -- comparatively speaking, these restaurants are still quite expensive compared to a street corner noodle shop."
Dreaming up the right items for the local market is not easy, and can take as long as 18 months from concept to plate, said Richard Leong, CEO of Pizza Hut in Hong Kong.
Related: Supercombos and 'Big Slabs:' 9 unhealthiest restaurant meals
Leong introduces new products about eight times a year. Everything from cheese fondue pots to a pizza crust stuffed with fish roe and salmon cream cheese have made the menu -- but he did once veto squid ink flambé pizza.
Even regional preferences can vary. Leong says what works in Hong Kong might not work in other parts of China.
"Every year, we still have to crack our heads -- we're like fashion designers," said Leong. "We have to sit and think about the next thing we have to do."