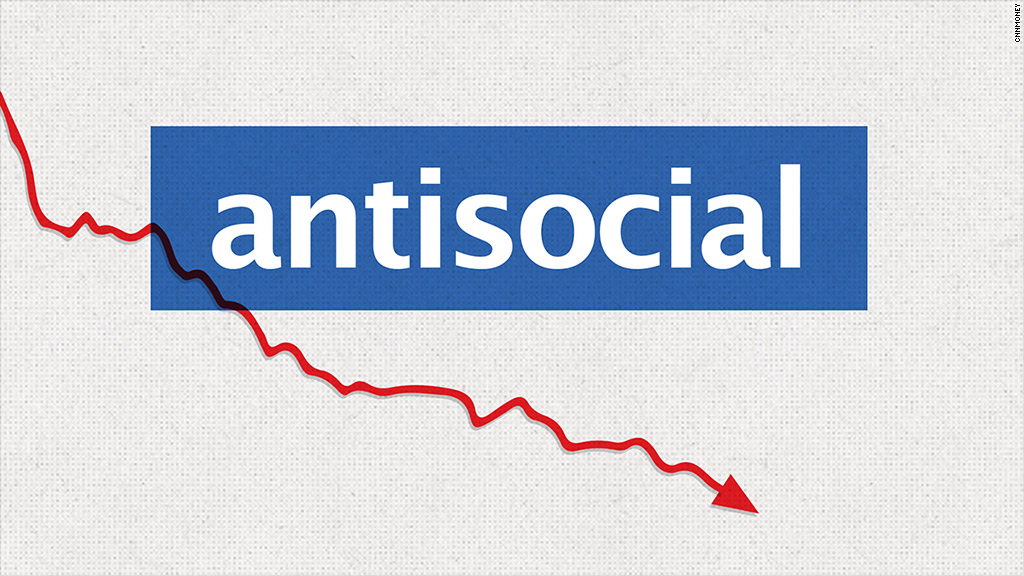 It was a sleepy day on Wall Street Monday... unless you happened to be looking at some high profile tech stocks, especially shares of social media companies.
Facebook (FB) fell 4%. And that made it one of the sector's better performers. Twitter (TWTR) finished the day down 5%. Yelp (YELP) and LinkedIn (LNKD) each dropped more than 6%.
The carnage in social media was one reason why the Nasdaq closed the day with a more than 1% loss even though the Dow and S&P 500 barely budged. But the tech stock pain was not limited to social media.
Tesla (TSLA) shares plummeted 9% after an analyst at Morgan Stanley, who continues to be one of the biggest fans of the electric carmaker's stock, wrote in a report that the stock "was a bit ahead of itself." The analyst was echoing comments from Tesla CEO Elon Musk, who has expressed concern about the stock's big surge on numerous occasions.
Related: Tesla shares fall after analyst issues caution about run-up
Amazon (AMZN) fell 2% and Netflix (NFLX) dropped nearly 4%. Chinese search engine Baidu (BIDU) was also down more than 3%.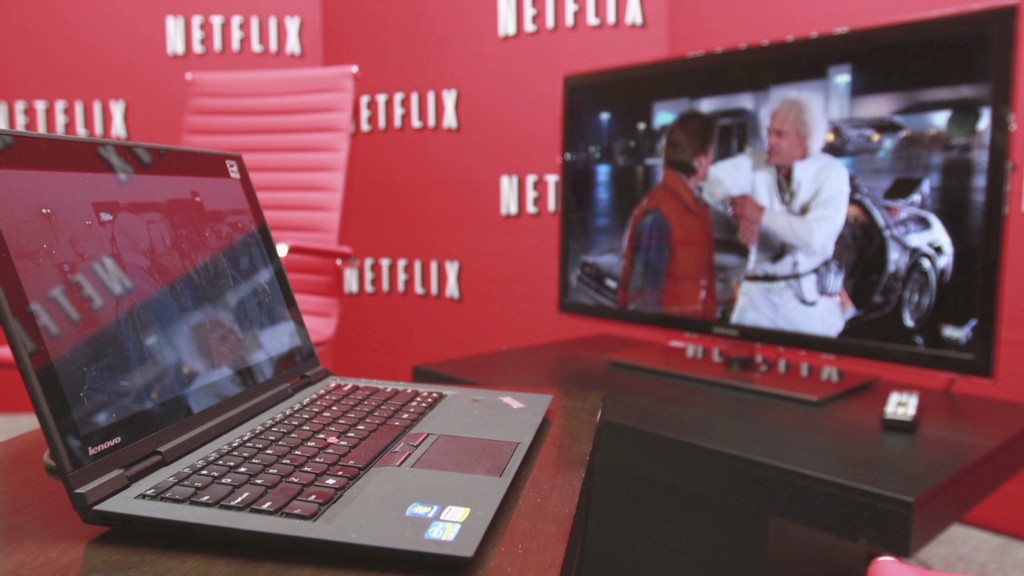 So why were these stocks all doing their best impersonation of a Nestea plunge?
Other than the Tesla analyst note, there wasn't any tangible news event to explain why these stocks were getting taken to the woodshed.
And even the Tesla report is not really newsy. You don't exactly need the deductive reasoning prowess of a Sherlock Holmes to suggest that a stock that's up more than 700% since the start of 2013 might be due for a pullback.
It's risky (and foolish) to read too much into one day's market action. But here are some possible reasons for Monday's momentum massacre.
1. What goes up ... Radiohead's Thom Yorke put it best in "Fake Plastic Trees." Gravity always wins. Tesla isn't the only stock that's up big and was arguably due to cool off. Facebook, Netflix and Baidu are all among the best performers in CNNMoney's Tech 30 index this year. And even though LinkedIn and Twitter are both still in the red for 2014, each of them have surged from their lows lately.
2. Boring tech is safer. It's worth noting that not all tech stocks were destroyed on Monday. Shares of several "older" tech firms all held up fine. Top gainers in CNNMoney's Tech 30 included Oracle (ORCL), AT&T (T), Verizon (VZ) and IBM (IBM). Apple (AAPL) and Intel (INTC) finished the day flat after being up for most of the day. And all of those stocks -- even Apple -- pay dividends.
Related: 'Wintel' rules the Dow
The social media stocks? Not so much. It looks like investors were seeking security on Monday for whatever reason.
3. Blame the Fed. It's possible that investors are looking to sell riskier stocks ahead of the Federal Reserve's policy meeting on Wednesday. If the Fed signals that interest rate hikes are coming sooner than the market had expected (i.e. middle of 2015) then that could cause a bloodbath in the market, particularly stocks that have already enjoyed big gains.
Related: Investors warn Fed not to fumble on interest rates
4. The Alibaba effect. Have you heard that there's this Chinese e-commerce company going public later this week? Alibaba's initial public offering, expected for Friday morning, could easily steal the thunder from the rest of the tech sector for the remainder of the week. It's also possible that investors may be looking to cash in some winners so they have money ready to buy Alibaba.
But once again, this is just one day of trading. It's not a trend. Whether or not tech stocks continue to fall remains to be seen.