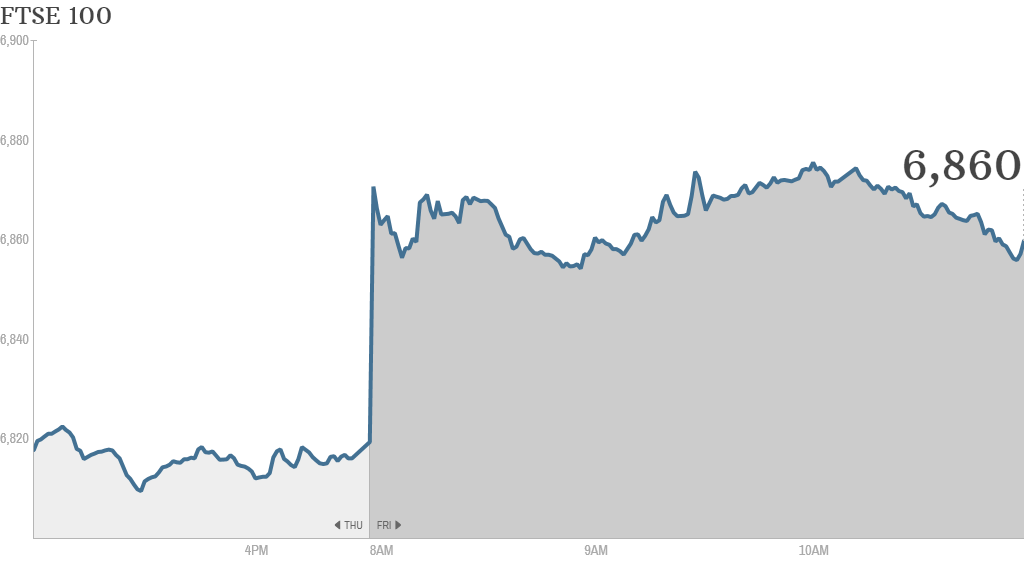 Investors breathed a deep sigh of relief Friday as Scotland voted to stay in the United Kingdom, averting months of turmoil that would have hurt the economy.
Results from the historic referendum showed 55% voted against independence in Thursday's ballot, a clearer margin than expected.
Stock markets rose, with shares in Scottish companies doing particularly well. The FTSE 100 index gained 0.7% in morning trading.
"The risk of huge disruption from Scottish independence is gone. Not for good ... but for a considerable time," noted Robert Wood, chief U.K. economist at Berenberg bank. "For now markets can return to normal.
The pound got an early bounce before slipping back against the U.S. dollar. It was steady against the euro.
The U.K. currency had already rallied this week, recovering much of the ground lost in early September when surveys suggested Scotland was on the brink of ending its 307-year union with England.
Central bank action will again take center stage for currency dealers.
"Markets can refocus on monetary policy divergence, and as the Federal Reserve marches towards the exit from QE ... the dollar will rally," said Kit Juckes, strategist at Societe Generale.
Related: GlaxoSmithKline faces massive fine for bribery
Companies and banks that warned they may migrate south of the border if Scotland broke away were quick to reassure investors and customers that it was business as usual.
"The announcement we made about moving our registered head office to England was part of a contingency plan to ensure certainty and stability for our customers, staff and shareholders should there be a 'Yes' vote," Royal Bank of Scotland (RBS) said in a statement. "That contingency plan is no longer required."
Shares in RBS gained 3%.
A vote in favor of independence would have ushered in months, if not years, of difficult divorce proceedings over the currency, North Sea oil, U.K. national debt and Scotland's place in the European Union.
Investors feared that the considerable uncertainty would dent business and consumer confidence, hurt growth, slow job creation and hit tax revenues.
The Scotch Whisky Association had said it was concerned about how potential changes in Scottish tax and trade rules could hurt exports to international markets.
Still, market relief will be tempered by the fact that the U.K. government made big concessions in the last days of the campaign, promising to hand over much more power to the Scottish parliament in Edinburgh.
That in turn has sparked a political backlash in England, the consequences of which are unclear. And with a U.K. election just eight months way -- a vote that could lead to a referendum on EU membership in 2017 -- political risk will remain high for some time to come.
Scotland's decision may ease concerns about disintegration elsewhere in Europe, particularly in Spain where separatists in Catalonia are pushing for their own independence vote in November.
Spain's stock market gained 1% Friday, outperforming other European markets.