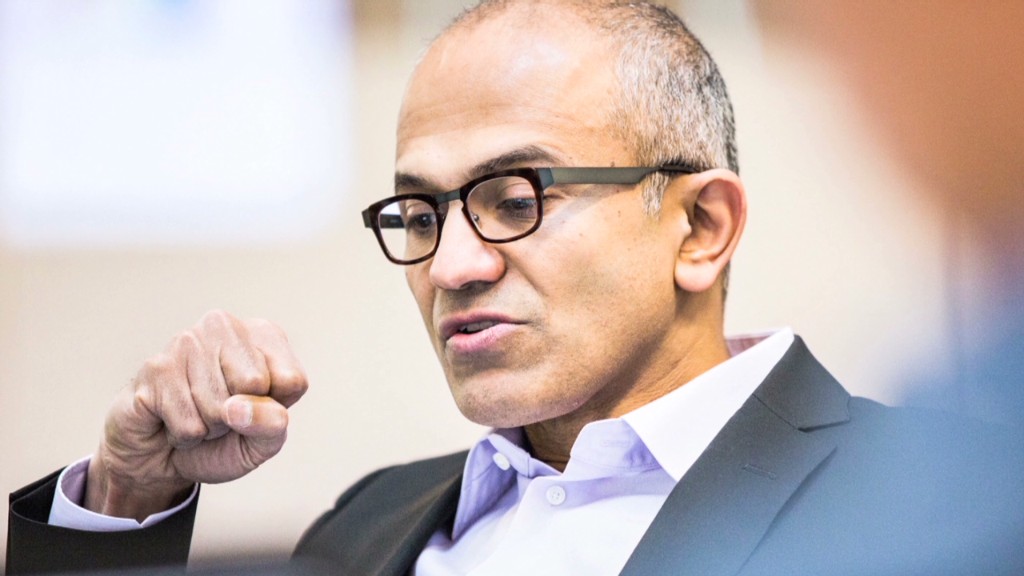 Who needs Windows?
Microsoft (MSFT) sales soared 25% in the last three months on the back of cloud, Xbox and, yes, even the Surface tablet and Nokia smartphones.
This is a new Microsoft that doesn't need to rely on its operating system to support it. Windows sales were just OK in the last quarter: Sales to businesses were up 10% and consumer upgrades were up just a bit, but consumer PC sales were down 1%.
The real story was in the cloud, which is now the primary focus of the company, according to new CEO Satya Nadella. Sales of cloud services to businesses grew by a whopping 128% last quarter, driven primarily by the company's Office and Azure platforms. Eighty percent of the Fortune 500 are using Microsoft's cloud, Nadella said on a conference call with investors Thursday.
Office, which recently began offering a subscription model for consumers, now has 7 million Office 365 subscribers, Microsoft said. That's up 25% over the previous quarter.
But it wasn't just software driving Microsoft's sales growth. Devices were also a large factor, including more than $900 million worth of Surfaces -- Microsoft's once left-for-dead tablet line. Surface Pro 3 is selling at twice the rate that the Pro 2 was -- and the tablet was profitable for Microsoft last quarter. That's a big deal, considering Microsoft wrote down nearly $1 billion on excess Surface inventory a couple years ago.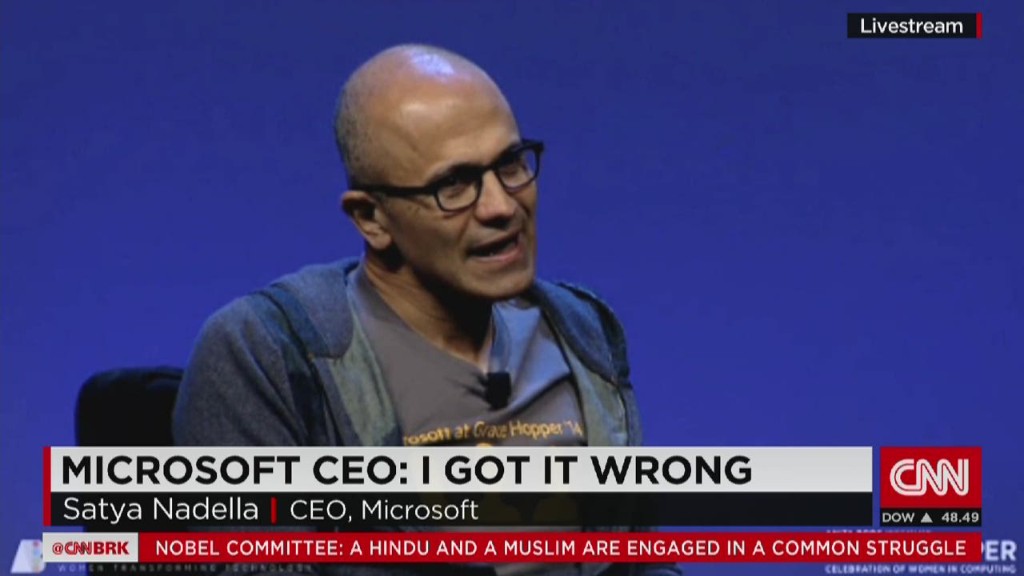 Xbox sales doubled, though the comparison is a little weird -- the Xbox One hadn't launched yet a year ago. But Microsoft now has approximately 20 million paying members on its Xbox Live gaming and media network -- another cloud success story.
The biggest boost came from Nokia sales, which Microsoft purchased in late April. Microsoft sold $2.6 billion worth of Nokia phones. Sales of its high-end Lumia smartphones were up year-over-year.
But even without Nokia, overall Microsoft sales would have grown by 11%.
Related: $84 million Microsoft CEO says 'We pay women equally'
Microsoft's profit, however, slipped. The Redmond, Wash.-based software giant said its fiscal first-quarter net income fell 13% to $4.5 billion. Those results were impacted by $1.1 billion in restructuring charges, which came from its plan to cut 18,000 jobs by the middle of 2015.
Without the charge, Microsoft would have earned 54 cents per share. Analysts polled by Thomson Reuters, who typically exclude one-time items from their estimates, forecast earnings of 49 cents per share.
Microsoft's $23.2 billion in revenue easily topped analysts' forecasts of $22 billion.
Shares of Microsoft rose 3% after hours.