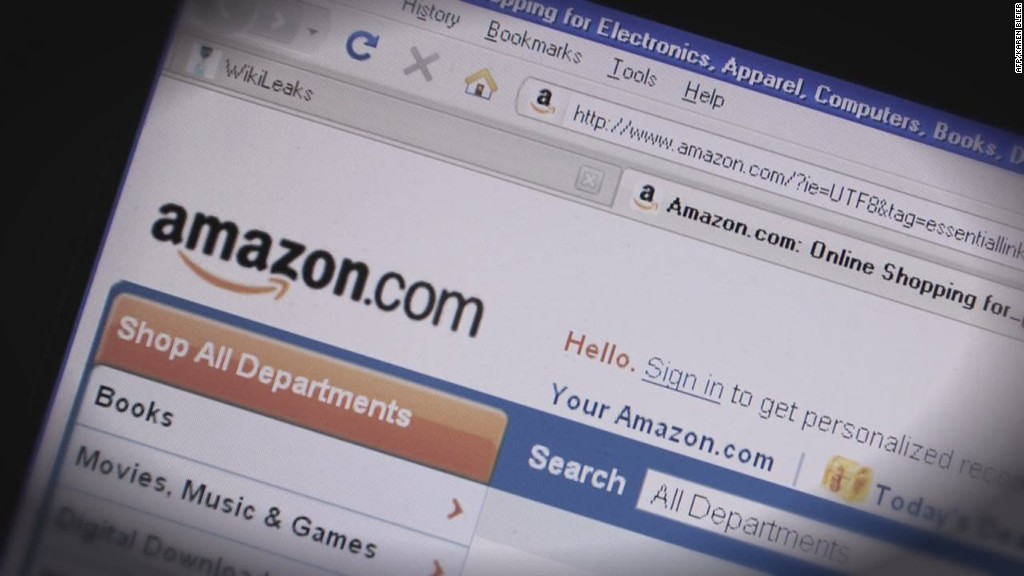 You're a mean one, Mr. Bezos. You really are a drone. Your Fire Phone's unpopular. Your cloud biz bleeds red ink. Mr. Bezos. Your ship looks like it is really starting to sink!
Yup. Amazon's lousy third-quarter results and weak fourth-quarter outlook has made CEO Jeff Bezos a Grinch to investors.
Shares of Amazon (AMZN) plunged more than 8% Friday as the market has decided it wouldn't touch the stock with a thirty-nine and a half foot pole.
And it's been that way all year.
The stock is now down 28% in 2014, making it the worst performer in CNNMoney's Tech 30 index. (Mobile chip company ARM Holding (ARMH) had been the biggest loser before Friday.)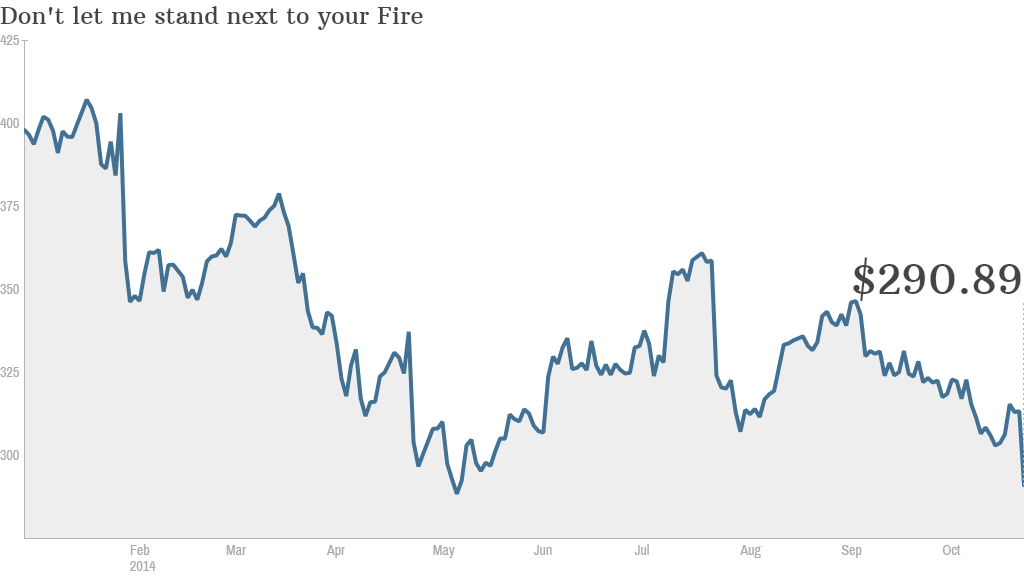 The huge loss in the third quarter is troubling enough. It's a sign that not all of Amazon's big investments are paying off. The Fire Phone, which Amazon hyped to death because it was a 3-D smartphone, has been an unmitigated flop.
But it's even more alarming that Amazon's fourth quarter sales projections are worse than expected.
Amazon, like all retailers, live and die by holiday shopping. (And make no mistake, Amazon is simply a low-margin retailer that happens to use tech as opposed to brick-and-mortar stores to sell goods.)
If Amazon has a lousy fourth quarter, it's hard to make a compelling case for why the stock could go much higher anytime soon.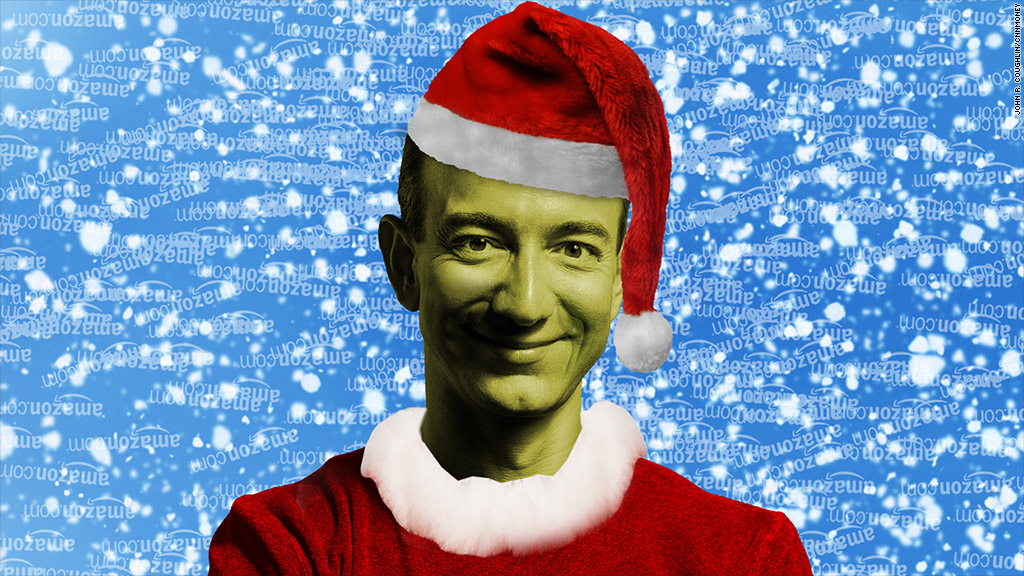 Even after Friday's drop, share still trade at the positively obscene valuation of 150 times 2015 earnings estimates.
Sure, big hedge fund investors and traders are often guilty of being too myopic ... focusing on quarter-by-quarter results instead of the long haul.
Bezos clearly is a visionary. He often has had the last (maniacal) laugh at skeptics who thought he was investing too much on initiatives that would hurt profit margins in the short term.
Several analysts are continuing to defend Amazon as well ... albeit tepidly.
The Internet analysts at Jefferies reiterated their "buy" target on Amazon Friday morning because they still believe in the long-term strategy. But they also cut their price target on the stock and lowered their revenue and earnings estimates for the fourth quarter.
But Amazon now seems to be a company that is throwing every strand of spaghetti it can find at the wall to see what will stick. Amazon appears to lack focus.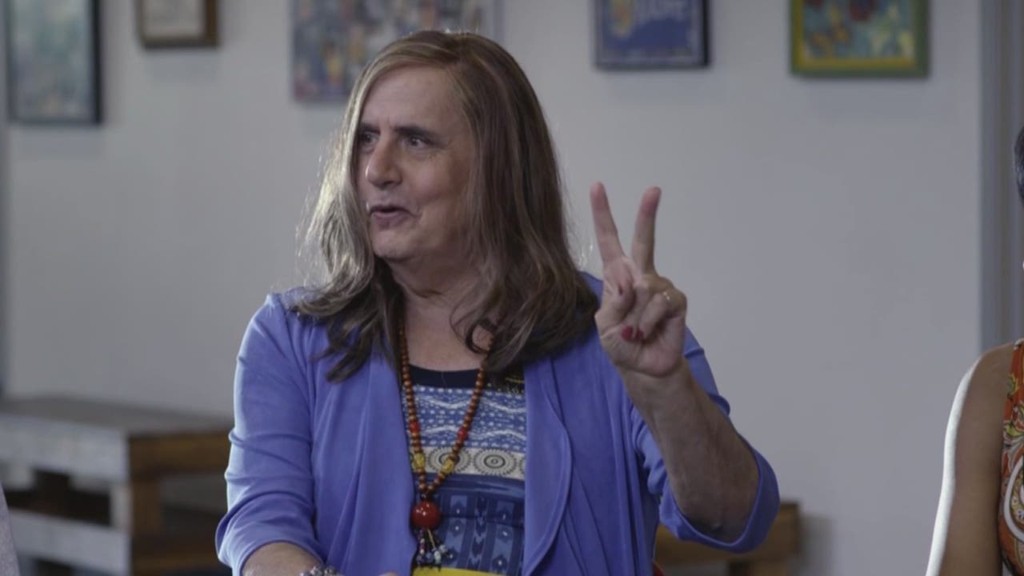 Drones? Phones? TV shows? While reviews for the new show "Transparent" have been phenomenal, should Amazon really try and compete with Netflix (NFLX) and media giants in the costly business of programming?
To be fair, you could say that Google (GOOGL) and Facebook (FB) also have their fingers in too many tech pies.
But the big difference between them and Amazon is both of those companies are still wildly profitable even as they invest in things like driverless cars, virtual reality ... and of course, drones.
As long as other tech giants are able to strike that balance between keeping investors happy now while also continuing to invest so they can remain on top in the future, then Amazon is going to be at a disadvantage.
Private companies can get away with spending as much as they want and not worrying about the consequences. Amazon is not a private company.
So until Bezos proves to Wall Street that he's serious about returning to profitability, the three best words that investors will use to best describe Amazon are as follows, and I quote: Stink! Stank! Stunk!