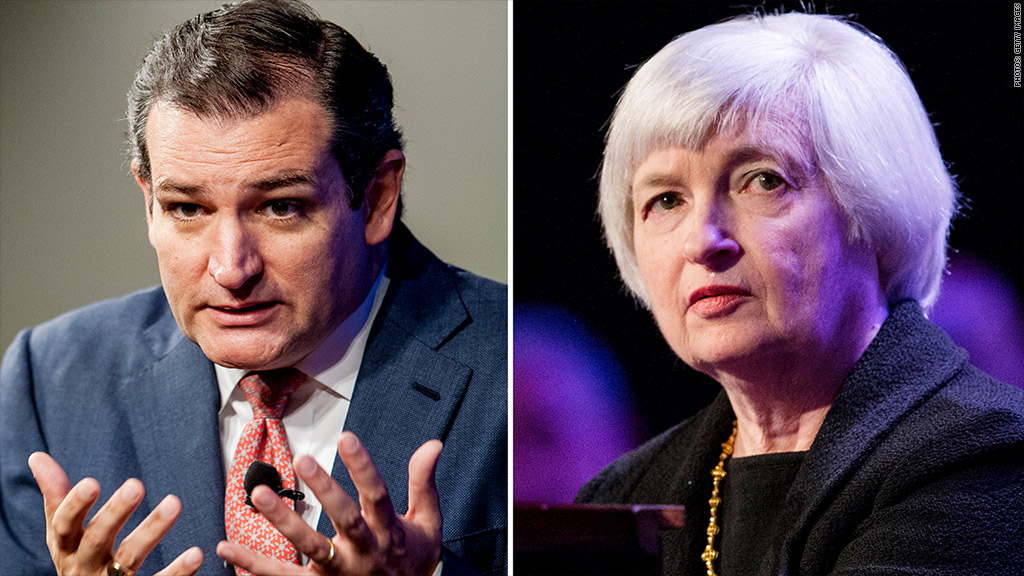 Senator Ted Cruz is still fighting the Federal Reserve.
In a recent opinion piece in USA Today, Cruz said auditing the Fed is a top Republican priority for 2015.
"Enough is enough, the Federal Reserve needs to open its books," Cruz, from Texas, wrote in the op-ed.
The question is what exactly the senator wants. The central bank's finances are already evaluated every year by an independent auditor and a Congressional oversight office.
The only thing that isn't fully transparent are the meetings where the 12 Fed board members set America's interest rates.
There are no cameras or journalists allowed. At the end of each meeting, the Fed issues a statement with the interest rate and the basic rationale behind the decision. Edited minutes come out a few weeks later.
But there's not a play-by-play on what was said by whom, nor is there anyone who overrules or second guesses the Fed. Cruz thinks that isn't right.
Related: Wall Street has priced in a GOP mid-term victory
What the audit means: Cruz is supporting a new bill that would allow the Government Accountability Office (GAO) to go one step further and judge the Fed's monetary policy. The bill passed the House of Representatives in September. If Republicans regain control of the Senate, it's possible the issue will gain more traction there as well.
But there are concerns that allowing the GAO to judge the Fed's decisions crosses a line.
"It will become an attempt to control what the Fed does. I don't think that's in our interest," says David Wessel, director of the Hutchins Center on Fiscal and Monetary Policy at the Brookings Institution. "It's hard to believe that makes the Fed policy-making better."
One way to improve the Fed's accountability is for Congress to ask better questions at hearings, Wessel says. Journalists' questions at press conferences are usually better than politicians' at hearings, he says.
Related: Fed set to finally get out of the market
Yellen is against an audit: Cruz's office did not respond to CNNMoney's request for comment. This is not the first time Cruz has called for auditing the Fed. He and Senator Rand Paul of Kentucky tried to prevent Fed Chairwoman Janet Yellen's confirmation hearing last year, asking Congress to vote on their audit bill first.
Yellen made clear during her confirmation hearing that she opposes an audit.
"For 50 years Congress has recognized that there should be an exception to GAO ability to audit the Fed to avoid any political interference in monetary policy," Yellen said, adding that she would be "very concerned," about any audit bills.
Related: What the heck should the Fed do now?
It's an interesting time for Cruz to restart the "Audit the Fed" campaign given that the Fed is signaling it will begin raising interest rates in 2015. While there is a lot of debate about the health of the U.S. economy, most agree that it's better off now than a year ago, let alone during the worst of the recession.
Related: U.S. vs. Europe: There's a clear economic winner
Fed criticism: It's unclear if Cruz just wants to see the Fed's books.
In his op-ed, Cruz implied the Fed isn't doing its job properly because "Americans are seeing near-zero interest rates on their savings accounts while median incomes are falling, and millions of people are facing higher gas prices, food prices, electricity prices, health insurance prices."
The senator is correct that savings accounts return almost no interest right now and the median American income is right around the same level as 1995. But gas actually hit a four-year low this week, according to auto club AAA. Over a third of states saw average gas prices below $3 last week and food prices are a mixed bag with some like meat up and others like vegetables and bread flat.
Cruz also argues that Americans "deserve a sound and stable dollar," although the greenback is actually having a moment of strength. The US Dollar Index recently rose to its highest point since 2010, according to FactSet.
"He doesn't like what the Fed is doing," says Wessel. "Are people who are promoting these bills out to have more transparency or are they just looking for a way to criticize the Fed policy?"