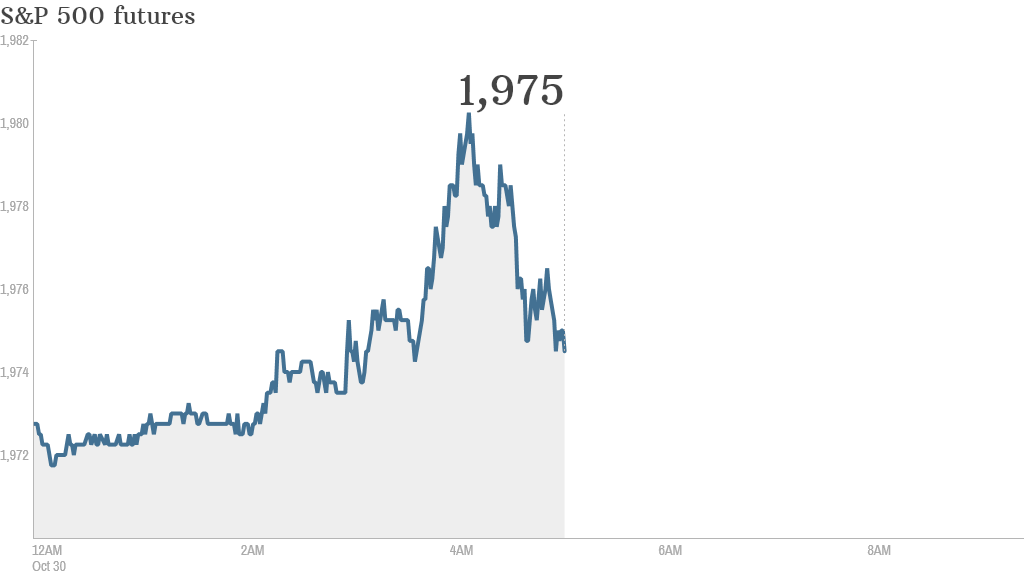 Happy GDP day!
Here are the four things you need to know before the opening bell rings in New York:
1. Get ready for GDP: At 8:30 a.m. ET, the U.S. Bureau of Economic Analysis will release its first official reading of gross domestic product for the third quarter.
It's widely expected the economy grew by 3%, which would be solid, but not stellar.
Keep in mind, the first estimates for quarterly GDP tend to be a little off. The numbers aren't set in stone and will eventually be revised.
Also at 8:30, the Department of Labor will post data on weekly jobless claims.
2. Market moves: U.S. stock futures are not moving too much from their Wednesday closing levels.
One stand-out performer ahead of the open is Visa (V). Shares are pushing up by about 4% premarket after the company reported quarterly earnings that beat estimates.
The latest reading on the CNNMoney Fear & Greed index shows extreme fear has been shaken out of the market. Investors are still feeling relatively fearful, but the mood seems to be under control.
On Wednesday, U.S. stocks edged lower. The Dow Jones industrial average lost 31 points, the Nasdaq slid 0.3%, and the S&P 500 declined by 0.1%.
Related: Billionaires double since the financial crisis
3. Earnings: The New York Times (NYT), MasterCard (MA) and Kellogg (K) are set to report earnings before the opening bell.
LinkedIn (LNKD), GoPro (GPRO), Groupon (GRPN) and Starbucks (SBUX) will report after the close.
4. International markets overview: European markets are mixed in early trading. The banking sector is looking particularly weak, especially among those banks that recently failed a regulatory health check.
Investors are watching various European economic figures coming in on unemployment, inflation and consumer confidence.
Asian markets were also muddled.
Samsung was commanding the most attention overseas after reporting a big plunge in quarterly profits. The company's smartphone business is getting squeezed by competitors at both ends of the price spectrum.
However, investors had been bracing for the worst and the results weren't as bad as expected. Shares popped by about 4.5%.