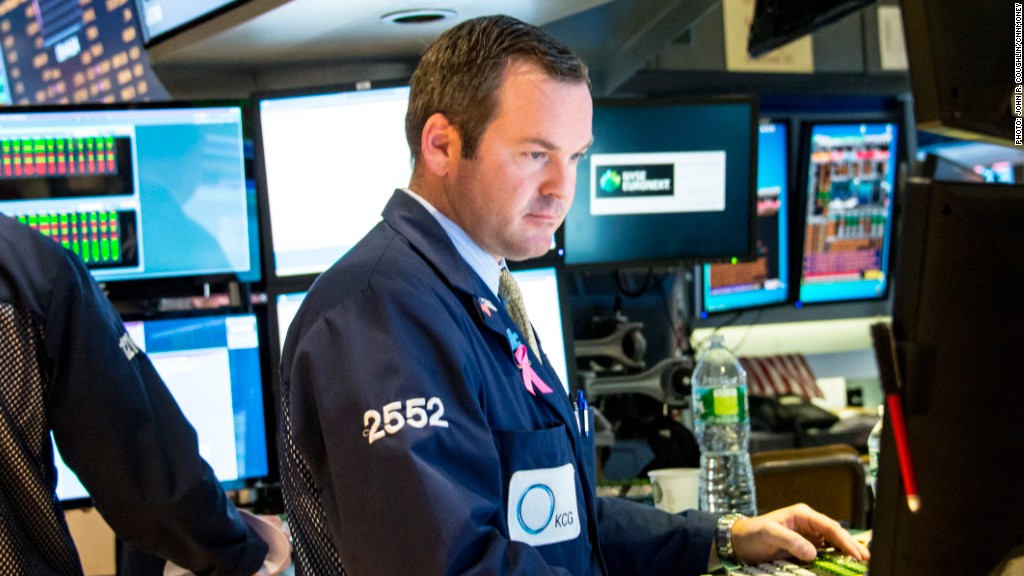 It's looking like a rough start to the week.
Here are six things you need to know before the opening bell rings in New York:
1. Japan back in recession: The Japanese economy slipped into recession in the third quarter, a surprisingly poor performance that could delay a planned sales tax hike and trigger new elections. GDP shrank by an annualized 1.6% in the three months ended September.
2. World markets sink: News of Japan's recession sent the Nikkei tumbling nearly 3% and most other major markets in Asia closed in the red.
European markets got off to a weak start in early trading, hit by the shock from the world's third biggest economy, and U.S. stock futures were trading about 0.3% down.
U.S. stocks closed mixed Friday, ending a fourth straight week of market gains. The Dow lost 18 points but the S&P 500 edged up, barely landing in positive territory. The Nasdaq moved 0.2% higher.
3. Shanghai opens up: International investors poured $2 billion into Chinese stocks Monday, taking advantage of a new program that links markets in Hong Kong and Shanghai.
Previously, only approved institutional investors could invest in the Chinese market. But now, any investor can buy select Shanghai stocks through the Hong Kong Stock Exchange, up to certain limits.
4. Stock market movers -- Pfizer, Allergan: Shares in Pfizer (PFE)were down 2% premarket after it announced a cancer drug development deal with Merck KGaA (MKGAF) of Germany. Pfizer said it would make an upfront payment of $850 million, and cut its earnings guidance for 2014 by 10 cents to $1.40-$1.49 per share.
Allergan (AGN) was up 6% premarket, boosted by several reports suggesting the maker of Botox could be bought by Actavis (ACT) as early as Monday. That would allow it to escape a hostile bid from Valeant (VRX), which has the backing of major Allergan shareholder Bill Ackman.
5. Facebook for work? Facebook (FB) is working on a new product aimed at connecting people at work, and challenging professional networks run by rivals such as LinkedIn (LNKD), Google (GOOG) and Microsoft (MSFT), according to the Financial Times.
6. Earnings to come: Tyson Foods (TSN) will report quarterly earnings before the opening bell and Urban Outfitters (URBN) will post after the close.