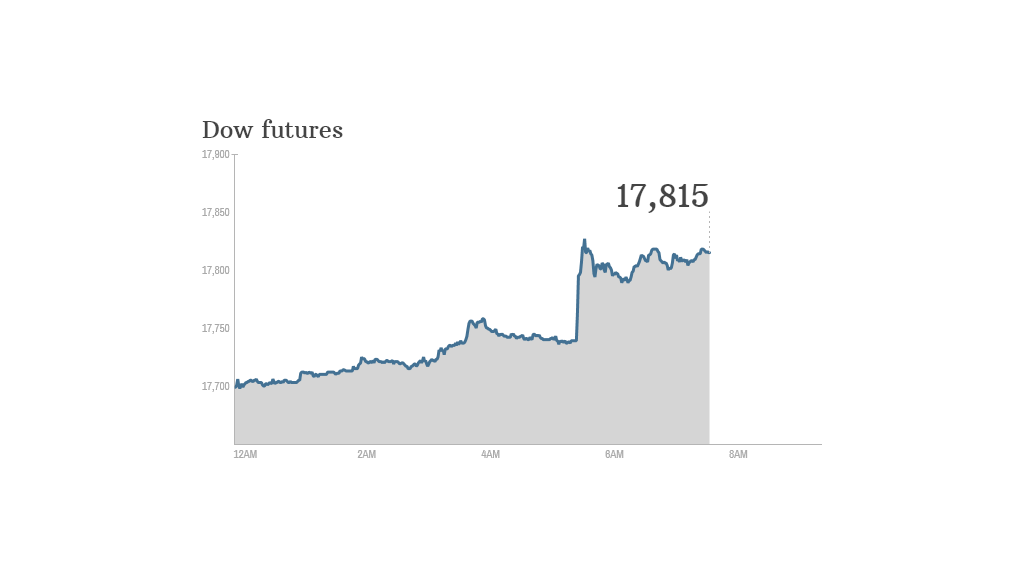 Stock markets look set to close out the week with new record highs, helped by a shot of adrenaline from central bankers in China and Europe. Dow futures were up more than 100 points in premarket trading.
Here are the five things you need to know before the opening bell rings in New York:
1. Thanks China, Mario: In China, the central bank cut its benchmark interest rates by 25 basis points to give the economy a boost, according to state-run news agency Xinhua. It's the first rate cut there since 2012, and it provided an answer to investors worried about slower growth in the world's No. 2 economy.
European markets also were striding higher in early trading, helped by dovish remarks from European Central Bank President Mario Draghi.
In a speech in Frankfurt, he talked of an "increasingly challenging" inflation outlook for the eurozone and said the ECB would do "what we must to raise inflation and inflation expectations as fast as possible."
Asian markets closed with gains. Japan's Nikkei ended up 0.3% after Prime Minister Shinzo Abe dissolved the lower house of parliament and called new elections for December 14. He's seeking a new mandate for his strategy to revive the world's third largest economy.
2. Ready for another record: U.S. stock futures looked poised to build on recent gains as the market mood remained buoyant.
Both the Dow Jones industrial average and S&P 500 closed at all-time highs on Thursday. The Nasdaq is trading at a level it hasn't seen since early 2000.
StockViews CEO Tom Beevers said investors are directing their money toward the U.S., encouraged by an increasingly positive economic outlook.
"The latest data continues to point to a U.S. economy which is recovering despite a weak outlook for the rest of the world," he said. "Markets seem to be in a sweet spot right now."
Meanwhile, the closely watched VIX index shows low market volatility, and CNNMoney's Fear & Greed index is at neutral.
3. Raising money: Alibaba (BABA) tapped the U.S. debt markets for the first time Thursday, raising $8 billion. Demand for the bonds was strong, with investors reportedly hoping to buy more than $55 billion in Alibaba bonds.
The Chinese e-commerce site went public in the U.S. in September. It was the largest initial public offering of all time.
And ex-Pimco bond king Bill Gross has just been handed $500 million to manage by George Soros. That's more than Gross' new fund at Janus Capital (JNS) raised in the whole of October. Gross tweeted his thanks to Soros.
4. Potential market movers -- Sotheby's, Gamestop: Shares of Sotheby's (BID) are worth watching after the auction house said it was looking for a new CEO. William Ruprecht, who has led the company since 2000, will stay on until a successor is found.
Shares of Gamestop (GME) were down nearly 10% in premarket trading after the company reported earnings that missed expectations.
Related: Time to invest in whiskey?
5. Earnings: Foot Locker (FL) will report earnings before the opening bell.