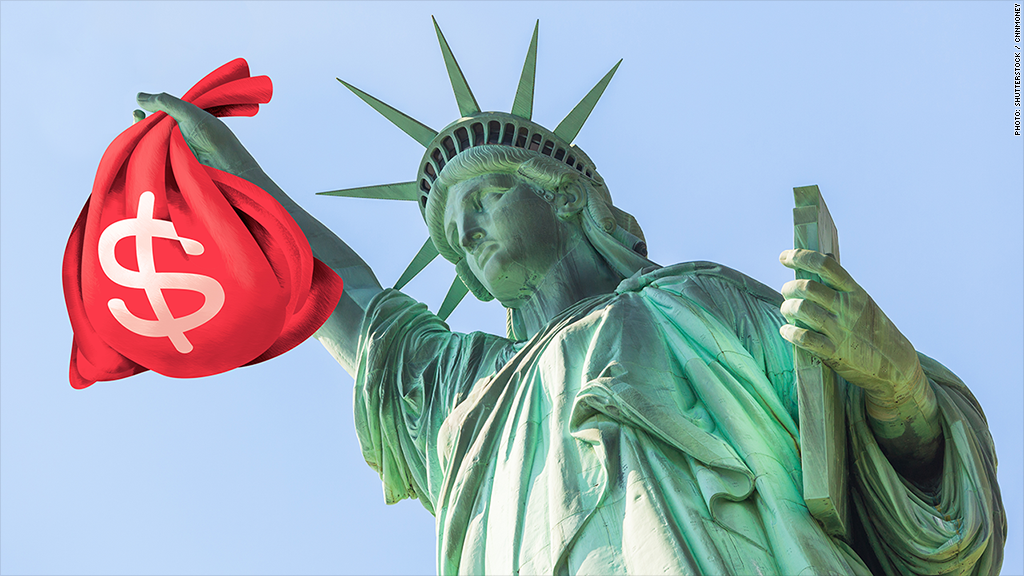 If you slept through the past five years, you missed a helluva ride for the American stock market.
Not only did U.S. equities trounce their depressing performance from last decade, but they left all other major markets in the dust.
Since the end of 2009, the S&P 500 has generated annualized total returns (including dividends) of about 16%. That's a very impressive average based on historical standards.
It's also very strong considering most major stock markets produced modest annual returns in the mid-to-high single digits. Some, like former stock market darlings China and Brazil, suffered outright annual declines.
In other words, the U.S. has been THE place to be for investors.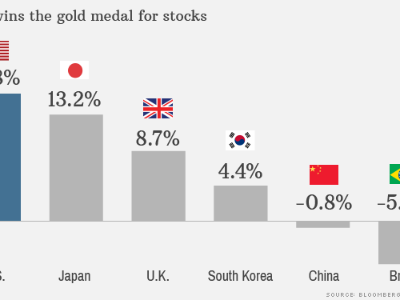 Related: Will 2015 be the ho-hum year for stocks?
Easy money: Former Federal Reserve Chair Ben Bernanke played no small part in making that happen. The former Federal Reserve chief masterminded emergency policies that juiced risky assets like stocks and stabilized confidence in the economy.
"I would give Bernanke and the Fed the lion's share of the credit for repairing the economy," said Phil Orlando, chief equity strategist at Federated Investors.
Of course, it only stands to reason that stocks would bounce back after the Great Recession. They were deeply oversold in early 2009 as investors legitimately feared the collapse of the banking system and an economic depression.
But the market rally was also fueled by the U.S. energy revolution as well as aggressive cost-cutting moves that left Corporate America very lean.
The stock market proved resilient enough to overcome a number of major obstacles, including the slow U.S. recovery, political dysfunction in Washington (see: 2011 debt ceiling debacle) and Europe's debt mess.
Related: 3 reasons Wall Street is getting riskier
Is the party over? But now the Fed's monetary stimulus is fading and interest rates are expected to lift off next year.
But don't bank on the bull market dying just yet. Gains may not be as strong, but they're likely to continue.
"The U.S. is still the place to be," said Orlando.
Federated Investors believes the S&P 500 will pop from its current level of about 2,075 to 2,350 (a gain of over 13%) by the end of next year and then zoom as high as 2,600 at the end of 2016.
Related: Not worried about a recession? Buy these 10 stocks
Nicest house in a bad neighborhood: The optimism is being fueled by the U.S. economy, which looks relatively good compared with slowing China and flatlining Europe and Japan.
"We believe the U.S. economy will continue to outperform many parts of the world in the half-decade ahead and generate the necessary profit growth to sustain the current equity rally," Joseph Quinlan, chief market strategist at U.S. Trust, wrote in a recent note.
He pointed to America's "unique ability to leverage disruptive technologies" like robotics, cyber security, 3-D printing and cloud computing.
Related: 2014 is best year for job gains since '99
Morgan Stanley recently predicted the current U.S. expansion could end up as the longest ever, lasting until 2020 or beyond.
If they're right, economically-sensitive sectors like industrials, consumer discretionary, financial and IT should do very well.
Orlando said it's possible policymakers in Japan and certain emerging markets eventually get their acts together, making those markets more attractive.
"Unless and until that happens, the United States is the best dressed hobo at the fashion ball," he said.