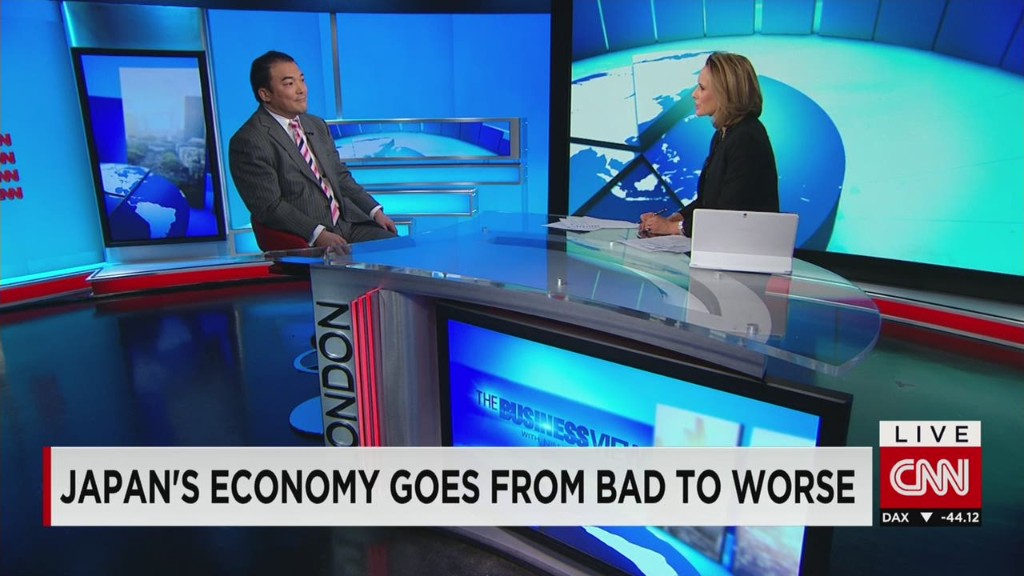 The time for excuses is over: Having won a landslide victory in weekend elections, Japanese Prime Minister Shinzo Abe must now deliver the economic reforms he's been promising for two years.
Abe's ruling coalition secured a two-thirds majority in Japan's lower parliamentary house, a result that could give him another four years in office.
But the victory celebrations won't last long. Turnout was very low, perhaps reflecting little voter enthusiasm for the painful changes to come, and Japan's stock market fell 1.6% on Monday.
This is a crucial moment for Japan, which is burdened by the world's biggest government debt, deflationary pressures, and an economy that just slipped into a recession.
Thus far, Abe has largely relied on government spending and central bank stimulus to revive the world's third largest economy. Experts say central bank action is unlikely to end anytime soon.
The aggressive money printing has "weakened the yen, helped end deflation, and pushed corporate profits to record highs," wrote HSBC's Izumi Devalier in a research note. "But households hardly feel better off as a result of falling real incomes."
Related: Japan gets another sugar rush but needs more
For that to change, Abe will need to find ways to generate stronger economic growth by tackling reforms to the labor market, and opening up the country's protected farming and services sectors to greater competition.
He has an opportunity to set the tone Tuesday when he hosts a meeting between labor unions and business representatives, said Devalier.
Progress on signing a landmark free trade pact -- the Trans-Pacific Partnership -- would also send a strong signal. Experts say it would help make Japan's agriculture and services more efficient.
Related: Women hold key to fixing Japan's economy
Change may be slow in coming, however. As the laundry list of much-needed reforms continues to build, a busy legislative agenda in early 2015 may get in the way.
The "government will not have much bandwidth to pursue structural reform in the first half of 2015 as fiscal and security issues are prioritized," wrote Eurasia Group's Scott Seaman and Ross Schaap in a note.
The stakes are high. Moody's cut Japan's debt rating by one notch earlier this month, warning that policymakers will struggle to boost growth and get debt levels under control at the same time.
One issue Abe will have to revisit is when to raise Japan's sales tax again. A first hike this year sent the economy spiraling lower; a second hike due for October 2015 has been postponed.