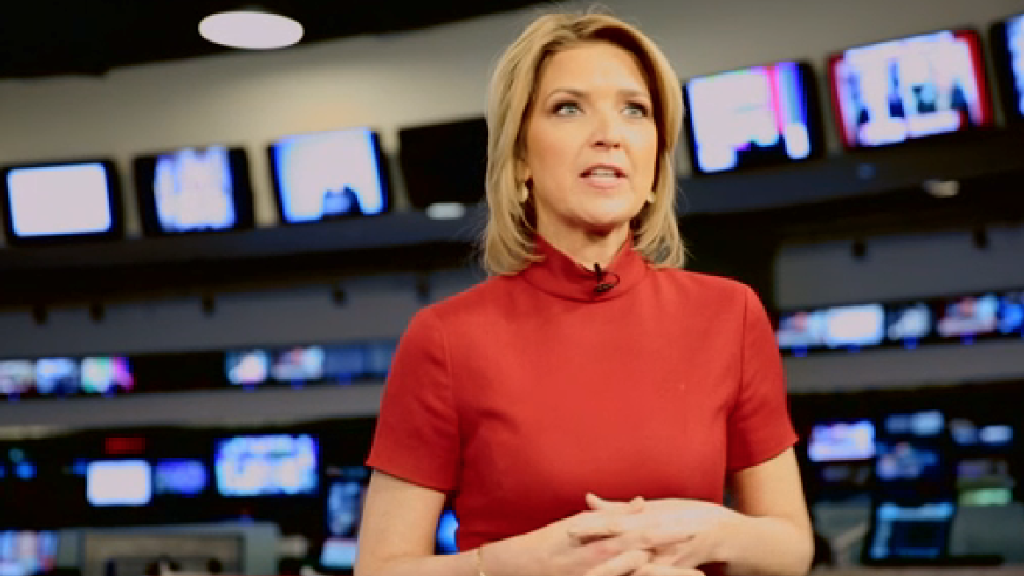 Last year was America's best year of job growth since 1999.
More than 2.95 million jobs were created last year, according to the latest figures from the Department of Labor.
It's encouraging news as the U.S. tries to put the Great Recession and sluggish recovery solidly behind it. Many economists expect 2015 to be equally as strong, if not better, for job seekers.
The unemployment rate fell to 5.6% in December, down from 5.8% in November. That's also a big drop from the 6.7% rate in December 2013. It's expected to hit 5.2% -- around the normal level -- by the end of the year, according to CNNMoney's survey of economists.
Related: Expect strong U.S. economy in 2015
Throughout the recovery, the concern has been that America was adding jobs slowly and people hunting for work were getting so frustrated they would drop out of the workforce altogether.
But the U.S. added over 200,000 jobs every month in 2014 except two. The end of the year was especially strong with 252,000 positions added in December. That was ahead of CNNMoney's economist forecast of 236,000.
The government also revised up its estimates for job gains in October and November, revealing employers added more than 50,000 jobs than previously thought. November was already the best month of the year for job gains.
"American businesses are on a hiring binge," said Sal Guatieri, senior economist at BMO Capital Markets. "It clearly suggests the economy is on a much stronger growth track than the first four years of the recovery."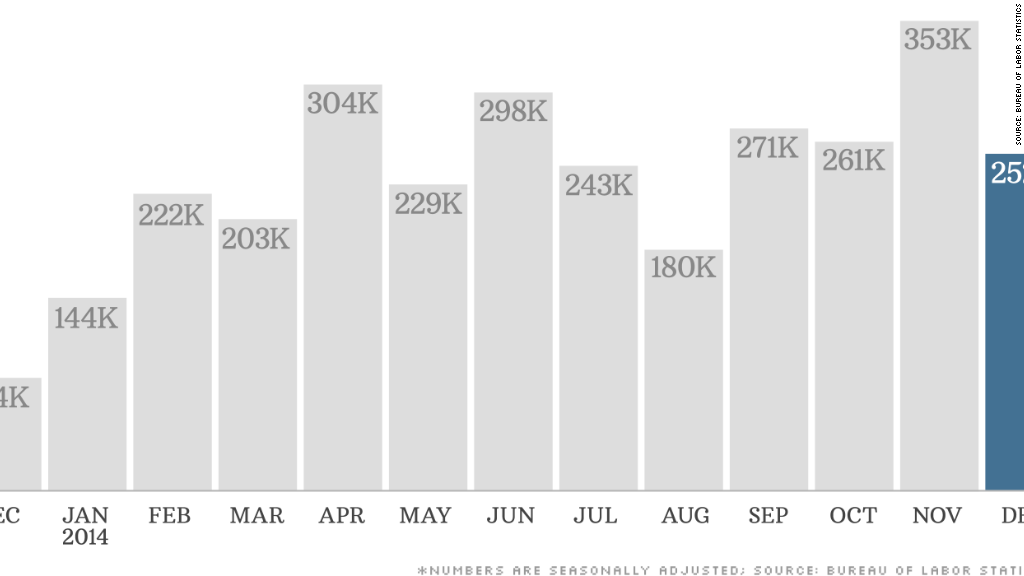 But there are still some red flags for American workers.
While job growth continues to pick up steam, wages have not. The government said average hourly earnings fell slightly in December from the previous month. Wages were up 1.7% over the past year, but that's barely ahead of the pace of inflation -- meaning workers really aren't better off.
"There's still no sign of wage acceleration. It leaves you scratching your head a little bit," said Stuart Hoffman, chief economist at PNC Financial.
Related: 35% of workers say they'll quit if they don't get a raise
Also, the number of long-term unemployed, those jobless for 27 weeks or longer, was unchanged at 2.8 million. That figure has declined by 1.1 million over the past year, but is still much higher than normal.
Wall Street initially cheered the news, but by mid-morning, markets fell. The better than expected jobs report is making investors anxious that the Federal Reserve will raise interest rates soon in 2015.
The gift of work: Joshua Wolfe of Moore, Oklahoma was one of the fortunate job gainers in December. He had been working part-time as a waiter and trying to improve his prospects by taking classes at a local community college. CNNMoney highlighted his story in November in a series on America's hidden unemployment problem.
His big break came when he was eating at fast food chain Del Taco.
"I was just up at the drink machine getting my soda, and I started talking to one of the guys up there getting a refill as well," Wolfe said.
Share your story: Are you expecting a raise in 2015?
The two ended up talking for over half an hour. The man at the soda machine was a regional manager for Aaron's, a rent-to-own furniture and appliance company. He had Wolfe come in for a formal interview and hired him as a customer accounts manager.
"My opening phrase to the regional manager was, 'So how's the wonderful world of rent-to-own?' I recognized the logo on his shirt," Wolfe said. While he believes education is critical to success, his story is another example of the power of networking, even in unexpected places.
Related: Obama wants community college to be free for 2 years
Many sectors added jobs: The job gains have come across many jobs sectors. One highlight in December was the health care sector, which added more than 34,000 jobs that month alone.
There is some concern that the dramatic plunge in oil prices from over $100 a barrel in the summer to under $50 now will spark big job losses in the energy industry.
However, the latest data show there was still net hiring in the oil and gas sectors, though it slowed a bit in December compared with recent months.
U.S. Labor Secretary Thomas Perez told CNNMoney he's "carefully monitoring the employment effects in the energy industry" caused by lower oil prices. He also noted that cheaper gas is likely to help consumer spending and boost the overall economy.
The fact that energy hiring continued at all despite the oil meltdown is "a testament to the underlying health of the U.S. economy," said Guatieri.