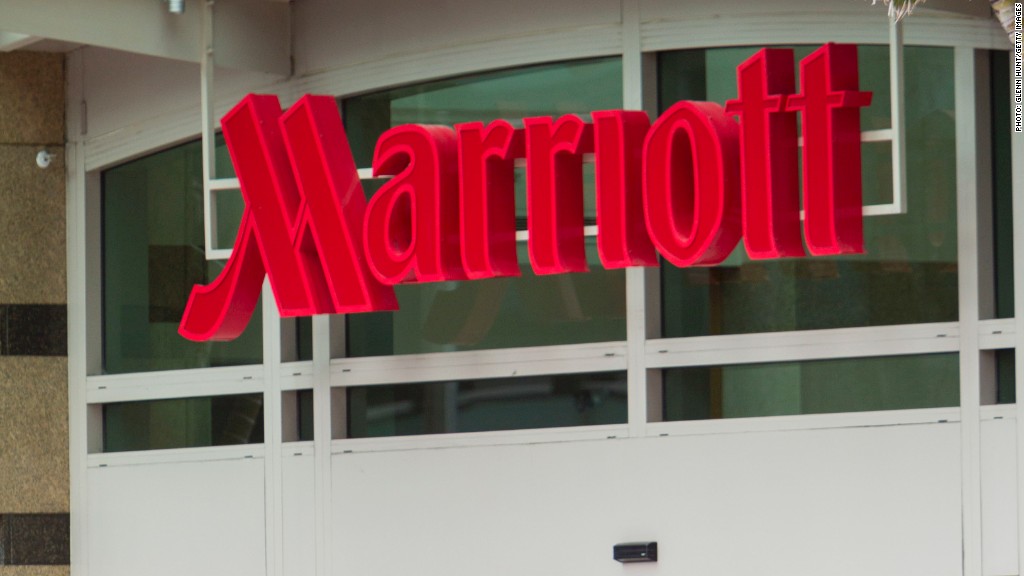 Marriott is giving up: It won't block Wi-Fi hotspots in its hotels after all.
The hotel chain had asked the FCC for permission to block access to Wi-Fi devices in its conference spaces. After a social media firestorm that turned into a PR nightmare, Marriott backed down from that request this week.
"Marriott International listens to its customers, and we will not block guests from using their personal Wi-Fi devices at any of our managed hotels," the company said in a statement.
Marriott (MAR) and the hotel lobby American Hospitality & Lodging Association asked the FCC this summer to allow hotels to deploy equipment that prevents people from turning their phones into Wi-Fi hotspots. Google (GOOGL), Microsoft (MSFT), the wireless industry lobby and other wireless providers were among those that have asked the FCC to deny Marriott's request.
Many customers were outraged by the petition, claiming that Marriott's request for a conference center Wi-Fi ban was a veiled attempt to ban access in hotel rooms and lobbies as well.
Earlier this month, Marriott disputed those claims, saying that it "has never been nor will it ever be Marriott's policy to limit our guests' ability to access the Internet by all available means, including through the use of personal Mi-Fi and/or Wi-Fi devices."
The hotel chain said it needed to block Wi-Fi hotspot access in conference centers because attendees could launch cyberattacks on the company's network or disrupt Wi-Fi service for the conference or guests.
Still, the firestorm never let up, and Marriott retracted its request on Wednesday.
Marriott said it "will continue to look to the FCC to clarify appropriate security measures network operators can take to protect customer data, and will continue to work with the industry and others to find appropriate market solutions that do not involve the blocking of Wi-Fi devices."
In order to avoid pricey hotel Wi-Fi charges, many guests opt to use their data allotment from their cell phone provider, connecting their laptops to the Internet via their smartphones. Marriott connection rates start at $14.95 per day. For $19.95, guests get "enhanced high speed Internet" which includes video chatting, downloading large files and streaming video. Marriott charges between $250 and $1,000 for conference exhibitors and attendees to use its Wi-Fi service, according to the FCC.