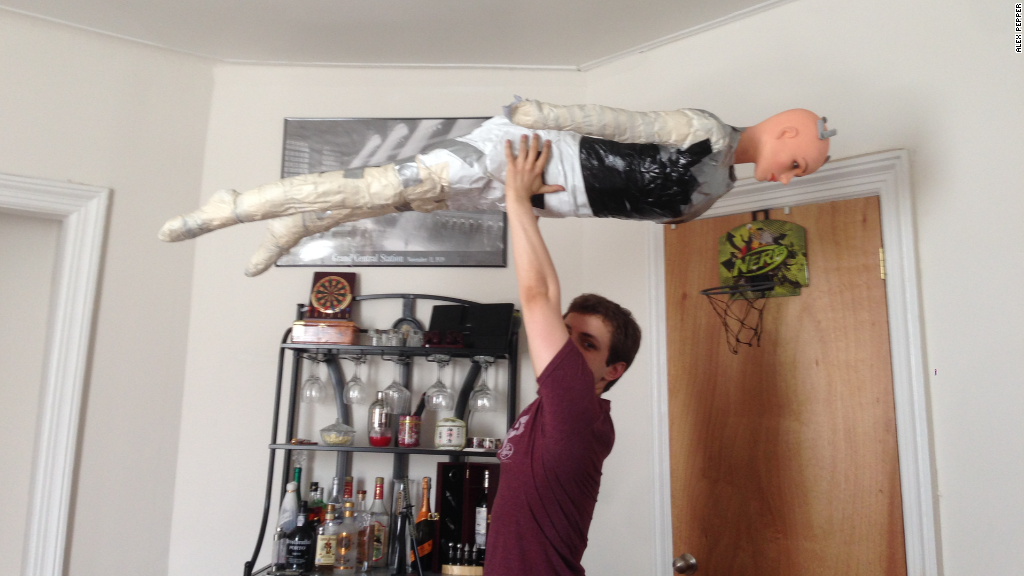 Super Bowl XLIX will feature some familiar names: the defending champion Seattle Seahawks against Tom Brady's New England Patriots, who are making their sixth appearance in the big game since 2002.
But the Super Bowl commercials? That's a different story. There are a lot of rookies this year.
Sure, there will be ads from veterans like Anheuser-Busch inBev's (BUD) Budweiser and Bud Light as well as Pepsi's (PEP) Doritos.
However, they'll be joined by some companies you may not have heard of, such as Web design firm Wix.com (WIX) and smartphone accessory maker mophie.
A company called Loctite is also making its Super Bowl debut. That name may not ring a bell. But their top product probably does: Super Glue.
Loctite hasn't said what brand it will be showcasing in its spot, but Super Glue seems likely -- and not just because of the word Super in the brand name.
Related: Get a sneak peek of this year's Super Bowl ads
The company said the ad will be based on a YouTube ad campaign called "Win at Glue." That bizarre video features a bunch of people dancing while wearing fanny packs and busting a move that looks a bit like the Discount Double Check that Green Bay Packers quarterback Aaron Rodgers does for State Farm.
Then there are two other brands that you probably do know pretty well -- cruise giant Carnival (CCL) and the popular multi-colored, fruit-flavored candy Skittles -- which Seattle running back Marshawn Lynch has been known to munch on while on the sidelines.
The $4.5 million gamble. Why are there so many Super Bowl ad newbies?
Mike Bernacchi, a marketing professor with the University of Detroit Mercy, said one reason is because several automakers, most notably Volkswagen (VLKAY),GM (GM) and Ford (F), have decided to not run commercials this year. That's opened up slots for other marketers.
"Smaller firms have an entrepreneurial opportunity. Advertising rookies can get more attention this year, especially since many auto companies are noticeably absent," he said.
But isn't ponying up $4.5 million for thirty seconds of exposure a big risk? Carnival is actually doubling down with a 60-second spot.
Related: NBC sells Super Bowl ads at a record price
Still, a successful Super Bowl campaign can get a company noticed. That is probably what Wix, mophie and Loctite are hoping for ... a chance to introduce their brand to an audience likely to top 100 million viewers.
Mophie admitted as much in a release about its Super Bowl ad.
"As momentum continues to build in the mobile power accessory category, mophie intends to bring its message to life in front of the masses on advertising's biggest stage," the company said.
But reaching a mass audience isn't enough. RadioShack (RSH) is reportedly close to filing for bankruptcy despite having one of the funniest Super Bowl commercials last year.
Cruise control? The stakes are a little lower for Carnival.
The company's sales and stock price have bounced back following a tragic accident in Italy in 2012 that killed 32 people as well as bad press after a cruise ship was stranded in the Gulf of Mexico for several days in 2013. So Carnival isn't necessarily banking on the spot to repair its image.
The ad may help it cut through the clutter though. Carnival faces tough competition -- both on the high seas and Madison Avenue -- from Royal Caribbean (RCL), Norwegian Cruise Line (NCLH) and Disney (DIS).
Carnival is also giving fans a say in which ad airs. It has four semifinalists produced by its ad agency. People can go online to pick their favorite -- and also be entered in a contest to win an annual cruise for life.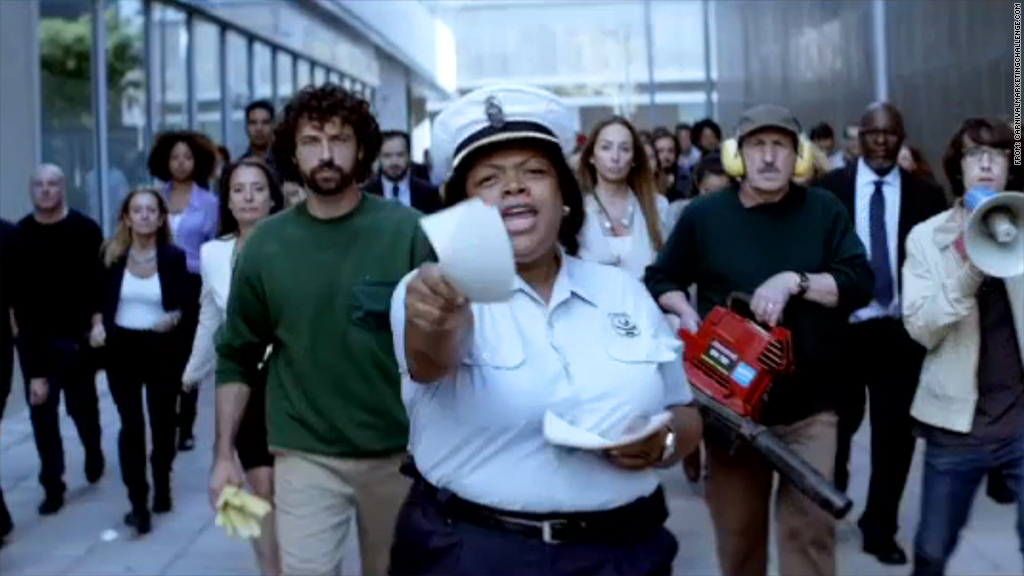 Have some candy! Skittles may have the least to prove with its commercial --other than in-house bragging rights.
The candy is owned by the Wrigley unit of confectionery giant Mars, which is privately held. But Mars has been successful with ads for its Snickers candy bar during the past few years.
There will be another new Snickers ad in the "You're Not You When You're Hungry" campaign this year.
Skittles hasn't divulged any details about its ad. (It would be awesome if Skittles had "She's A Rainbow" by The Rolling Stones as the jingle -- except for the fact that Apple (AAPL) already used it for the iMac in 1999. Oh well.)
But based on the pre-game promotions, it could be quite odd.
Skittles hosted a tailgate party in the empty parking lot of University of Phoenix Stadium in Arizona, the site of Super Bowl XLIX, a few weeks ago. Fans got to hang out with former Arizona Cardinals quarterback (and Super Bowl champ with the St. Louis Rams) Kurt Warner.
Mars can afford to take a creative risk though. It doesn't have to worry about Wall Street shareholders if the commercial flops.
And with an estimated global ad budget of $2.2 billion annually, $4.5 million on the Super Bowl is couch change in the company's marketing offices. The same can't be said for Wix, mophie or Loctite.