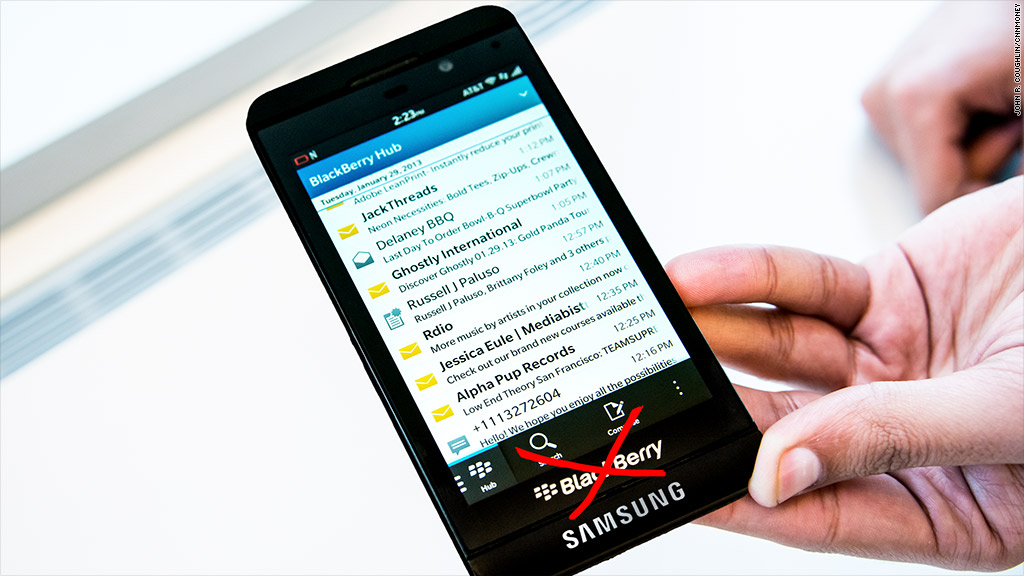 BlackBerry and Samsung both shot down rumors last week that Samsung was interested in buying BlackBerry. But investors are ignoring those denials.
Shares of BlackBerry (BBRY) soared nearly 6% Thursday following another report suggesting that Samsung really wants to do a deal.
According to a story in the Canadian newspaper The Financial Post, Samsung is still "leaning towards" an acquisition of BlackBerry. The paper quoted an anonymous source.
It also cited a document reportedly prepared for Samsung (SSNLF) by New York investment bank Evercore (EVR) that outlines the case for a BlackBerry purchase.
In that document, Evercore suggested that Samsung try to get influential BlackBerry shareholder Prem Watsa to support a deal, The Financial Post reported.
Watsa is chairman and CEO of Toronto-based Fairfax Financial Holdings (FRFHF), an insurance and investment firm.
Fairfax owns a nearly 9% stake in BlackBerry, making it the second largest investor in the company. Fairfax is often compared to Berkshire Hathaway (BRKB) and Watsa has been described as Canada's Warren Buffett.
The anonymous source that spoke to The Financial Post told the paper that Watsa would likely endorse a deal above $15 a share.
Related: BlackBerry ended 2014 on a sour note
That's more than 30% higher than where the stock closed on Wednesday and nearly 20% more than the 52-week high that BlackBerry surged to last week when the Samsung rumor first started to circulate. BlackBerry shares have not traded above $15 since June 2013.
A spokesperson for Samsung had no comment about The Financial Post report.
Evercore issued a somewhat cryptic response, saying that "we routinely prepare ideas on our own accord" but added that "Samsung has not been a recent client of Evercore's."
BlackBerry and Fairfax did not respond to requests for comment.
But BlackBerry said last week that it "was not engaged in discussions with Samsung with respect to any possible offer" for a buyout.
Still, it looks like investors are channeling Getrtude from Shakespeare's Hamlet: The smartphone companies doth protest too much, methinks.
"When I first saw the rumor, I laughed. I don't know what Samsung would be getting," said Brian Blair, an analyst with Rosenblatt Securities. "But people really want to believe it's true."
Blair said the only reason why BlackBerry would make sense as an acquisition target is because of its patents. But he doesn't think Samsung needs to buy the whole company to get that.
Some traders on StockTwits disagreed.
Related: Remember the BlackBerry PlayBook? It was one the most epic gadget flops
Several argued why the deal made sense, pointing out that the company has a reasonably large messaging platform with BBM and also is doing more with the so-called Internet of Things thanks to its QNX software.
Ford (F) recently announced that QNX would replace Microsoft's (MSFT) technology as the engine of Ford's in-car information and entertainment Sync platform.
"$BBRY Samsung needs the "ecosystem" that it lacks BB has it in BBM and QNX and Sammy can grow it faster than BB can alone.Big $ in this deal," wrote magnaman1969 on StockTwits.
"$BBRY Samsung will get BBM. China has Wechat, Japan has LINE, South Korea wants BBM," added cstran.
There was more skepticism about the deal on Twitter though.
"A Blackberry-Samsung hookup reeks of desperation," said Lou Miranda.
And Adrian D Ho called the chatter a "day traders' dream."
BlackBerry has made admirable strides since CEO John Chen took over the company in late 2013.
Related: Chen made CNNMoney's best CEOs of 2014 list
Chen has focused more on software and its core corporate customer base -- many of whom are still addicted to their CrackBerry. There has been constant speculation about a BlackBerry sale since Chen took over because the last company he led, Sybase, was sold to SAP (SAP) after he turned it around.
And even though the Canadian government reportedly put the kibosh on a proposed offer for BlackBerry by China's Lenovo (LNVGY) a few years ago, few think Ottawa would have as many objections about South Korea's Samsung buying BlackBerry.
But Blair said the company's biggest problem is that it is still losing money and subscribers. The company just hasn't been able to attract enough average consumers, who have instead flocked to Apple's (AAPL) iPhone and devices running on Google's (GOOGL) Android.
Samsung is one of the biggest members of the Android camp. So it does seem a bit odd that it would want to buy BlackBerry.
And it's not as if Samsung is operating from a position of strength either. Its stock has fallen the past two years.