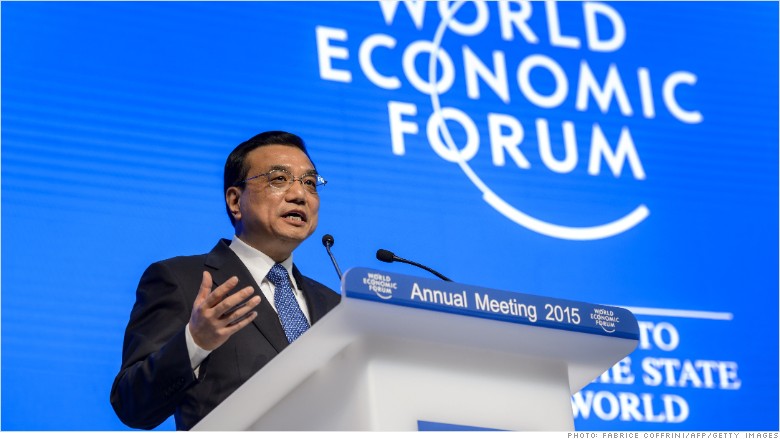 One of China's top government officials, Premier Li Keqiang, is reassuring markets that his country will avoid a much-feared "hard landing" as economic growth slows.
Worries have swirled for years that China could take a dive after decades of booming economic growth.
Indeed, China's economy expanded at its slowest pace in more than two decades in 2014 -- 7.4% instead of the government's target of 7.5% -- but Premier Li characterized the growth as "medium to high speed."
"China's economy has entered a state of 'new normal'," the premier told a packed audience at the World Economic Forum in Davos, Switzerland.
The premier compared China to a fast-moving train, saying it still had speed and momentum, but was becoming more steady as the country introduces economic reforms.
Those reforms are intended to boost entrepreneurship, encourage healthy competition and protect intellectual property, among other things.
Premier Li reassured the audience that his country was happy to have slower growth, so long as it was solid and stable.
"Regional or systemic financial crises will not happen in China," he said.
China continues to face a number of long-standing risks, such as ballooning government and corporate debt and a weak property sector.
In the face of a sustained downturn, the government has deployed incremental measures to boost the economy. Beijing has accelerated infrastructure projects, cut interest rates and tried to bolster the flagging property market.
China averaged economic expansion of around 10% a year over the past three decades, pushing it up the list of biggest economies and boosting household wealth.