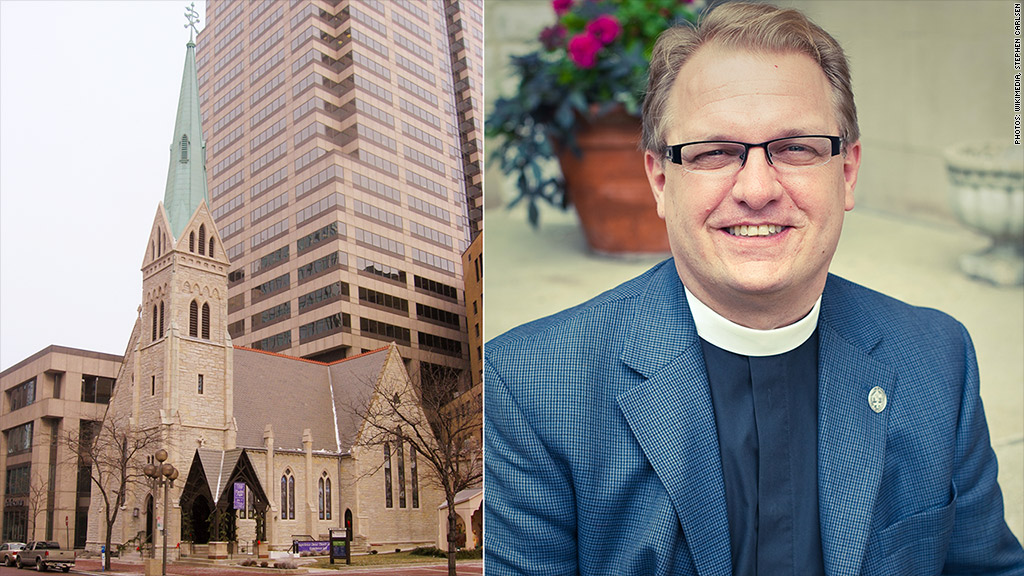 Reverend Stephen Carlsen went to a seminary, not business school, but he's quickly becoming an expert on how Wall Street works as his church battles America's largest bank.
Carlsen is dean of Christ Church Cathedral of Indianapolis, which is suing JPMorgan Chase (JPM) for millions.
The church claims that JPMorgan intentionally mismanaged its funds, which shrank in the past decade. Meanwhile, the fees the church paid JPMorgan skyrocketed.
The church has had to scale back its charitable work in Indianapolis and abroad because of an alleged $13 million in losses caused by JPMorgan. After many hours of prayer and frustrating dialogue with the bank, Christ Church decided to fight.
"They didn't teach me any of this at seminary," says Rev. Carlsen. "Legal action was a last resort."
Related: JPMorgan's Dimon says bank is 'under assault' by regulators
Big money: Founded in 1837 in the heart of Indianapolis, the Episcopal congregation has a large trust fund, thanks to Eli Lilly, Jr., who built his family's pharmaceutical company Eli Lilly (LLY) into a power player. Lilly, Jr. gifted the church 10% of his massive estate in the 1970s.
Not wanting to burden the church with handling such a large endowment, Lilly appointed three banks -- Indiana National Bank, American Fletcher National Bank and Trust and Merchants National Bank & Trust Company of Indianapolis -- as trustees. They were all located within a few blocks of the church.
The plan was to keep the money in reliable local hands, but that imploded after JPMorgan acquired two of the three banks in 2004.
Suddenly a Wall Street bank that's headquartered hundreds of miles away was calling the shots.
Related: Rough seas: Stock market volatility is here to stay
The church's investments began to change rapidly once JPMorgan took control. Almost overnight, the church's fairly mundane portfolio of stock and bond funds was replaced with a litany of JPMorgan's own funds, according to the court filing.
JPMorgan changes the church investments: By 2007, JPMorgan even started adding so-called alternative investments -- structured notes, derivatives and hedge funds. Complex investments like those usually result in higher fees for JPMorgan.
The church paid over five times more in fees -- rising to $177,800 by 2013 from $35,000 a year in 2004. And that was just the basic management fee. There were other fees that JPMorgan tacked on, although the bank never fully disclosed those despite repeated requests from the church, the lawsuit alleges.
By the end of 2009, JPMorgan had the church invested in 52 different investment funds, with 75% of them in JPMorgan's own proprietary products.
The fees went up, but performance didn't.
When JPMorgan took over the church's trust fund in the summer of 2004, it had $34.6 million. By December 2013, the value fell to $31.6 million, according to the lawsuit. For context, the Dow Jones Industrial Average rose over 50% during that time frame.
The losses meant the church wasn't able to do as much for downtown Indianapolis or places around the world. The church is a key supporter of a food bank, a homeless shelter and a center of abused women, and it gave aid to Haiti.
"We've had to cut staff and cut back on the amount of money we give away to the community," says Rev. Carlsen. "The cutbacks have been real."
Related: Your next bank teller could be a robot
JPMorgan fires back: JPMorgan is fighting the lawsuit, claiming the church is "cherry picking" the details. The bank denies poor performance.
"Even though the Trust distributed more than $13 million to the church between 2006 and 2013, the Trust still gained well over $10 million during that period," JPMorgan spokeswoman Kristen Chambers said in an email.
Like many charities, the church spends a small portion of the endowment returns every year to help fund its aid work. The church argues its investment strategy should have allowed it to make a draw from the endowment without losing money over time.
The church repeatedly tried to become more involved in the management of the funds despite the restrictions in Lilly Jr.'s will. By the end of 2013, JPMorgan voluntarily stepped down as trustee and an Indiana court appointed Christ Church Cathedral Foundation as the new trustee.
"It's not cherry picking...It's like they got cherry juice all over them," says Linda Pence of Pence Hensel, the law firm representing Christ Church Cathedral.
The church is seeking to recover $13 million in investment losses from JPMorgan, plus legal costs.
Related: Warning: Bond rates are going negative
A bigger debate: The Indianapolis church isn't alone. Sandscrest Foundation, a retreat center in West Virginia, has filed a similar lawsuit against JPMorgan for mismanagement of a charitable trust.
At the heart of these cases is a bigger debate about conflicts of interest when big banks serve as trustees of foundations and have the ability to use client money to buy the bank's own investment products.
"We need a larger conversation about ethics in this country," says Rev. Carlsen.