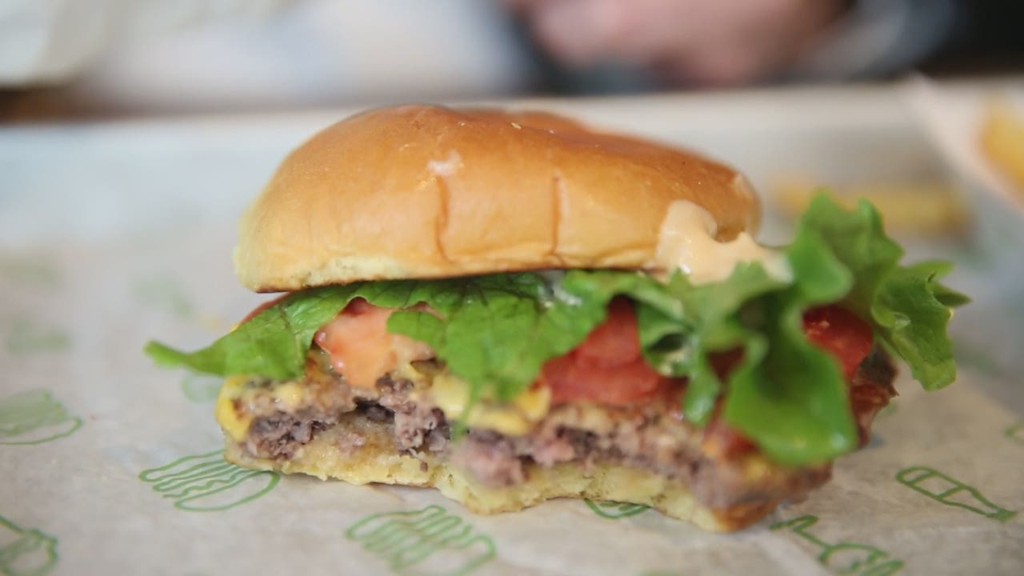 Shake Shack is already immensely popular with foodies in Manhattan and Brooklyn. And now it's about to take another part of New York by storm: Wall Street.
The upscale burger joint priced its initial public offering at $21 a share Thursday evening. That's above the price range Shake Shack set earlier this week, which it had already raised due to strong demand.
At $21 a share, Shake Shack is raising $105 million, making the company worth $745.5 million.
Shake Shack (SHAK) is set to debut on the New York Stock Exchange Friday morning.
To celebrate its first day as a public company, Shake Shack said it will turn the New York Stock Exchange into the New York SHACK Exchange. In other words, it plans to park a Shake Shack food truck in front of the exchange and dish up free food.
Restaurateur Danny Meyer, who is chairman of Shake Shack and founder of the Union Square Hospitality Group that started Shake Shack, owns a 21% stake in the company. His share is now worth $156.2 million.
Shake Shack, which started in 2001 as a hot dog cart in New York's Madison Square Park, has quickly become a Big Apple icon.
Expanding ... but not too quickly. The company currently operates just 63 restaurants worldwide -- but 16 of them are in the metropolitan New York City area.
And Shake Shack has already planted outposts in several global markets, such as London, Moscow, Kuwait, Turkey and the United Arab Emirates.
Shake Shack has said that it wants to expand relatively slowly. It is targeting 10 new locations in the U.S. a year as well as more international locations.
Related: 8 of the world's craziest fast foods
The strategy has been extremely successful so far. Shake Shack reported revenue of $83.8 million in the first three quarters of last year, an increase of more than 40% from the same period in 2013.
Shake Shack is also profitable. But net income fell in the first nine months of 2014, primarily due to higher costs for paper, food and labor as the company opened more locations.
Profiting from the problems at Mickey D's? So will the stock be a big hit? Aren't consumers backing away from unhealthy burgers and fries? McDonald's (MCD) just announced its CEO is retiring after a period of weak sales.
That's true. But Shake Shack and other gourmet burger companies appear to be doing well at the expense of McDonald's.
Related: McDead? More lousy results from McDonald's
Shake Shack bills itself as a "fine casual" dining chain, a play on the fast casual term popularized by Chipotle (CMG) and Panera (PNRA).
In addition to having the backing of star chef Meyer, Shake Shack says in its IPO filing that it prides itself on using "sustainable ingredients, such as all-natural, hormone and antibiotic-free beef."
The proof is in the prices. A typical burger at Shake Shack can cost twice as much as a Big Mac.
Related: $7.54 for a Big Mac? Only in Switzerland
Shake Shack also differentiates itself from other burger restaurants by selling hot dogs, beer, wine and -- of course -- frozen custard shakes.
And investors are clearly hungry for restaurant IPOs.
El Pollo Loco (LOCO), Potbelly (PBPB), Noodles (NDLS) and Zoe's Kitchen (ZOES) are just a few chains that have gone public in the past two years that have soared on their first day of trading.
There is a lot of competition in the burger wars. But those four stocks are now well off their highs.
So is Habit (HABT), a popular California burger chain that went public last November and more than doubled in its debut.
Habit may not be as well-known to New Yorkers as Shake Shack. But its burgers were voted best in America by readers of Consumer Reports last year.
To that end, competition could prove to be the biggest risk for Shake Shack.
Related: White Castle now serving veggie burgers
Even though its burgers are delicious, so are ones made by privately held Five Guys, Smashburger, Bareburger, In-N-Out and many other regional and national upstarts.
Heck, Sonic (SONC)is doing really well lately thanks to strong demand for its burgers.
So Shake Shack may soar on Friday like other restaurant IPOs have done lately.
But the challenge is going to be staying at those lofty levels. The company now has to satisfy the fickle tastes of Wall Street as well as the palates of hipster burger gourmands.
CNNMoney's Ben Rooney contributed to this report.