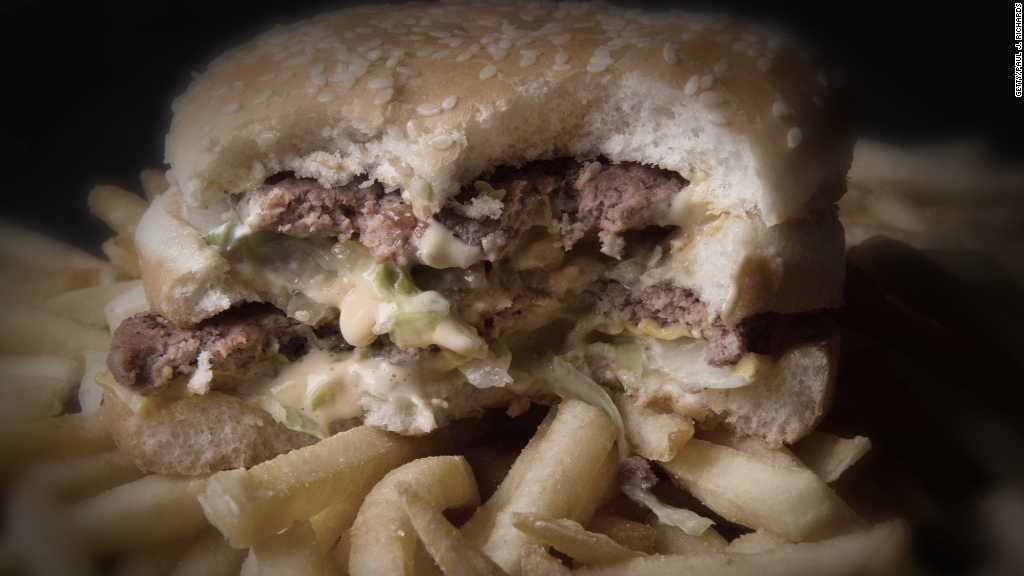 Ba da ba ba blech! McDonald's reported awful results for the fourth quarter and warned that the first half of 2015 will be a McChallenge.
Investors were disappointed. The stock was down more than 1% Friday -- even though some were bracing for the numbers to be even worse.
But make no mistake. McDonald's (MCD) is in desperate need of a turnaround.
The company reported that its overall sales in the fourth quarter fell 7%. And comparable or same-store sales, a key measure of health in the restaurant industry, fell nearly 1%. Profits were down 21%.
For the full year, sales dropped by 2% and earnings fell 15%.
Related: McDonald's is shrinking its menu
Is McDonald's too fried? Shares of McDonald's have fallen 8% over the past three years ... a period of time when the broader market and fast food rivals, such as Wendy's (WEN) and Yum! Brands (YUM), have surged.
"As we begin 2015, we are taking decisive action to regain momentum in sales, guest counts and market share," said CEO Don Thompson in a statement Friday.
The company has been trying to focus more on healthier food to try and rejuvenate sales around the world. While its struggles in its home market have been widely publicized, McDonald's sales are also falling in Europe and Asia.
Related: Plastic found in Chicken McNuggets in Japan
An issue with a supplier of tainted meat in Asia last summer hurt sales in China and Japan in the fourth quarter as well.
McDonald's said in its earnings release that it plans to further simplify its menu this year and also try to cater more to "local customer tastes and preferences."
CFO Peter Bensen added that the company is also planning to slow down its expansion. He said that McDonald's only plans to spend $2 billion on capital expenditures in 2015 -- its smallest budget in more than 5 years. He also said that there will be fewer restaurant openings in the company's "most challenged markets."
Will this be enough to restore the shine in those Golden Arches though?
Related: High calories = high stock prices ... except for McDonald's
Thompson said that same-store sales would fall in January and that the company's results will remain under pressure for some time. Yet, he's still hopeful.
"I am energized by the opportunities ahead for McDonald's and remain confident that we can regain our momentum and build value for shareholders over the long term," he said.
More competition: But there is intense competition in the restaurant business. The so-called fast casual craze has hurt McDonald's.
Related: Forget healthy, Americans indulge on Sonic
Ironically enough, the leader of the fast casual revolution, Mexican chain Chipotle (CMG), was spun off by McDonald's in 2006.
The burger wars are heating up too. In addition to companies like Wendy's and Burger King (QSR), several upstart burger joints are generating a lot of buzz as well.
Habit Restaurants (HABT), a West-Coast based burger chain, went public late last year and shares more than doubled on their first day.
And investors are eagerly awaiting the debut of Shake Shack (SHAK), which is set to start trading next week.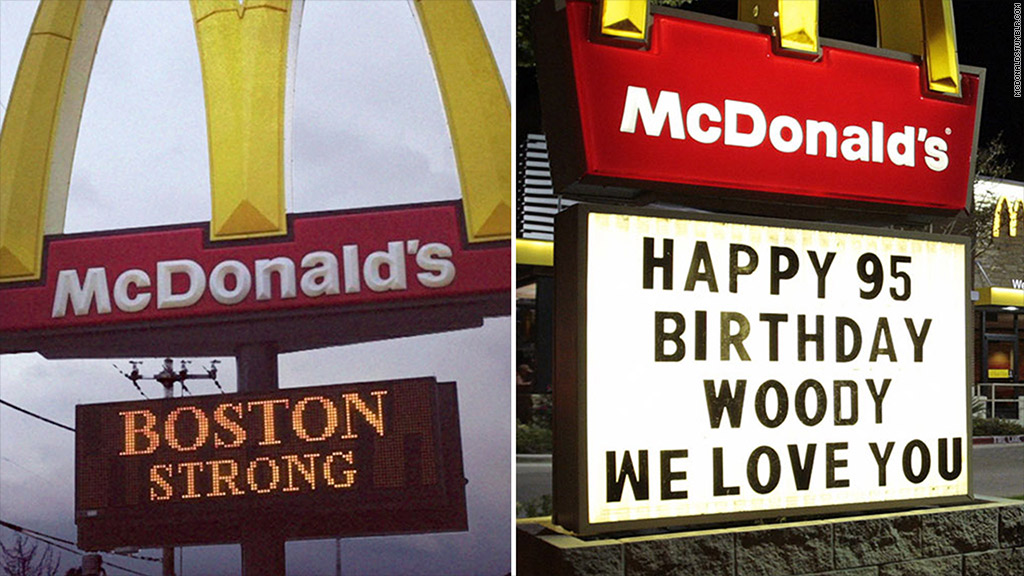 McDonald's also has a lot to do to repair its public image.
The company has launched a new ad campaign that's an attempt to pull at the heartstrings ... but has come across as being insensitive to some critics since it references national tragedies such as 9/11 and the Boston Marathon bombing.
Related: McDonald's sued over claims of racism
And McDonald's is also one of the most prominent companies targeted by workers who have taken part in nationwide protests calling for a higher minimum wage.
McDonald's clearly needs a new special sauce to convince consumers and investors why they should be lovin' it again.