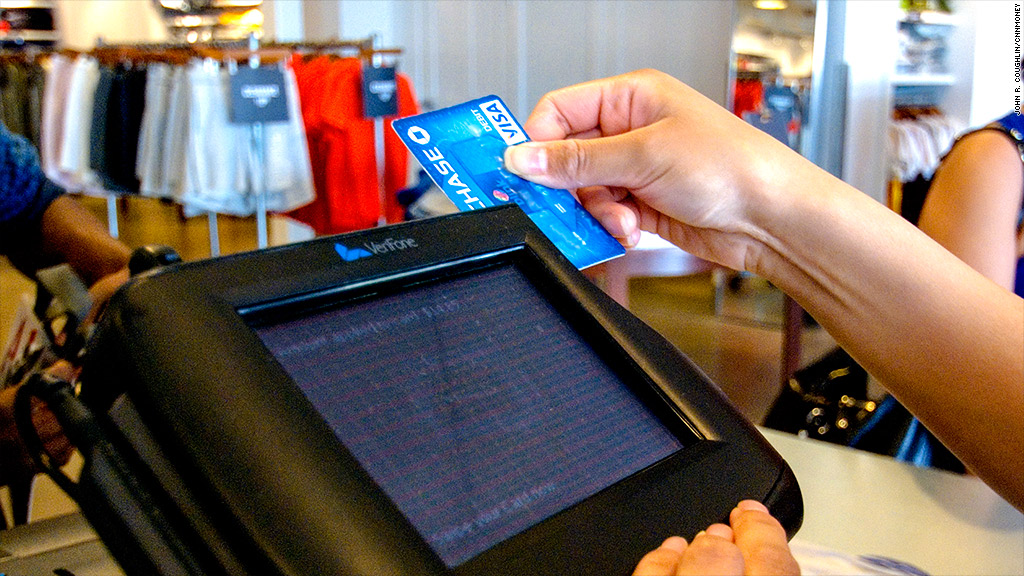 Visa is surging, and that's likely a good sign for the economy.
The credit card company reported an 11% jump in payment volume. Over $1 trillion worth of transactions were made on Visa (V) cards from October 1 to December 31. That's not too far off from the size of the total Australian economy, and that was only one quarter for the company.
Visa also announced a stock split. On March 19, investors who hold one share in the company will receive four shares. It's a common move by companies when their stock price gets too high. Visa currently trades for about $250 a share, which will make shares about $63 apiece after the split.
Fees continue to juice Visa's bottom line. Visa charges a fee on all international transactions, regardless of whether there is a currency conversion involved. Those international fees grew 9% over the prior year to $970 million. Visa also continues to expand its data processing revenue at a nearly double-digit rate.
Related: Jobless claims lowest since 2000, but...
On the flip side, there's evidence that credit card users are milking the reward points that many cards now offer. Visa has similar arrangements with a variety of banks to get them to use Visa products. The company reported $713 million of "client incentives," and said it expects that to grow slightly in 2015.
Investors gave a thumbs up to the news by sending the stock over 4% higher in after-hours trading.
Overall, the company solidly beat Wall Street expectations for revenues and earnings per share.
Experts often use Visa, MasterCard (MA) and American Express (AXP) financial reports as a rough gauge of how much people are spending. Investors are likely to view the transaction growth as another good "gut check" on America's improving economy.
"Want the holy grail of indicators for trading? You can find it here: $BA $V $AAPL," wrote ClayTrader25 on Stocktwits, referring to the excellent earnings from Apple, Boeing and Visa.
The stock split means that Visa will have less of an influence on the Dow, the index that tracks 30 major U.S. companies, since the Dow is weighted by the price of the stocks.
While Visa still predicts growth for the year, it did echo other companies in warning that the strong U.S. dollar will likely be a drag on revenues.