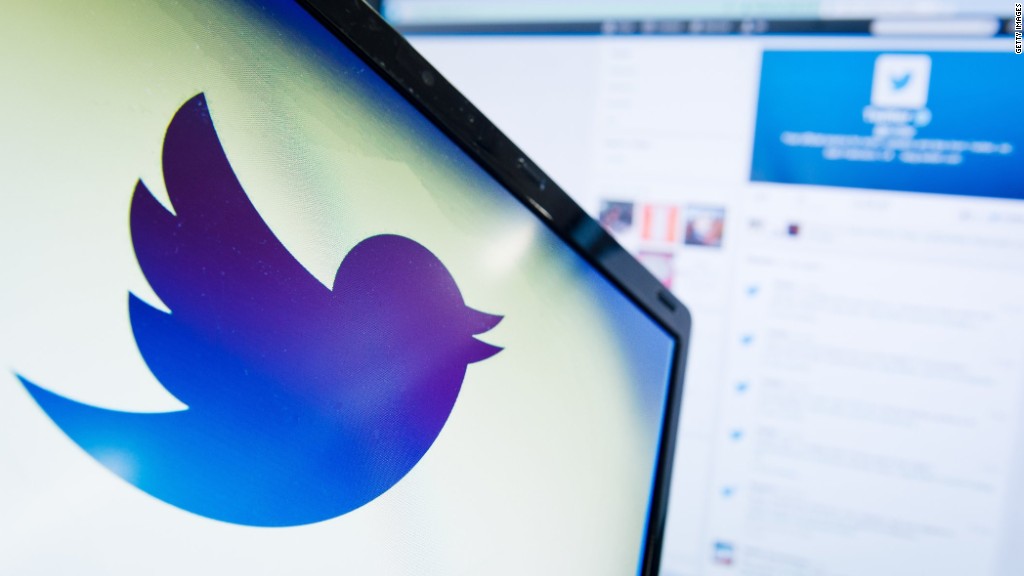 If gossip on the Twittersphere is to be believed, then Twitter CEO Dick Costolo might lose his job.
Thursday's quarterly earnings report could help decide his fate.
Twitter (TWTR) has been an inconsistent stock since its blockbuster initial public offering in November 2013. Shares soared more than 70% on their first day of trading.
A month later, the stock was up nearly 200% from its offering price to over $70 a share. But the stock come tumbling back to Earth since then.
Twitter's stock price was cut in half last year as investors worried about a slowdown in user growth and expressed concerns about the long-term business model.
That's led to some calls for Costolo to be replaced if things don't turn around soon.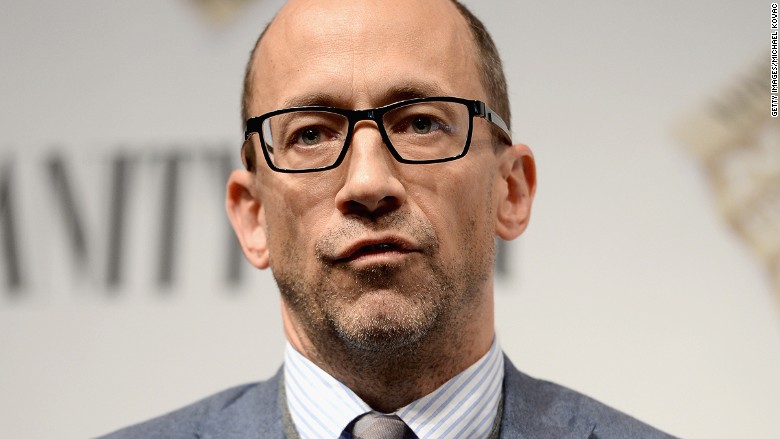 The good news: Twitter is off to a good start in 2015. The stock has gained nearly 15% so far this year.
Twitter has launched two new features that have generated excitement among the user base: the ability to send Direct Messages to a group and a camera function that allows people to shoot and tweet videos directly from the Twitter mobile app.
Related: Twitter launches a 'Buy' button
Shares popped this week after Twitter announced plans to start syndicating promoted tweets on popular magazine app Flipboard.
That could be a nice new revenue stream for Twitter. Selling ads outside of Twitter could make it more like an ad network. It's a strategy that has helped social media rival Facebook (FB) as well as search king Google (GOOGL).
Costolo also has the backing of Twitter co-founder and board member Jack Dorsey, who defended Costolo and Twitter via a -- what else -- tweetstorm last week.
In one tweet, Dorsey said that Costolo -- @dickc on Twitter -- "was one of our first angel investors, our advisor, our COO, the creator of our revenue engine, and our CEO who assembled the team."
He also quoted fellow Twitter co-founder and board member Evan Williams -- aka @ev.
"As for @dickc, our cofounder @ev rightly pointed out there isn't a single person who has been thinking longer about Twitter than @dickc," Dorsey wrote.
The big test: Strong endorsement, but here's what Twitter needs to do Thursday to really silence the "Dick must go" chants: Report solid user growth.
Sure, Wall Street is going to care a little bit about revenue and profits. For what it's worth, analysts are predicting a profit (excluding certain charges) of 6 cents a share and revenue of $454 million.
Related: Twitter should sell itself. Here's why.
But investors have been mostly focused on users. Twitter ended the third quarter with 284 million monthly active users.
That was an increase of less than 5% from the second quarter. The number of users in the second quarter rose more than 6% from the first quarter.
300 million mark: The magic number that Twitter bulls are probably hoping for is 300 million users. Why is that significant? Facebook's Instagram announced in December that it had topped the 300 million user mark.
If Twitter hits 300 million, that would be a 5.6% increase in users from the third quarter. That may reassure investors who fear that Twitter's user growth will continue to slow as it faces competition from Facebook, Instagram, Snapchat and other social media platforms.
Some on Wall Street may want a more dynamic CEO for Twitter. Costolo is not the most exciting person in the world.
And the fact that he is not a founder of Twitter may work against him. He's not a household name like Facebook's Mark Zuckerberg. David Fincher is not going to make a movie about Costolo.
Related: Twitter trashed with junk rating from S&P
It may be unfair, but Costolo's probably viewed more like a hired gun.
Of course, Wall Street often pays too much attention to short-term moves in a stock price.
Remember when some people thought Apple needed to fire Tim Cook because he wasn't Steve Jobs? The stock is back at an all-time high. Good luck finding someone with a valid argument for why Cook should be ousted.
But Cook shut up the doubters with strong earnings and sales. For Costolo, it ultimately comes down to the numbers as well.
If Twitter's user growth improves, his job is probably safe. If not, the cries for his head from the Twitter peanut gallery could get louder.