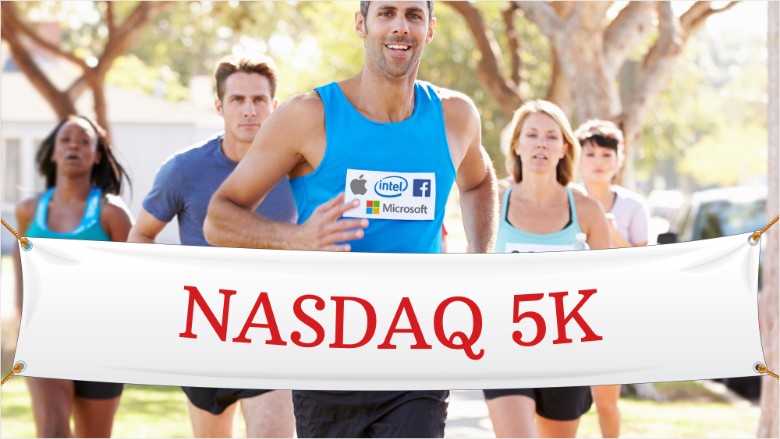 Tech stocks are red hot this winter. Don't expect that to change any time soon.
Apple (AAPL)'s stock keeps hitting all-time highs. Last week, the company became the first American business worth over $700 billion. But Apple is hardly alone. The Nasdaq is at its highest level in 15 years. It's within striking distance of 5,000 -- a level last seen in March 2000, the height of the Dot-com bubble.
"Tech never really goes out of style," says Kim Forrest, senior analyst at Fort Pitt Capital Group in Pittsburgh. She is one of many experts who thinks tech stocks will outperform this year.
Related: Inside the world of Apple's design guru Jony Ive
Goldman Sachs (GS) is also bullish on the tech sector. In a report Monday, Goldman noted that tech stocks tend to excel when Wall Street's expectations are relatively low. That's exactly the conditions in place in 2015 as many market strategists are talking about a good, but not great kind of year.
Internet stocks are having a "monster breakout" this year, says J.C. Parets, president of Eagle Bay Capital, a research firm in New York.
Consider the performance of the First Trust Dow Jones Internet ETF, which tracks several internet stocks including Amazon (AMZN), Facebook (FB) and eBay (EBAY). It struggled last year but is up nearly 10% in the past month alone.
"This is a fresh break out...I think this group continues to head higher," Parets said.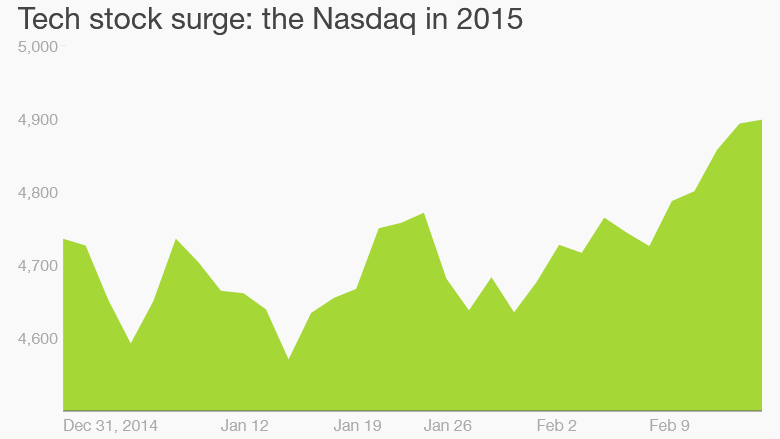 Related: Apple said to be redesigning stores
Show me the money: Perhaps the biggest plus for tech stocks is all the cash they have on hand. Apple isn't the only one with billions in a war chest just waiting to be spent. That money can be used to weather storms -- and invest in new products.
While there are concerns that the tech stocks could be in another bubble similar to the Dot-com era, the cash on hand today is a game changer.
Companies in the Nasdaq 100 had an average of about $50 billion in cash in 1999; now those companies have $206 billion in cash, says Rayner Turley, a tech analyst at Nasdaq Advisory Services.
"The cash: it's a clear denotation of the strength of these companies," Turley says, calling today a "completely different picture."
It also enables tech companies to be much better positioned when the Federal Reserve begins to raise interest rates later this year or next. That will make it more expensive for companies to repay their debt -- or borrow new debt.
But tech companies with their cash stashes will be in good shape, according to Russ Koesterich, Blackrock Group's global chief strategist.
Hardware Wins: Another good sign for tech stocks is the hardware revolution. Semiconductors are used for everything from computer and cell phones to the highly anticipated smart watches.
Related: Tech bubble 2.0? Nasdaq nearing 5,000 again
In short, things look really good under the hood. The Market Vectors ETF tracks the top semiconductor companies in the U.S., and it is up 30% in the past year, just below its all-time high.
"Semiconductors are breaking out to new highs," says Parets, who described them as a "leading indicator," of tech stocks.
Another appealing aspect of tech stocks is that these companies typically reward investors with dividend payouts more often than any other sector. That's welcome news for investors, especially retirees looking for income.
Despite all the good news, investors should not dive into tech stocks blindfolded. Tech stocks are notoriously volatile. That's why it's important to diversify, experts say.
One look at the roller coaster ride of a stock like GoPro (GPRO) is a reminder of the money that can be made and lost in a matter of weeks. It has traded as high as nearly $100 and as low as $29 since it had its IPO in June.
"The company that you think is going to be around for the next millennium is gone in two years," says Forrest, speaking generally.
Still, as the bull market in stocks approaches its sixth birthday and investors look for where the growth is coming next, the tech sector looks ready for more breakout performances.