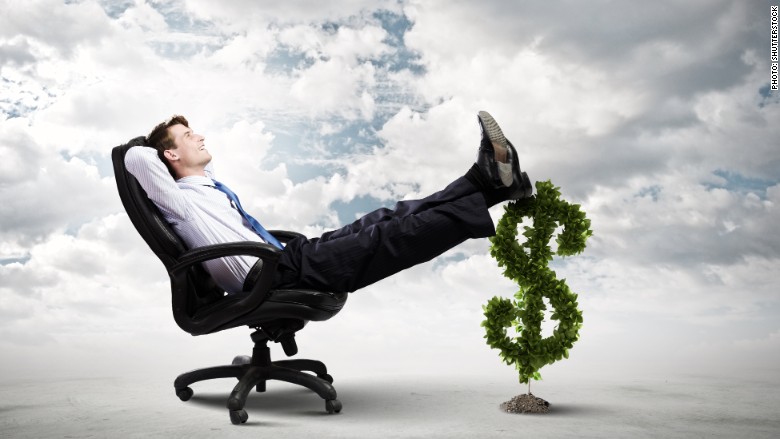 Ever wondered what the "smart money" on Wall Street is betting on these days?
Goldman Sachs (GS) has done the legwork for you. The investment bank did an analysis of the top stocks currently held in over 850 hedge funds and over 700 mutual funds that are actively managed.
Three notable trends emerged:
1. Most funds aren't betting on a market crash: Hedge fund investors can bet on a stock going up or down and make money both ways. At the start of 2015, Goldman found that hedge funds had 57% of their investments in stocks that they bet will go up rather than down. It was a record high, and is a pretty good indication that the smart money isn't betting on a market crash any time soon.
Also mutual funds are holding a mere 3.1% in cash, lower than the average for the past decade, another bullish sign.
Related: Advice from Warren Buffett that could make you rich
2. Americans will spend more: Across both hedge funds and mutual funds, the biggest sector weighting is in so-called consumer discretionary stocks. Those are companies that produce goods like clothing and furniture. There's been a lot of debate about whether Americans will spend the estimated $750 in gas savings they will get in 2015 and fund managers seem to believe that it will happen.
Interestingly, hedge funds are still not giving up on energy and health care, while mutual funds have given up those sectors.
Related: The 'smart money' is investing in oil now
3. The VIP list of stocks: Goldman also noticed that both hedge funds and mutual funds had 11 similar stocks among their top holdings. That means across the board, fund managers like what they see in these companies.
Goldman has dubbed these stocks the "VIP list." We list the 11 stocks below in alphabetical order.
Keep in mind that the S&P 500 is up about 2.5% so far this year. Many people say the stock market looks pricey right now. The official measure of that is the price to earnings (P/E) ratio. At the moment, the S&P 500 is trading at about 18 times expected 2015 earnings. That's higher than the historical average of about 15.5.
Related: Nasdaq tops 5,000 for first time in 15 years
We list the year-to-date performance and P/E ratios (based of expected 2015 earnings) of the VIP stocks below.
1. Actavis (Ticker: ACT (ACT))
YTD performance: 15%
P/E: 17.3
2. American International Group (Ticker: AIG (AIG))
YTD performance: -1%
P/E: 11.2
3. Citigroup (Ticker: C (C))
YTD performance: -1.6%
P/E: 10
4. EMC Corporation (Ticker: EMC (EMC))
YTD performance: -3.3%
P/E: 14.5
5. Facebook (Ticker: FB (FB))
YTD performance: 1.7%
P/E: 40.5
6. Gilead Sciences (Ticker: GILD (GILD))
YTD performance: 10%
P/E: 10.9
7. Google (Ticker: GOOGL (GOOGL))
YTD performance: 6.4%
P/E: 19.7
8. J.P. Morgan (Ticker: JPM (JPM))
YTD performance: -1.7%
P/E: 10.7
9. MasterCard (Ticker: MA (MA))
YTD performance: 6.4%
P/E: 26.3
10. Medtronic (Ticker: MDT (MDT))
YTD performance: 8.9%
P/E: 18.2
11. Priceline (Ticker: PCLN (PCLN))
YTD performance: 9.7%
P/E: 21.7