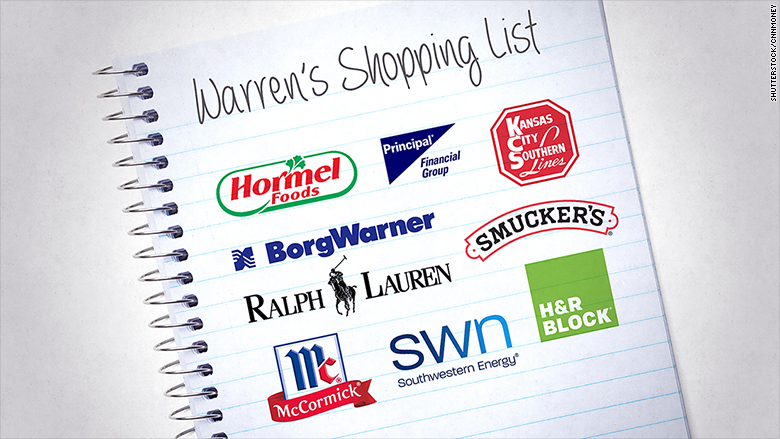 Warren Buffett is a shopaholic. And he is not done hunting for bargains just yet.
The Berkshire Hathaway (BRKA) CEO made it clear in his annual letter to shareholders Saturday that his firm is still looking to buy more companies.
He wrote that Berkshire is "a sprawling conglomerate, constantly trying to sprawl further" and listed the criteria that he and vice chairman Charlie Munger use to determine if an acquisition is a good fit.
Those criteria are on page 23 of the letter in case you are interested. Basically, Berkshire is looking for solid companies with little debt and a history of delivering strong earnings and returns on equity.
"The larger the company, the greater will be our interest: We would like to make an acquisition in the $5-20 billion range," he wrote, basically signaling that he wants to do more sizable deals.
Related: Advice from Warren Buffett that could make you rich
With this in mind, I set up a screen on FactSet to try and find companies that Buffett and Munger might find appealing.
I limited it to companies in the S&P 500 with market values between $5 billion and $20 billion. They had to be trading at reasonable valuations, have strong balance sheets and a great track record when it comes to profits.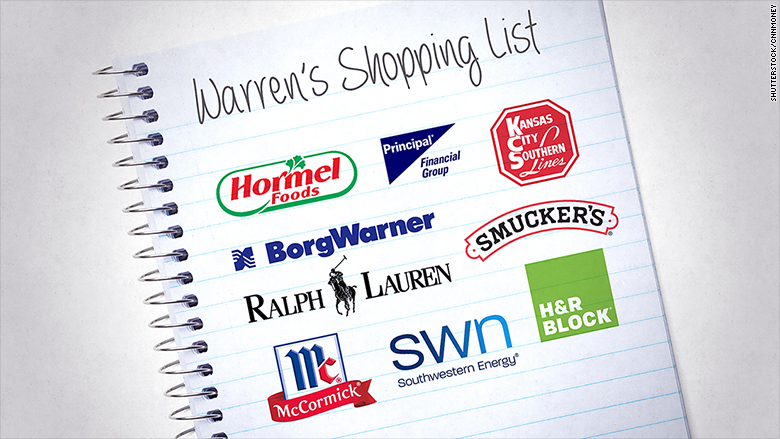 Finally, I immediately excluded the tech sector. After all, this was criterion number 5 from Buffett: "Simple businesses (if there's lots of technology, we won't understand it.)"
Forty companies came up. Here are nine that seemed the most intriguing.
Hormel Foods
Principal Financial Group
BorgWarner
Kansas City Southern
Ralph Lauren
J.M. Smucker
McCormick & Co.
Southwestern Energy
H&R Block
Why these deals could make sense. Hormel (HRL), Smucker (SJM) and McCormick (MKC) all strike me as companies firmly in the Buffett culinary wheelhouse.
Remember that Berkshire owns Heinz (along with private equity firm 3G) as well as See's Candies, Dairy Queen, giant food distributor McLane and The Pampered Chef.
Principal Financial (PFG) seems like a compelling fit with GEICO. Yes, Berkshire has some exposure to life insurance through its General Re unit.
But a combination of Principal's expertise in life insurance and retirement planning services with GEICO's auto insurance policies could rival MetLife (MET) as a one-stop consumer insurance powerhouse.
Related: Warren Buffett knows who next Berkshire CEO is
BorgWarner (BWA) appeals to the car junkie in Buffett. We know how much he loves his Cadillacs ... and GM (GM) stock. Berkshire also recently announced plans to buy privately held auto dealer Van Tuyl Group.
So why not dive deeper into the auto supply chain with a prominent parts company like transmission systems maker BorgWarner?
Kansas City Southern (KSU) is a railroad that has been a rumored takeover target for years due to its access to Mexico.
Berkshire already owns megarailroad Burlington Northern Santa Fe, which has been mentioned in the past few years (both before and after Buffett bought it in 2010) as a possible acquirer.
So has Union Pacific (UNP), the other big Western railroad -- which is also located in Buffett's backyard of Omaha.
Related: House of Cards': Why Frank Underwood's economics plan is crazy
Ralph Lauren (RL) may not seem like a typical Buffett play. But it's a brand name that is well-known and fits all the other criteria.
And even though Berkshire's clothing subsidiaries aren't necessarily the most fashion forward -- i.e. Fruit of the Loom and shoe makers H.H. Brown and Justin Brands -- the company does cater to the luxury crowd with several of its jewelers.
Southwestern Energy (SWN) is a shale gas play that could make sense for Berkshire.
Sure, the company has unloaded some of its energy stocks lately. But its energy subsidiary is still a major part of the company. Munger even hinted that the energy unit's CEO Greg Abel could one day succeed Buffett as Berkshire chief.
Related: How good is Warren Buffett? Very.
Finally, there's H&R Block (HRB). Long-time Buffett watchers will point out that Berkshire used to own the stock several years ago. But that was before the tax preparer agreed to sell its banking unit.
H&R Block's stock has been a strong performer over the past five years, beating the S&P 500 during that time frame. And how awesome would it be to have Buffett team up with the bow-tie wearing "Get Your Billions Back America!" guy?
Now keep in mind that this list is all in good fun. There is no evidence that Berkshire has had any conversations with these companies or that any of them are for sale.
But if Berkshire does wind up buying any of them over the next few years, I'd gladly accept a small finder's fee from the Oracle and Charlie!