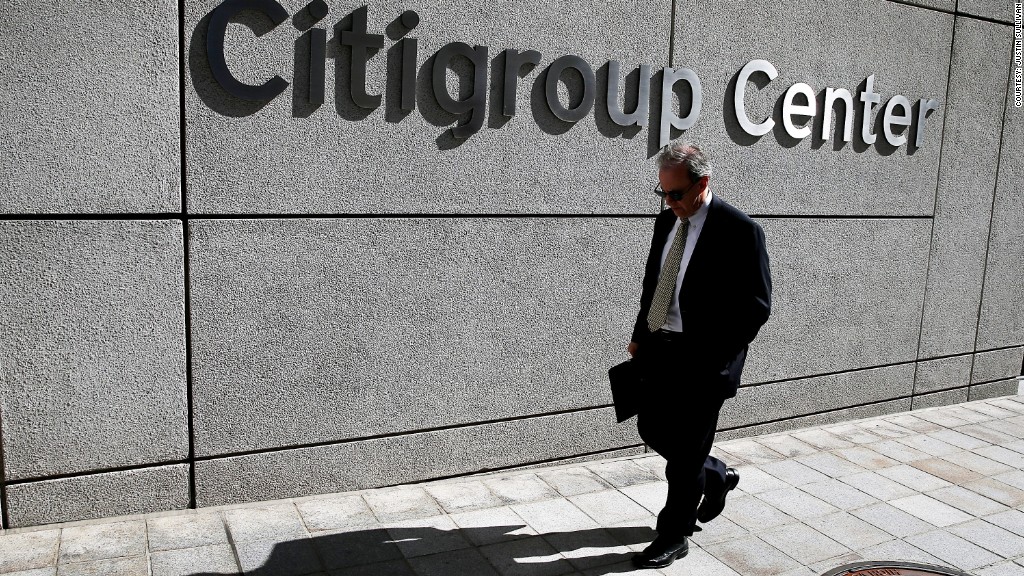 Citigroup is having a great week. But its biggest test -- literally -- is yet to come.
On Monday, Citi (C) and Visa (V) were named as new partners for Costco's (COST) credit card -- replacing American Express (AXP). On Tuesday, Citi agreed to sell its subprime lending unit OneMain Financial to Springleaf (LEAF) for $4.25 billion.
Citi then announced on Wednesday that it was extending its credit and debit card agreement with MasterCard (MA) for 10 years.
That's a lot of deal making. The stock is up 2% so far this week as a result.
Related: Costco teams with Citi and Visa
But all this goodwill could quickly come to an end if it doesn't pass the Federal Reserve's latest stress tests.
Some have even suggested that the fate of Citi's CEO Michael Corbat depends on how Citi does on the test.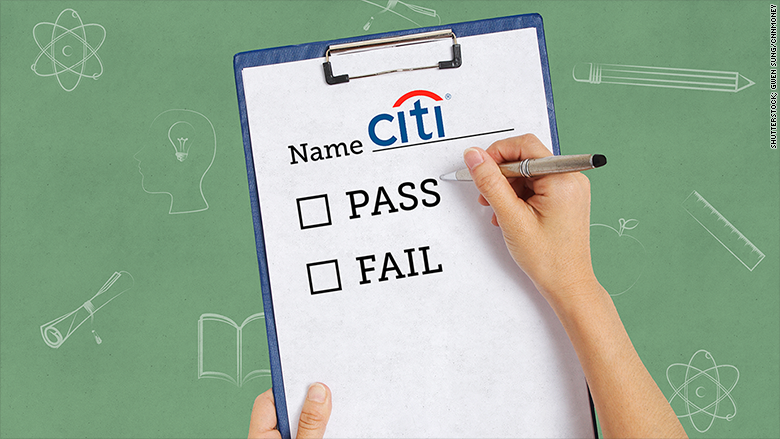 Citi needs to raise its dividend. The results of the first round of the stress tests will be released after the closing bell Thursday.
That will simply show whether or not the Fed thinks Citi and other big banks are able to withstand several quarters of tough economic conditions. Most big banks should be okay on that front.
Next week, the Fed will release the results of whether or not it approves of the big banks' capital plans.
Related: Citi is one of 11 stocks both hedge funds and mutual funds love now
Citi "failed" that part of the test last year. As a result, the company was not allowed to raise its dividend. So it's still stuck paying shareholders a paltry penny per share each quarter. That four cents a year works out to a yield of just 0.1%.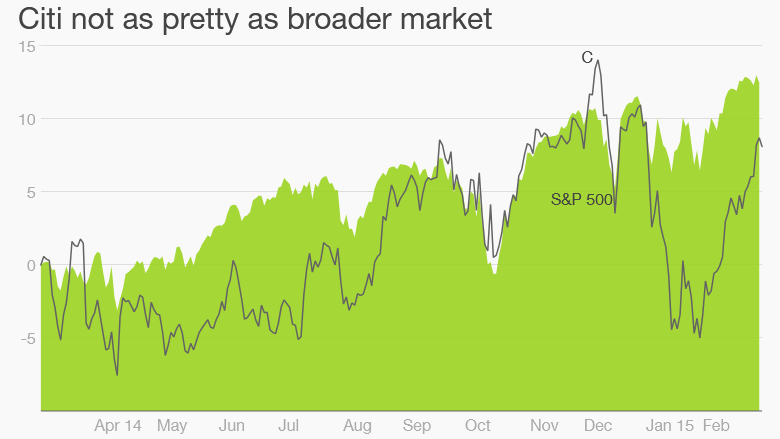 By way of comparison, megabanks JPMorgan Chase (JPM) and Wells Fargo (WFC) pay dividends that yield 2.6%. Large regional banks U.S. Bancorp (USB), PNC (PNC) and SunTrust (STI) have yields north of 2% as well.
Even Bank of America (BAC) now has a dividend that yields 1.2%. BofA finally got the green light from the Fed to raise its dividend after it passed the stress tests last year -- although BofA had to fix a math mistake in its capital plan first.
Related: JPMorgan's Dimon says bank is 'under assault' by regulators
Dividends, as well as stock buybacks, are increasingly important to bank investors these days. That's because the banking sector is even more highly regulated than it used to be in the wake of the financial crisis of 2008.
Risk is now a four-letter dirty word and many banks are likely to report lower, albeit stable, levels of profit growth for the foreseeable future.
Wall Street betting Citi won't fail again. Fortunately for Citi, there is a growing sense that the bank will pass the stress tests.
"I think Citi will get approved for a dividend increase," said Jeffery Harte, an analyst with Sandler O'Neill & Partners. He believes that Citi will probably submit a conservative capital plan to the Fed and that greatly increases the chances of the Fed endorsing it.
RBC Capital analyst Gerard Cassidy takes it a step further. In a recent preview report about the stress tests, he wrote that Citi should get approved for a dividend and a buyback. He estimates that Citi could wind up being allowed to pay an annual dividend of 25 cents and repurchase $9.3 billion in stock.
But what if Citi fails again? Wall Street will not be happy. And neither will the bank's board of directors.
"If Citi gets an objection that's going to be a problem. The bank has put such a focus on it internally," Harte said. "I'm not sure if it would cause the CEO to lose his job, but it's certainly in the realm of possibility."