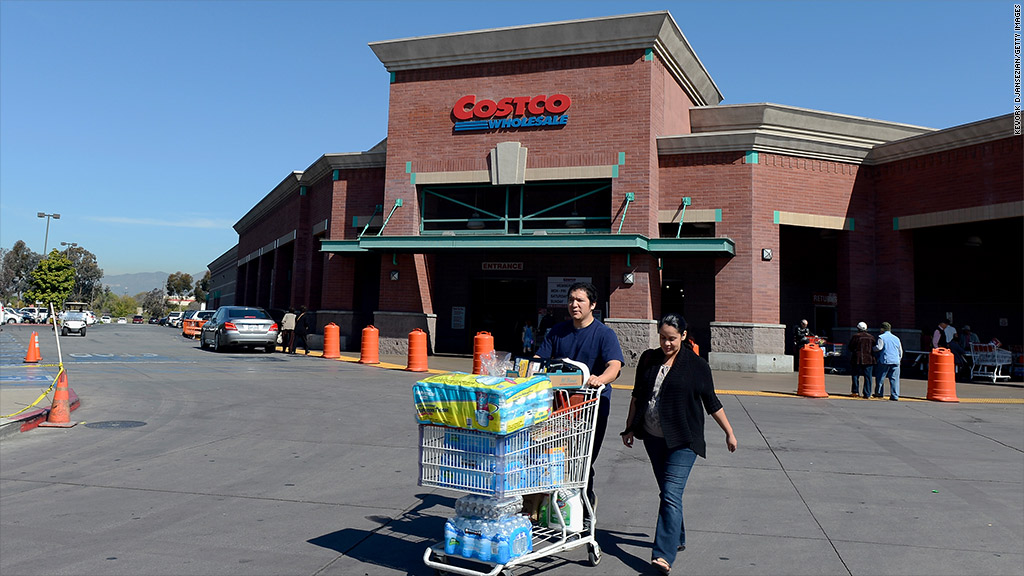 Can anything stop Costco?
The giant wholesale retailer is incredibly popular with consumers ... and investors.
Shares of Costco (COST) rose as high as 2.5% Thursday after the company reported that its latest quarterly earnings estimates easily topped forecasts. People are shopping and same-store sales are up.
The stock is now up nearly 10% this year and more than 30% over the past 12 months -- much more than Sam's Club owner Walmart (WMT), its biggest rival.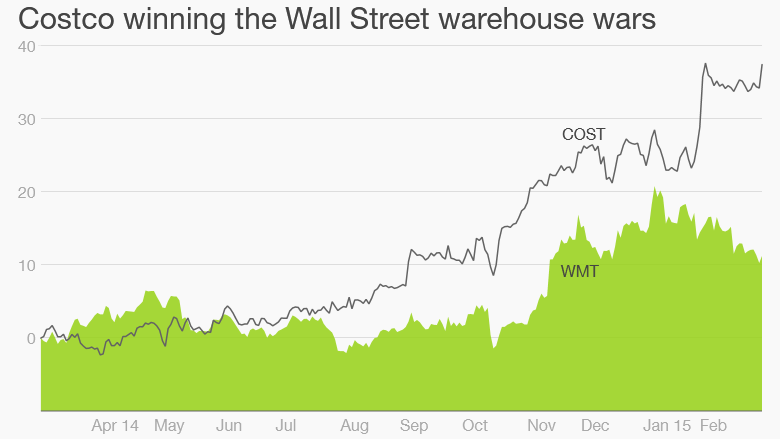 The success of Costco is a sign that many middle class Americans are still extremely cost conscious.
We are bargain hunters by nature and that hasn't changed even as the job market and overall economy have improved over the past few years.
Related: Costco is one of Motley Fool's best stocks to buy
Along those lines, supermarket chain Kroger (KR) -- which is starting to give Whole Foods (WFM) a run for its money by selling cheaper organic food -- reported stellar results on Thursday as well. Kroger's stock soared 5% and hit a new all-time high.
But back to Costco. The company has been in the headlines a lot lately because of its recent credit card switcheroo.
Costco said last month that it would be dumping long-time partner American Express (AXP) and will only accept credit and debit cards from Visa (V) starting in April 2016. Costco will also have a new co-branded card with Citigroup (C).
Related: Costco teams with Citi and Visa
It's doubtful that this looming change will hurt Costco in any major way.
The company has thrived by offering low prices, giant product sizes (3.5 gallon of gourmet popcorn, anyone?) and, of course, tons of free food samples. Nothing is likely to change there.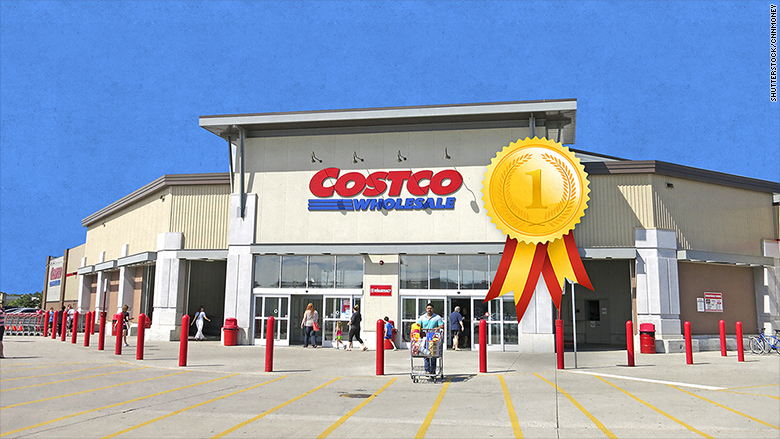 If there is anything to nitpick about in the Costco report, it's that one reason for its strong earnings in the last quarter was somewhat artificial: a one-time tax benefit tied to a special dividend it recently paid shareholders.
The strong dollar has already hurt Costco this year too and could continue to do so if the greenback gains even more ground. That's because the company operates 197 of its 671 warehouses outside of the U.S.
Related: Costco is doing well in Canada while other U.S. retailers have failed
Lower energy prices are also a bit of a blessing and a curse for Costco too. Cheap gas may get more consumers in stores. But Costco is also a major operator of gas stations. So the plunge in gas prices during the latest quarter was a drag on overall sales.
Costco said that its overall same-store sales grew 2% in the quarter. But if you take out the impact of foreign exchange rates and gas prices, sales were up 8%.
That's amazing for a company of Costco's size and it's a big reason why Wall Street remains so excited about the stock.
Still, it's no secret that Costco is crushing it. And its success comes with a hefty price tag. The stock trades at nearly 30 times this year's earnings estimate. That's way higher than the valuations for Walmart and Target.
But as long as customers keep flocking to Costco, investors will follow. And they could be happily singing an old Dave Matthews Band tune: "How I love to stay here at the warehouse."