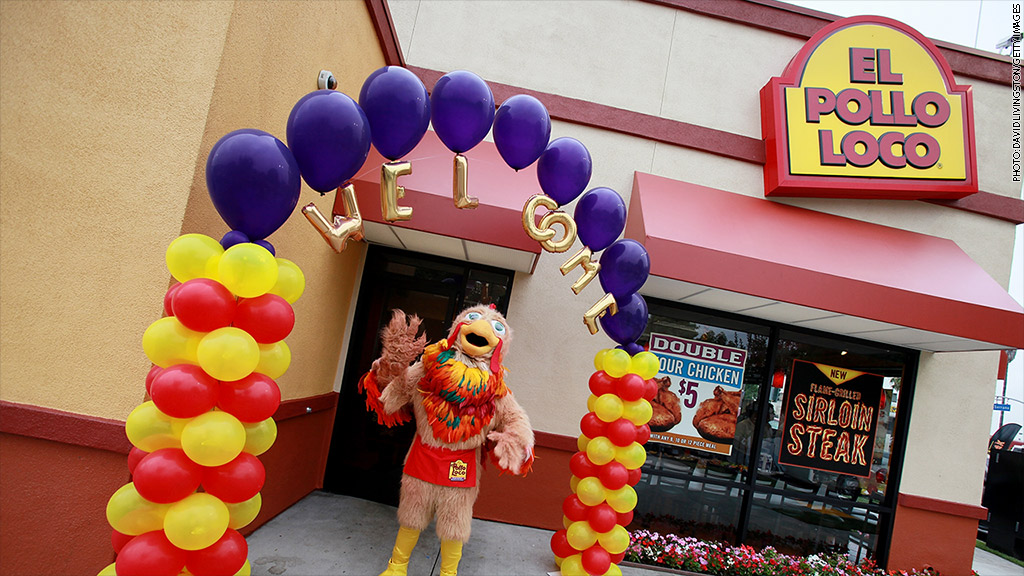 Forget that old adage "Beef. It's what's for dinner." These days it's all about chicken.
El Pollo Loco, the Mexican-style chicken chain that went public in July, may only have restaurants in the Southwest, but it's taking Wall Street by storm...again.
The buzz keeps growing for El Pollo Loco (LOCO), which revealed very strong sales Thursday after the bell. The stock surged 13% in trading Friday. That's an especially great feat considering the rest of the market was undergoing a sell-off.
What's driving the momentum?
El Pollo Loco is capitalizing on a growing Hispanic population and consumers' desire for healthier food. It's known for its grilled chicken while competitor KFC is struggling to shed its fried chicken image.
New menu items like stuffed quesadillas and Baja shrimp have also been a hit, helping to drive spending and store traffic solidly higher. El Pollo Loco enjoyed a 55% surge in fourth quarter earnings as sales jumped nearly 8%.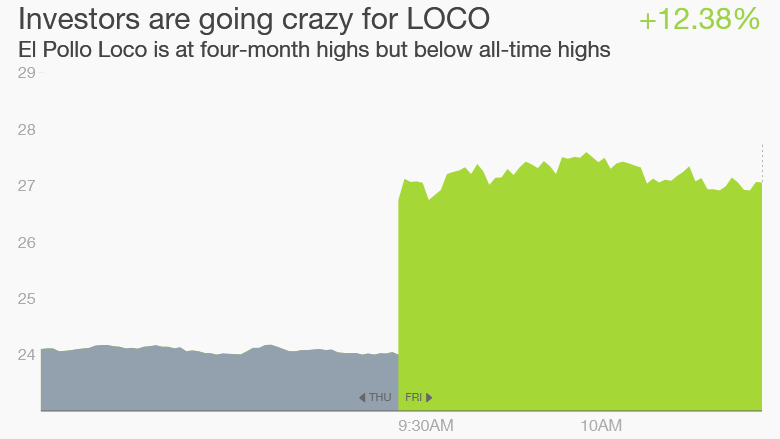 Related: Will investors eat up El Pollo Loco IPO?
Yummy chicken: The growth story is likely to continue. Now El Pollo Loco is expanding beyond its California roots by opening three stores in Houston and announcing plans to roll out a total of 27 in 2015.
For a lot of investors, this stock looks and smells a lot like Chipotle (CMG), the massive restaurant success story of recent years thanks to its popularity with millennials and its reputation as a healthier choice.
Jefferies analyst Andy Barish thinks the crazy chicken has room to run.
El Pollo Loco's current valuation "underappreciates" the company's "robust unit growth opportunity and top-tier operating metrics," Barish wrote in a research report on Friday. He repeated his "buy" rating on the stock and said it could surge to $38 if things go really well for the company.
Investors also look at these U.S. restaurant chains and see that they are likely to do well as the American economy continues to improve. They won't struggle with the currency issues of major international companies or the regulatory headaches overseas. Rival KFC, which is owned by Yum! Brands (YUM), is reeling from a food scandal in China.
Related: Shake Shack gets burned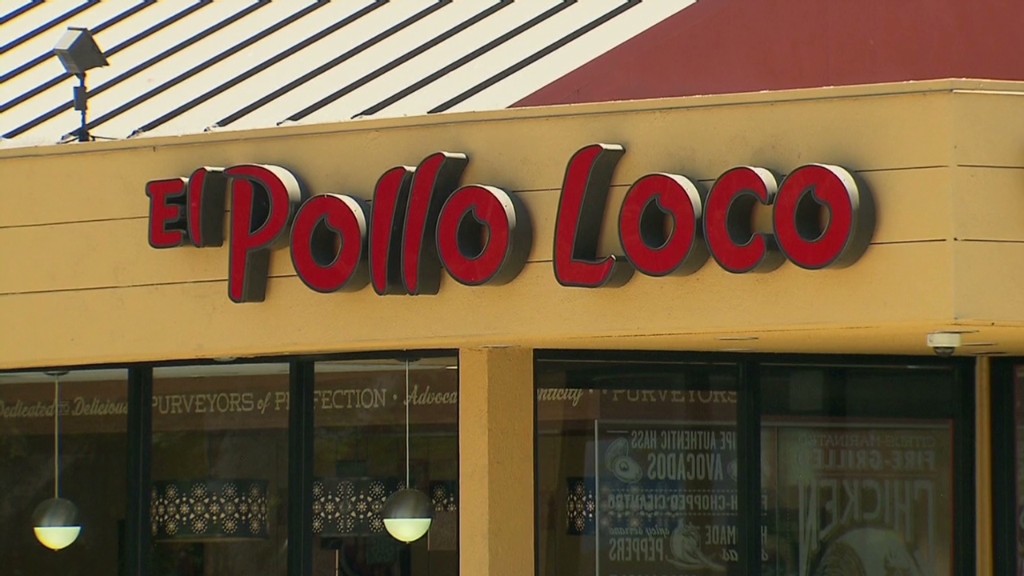 So what could trip up this crazy chicken?
Investors could get a little irrational with their growth expectations. That's exactly what happened last summer as El Pollo Loco spiked from its IPO price of $15 to nearly $42 in the matter of just a few weeks.
Stifel analyst Paul Westra said in a research note that he's a believer in the El Pollo Loco story and concept but not its valuation. He reiterated his "hold" rating on the stock, saying its shares are "fully valued."
Even Barish acknowledges "execution risk" could be a problem, especially given El Pollo Loco's low brand awareness outside of its core markets.
The key for this stock will be management's ability to keep whetting consumers' appetite while managing Wall Street's sometimes crazy expectations.