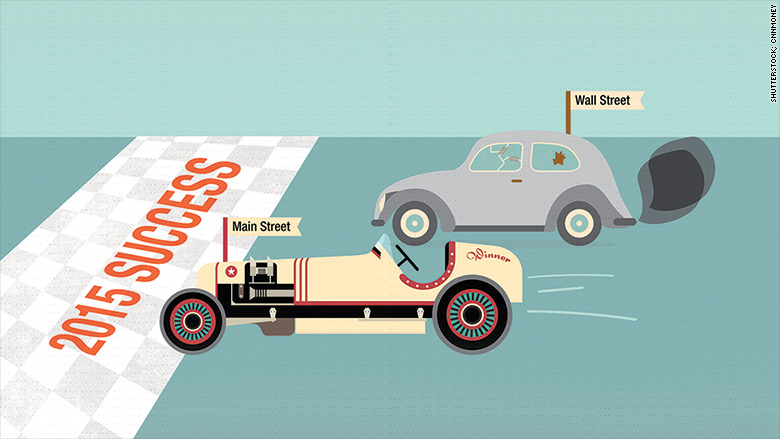 Watch out, Wall Street: 2015 could be Main Street's year.
More and more Americans are finally hitting their economic stride as hiring picks up and gas is cheap. Meanwhile, the big banks are limping these days as fines and new regulations hurt profits.
"We may see the broader economy do better than Wall Street," says Dave O'Malley, CEO of Penn Mutual Asset Management.
While there's no doubt that the rich are still getting richer -- the average Wall Street bonus is still over $170,000 -- middle class America could have its first breakout year since the recession began.
It's an important turning point that bodes well for the economy.
Main Street's Moment: The U.S. just had its best year of job growth last year since 1999. Hiring remains stellar in 2015, with gains across the board in many industries and over half a million jobs added so far.
Unemployment is now at its lowest point since 2008. The only frustration for many workers is that pay is flat or barely growing (wage growth is still a tepid 2% versus the goal of 3.5%), but economists and business leaders expect that to change this year.
Related: There's no stopping the U.S. dollar
Most chief financial officers expect to raise wages for their employees this year, according to a Duke University survey.
Adding it up: Good news is arriving in bunches. Consumer confidence is back at the highest level since before the recession and cheap gas is giving Americans extra spending money.
The national average price for a gallon of gas is $2.42 today, down more than a dollar from $3.51 a year ago. That's big savings for many families. Lower gas prices should drive more spending, which makes up the majority of U.S. economic activity.
The University of Michigan's consumer confidence index hit 95 in February, down slightly from January, but higher than any other month since the recession began.
"This probably will be the year for the consumer," Marie Schofield, chief economist at Columbia Management in Boston. "Wage growth will probably start to pick up later this year."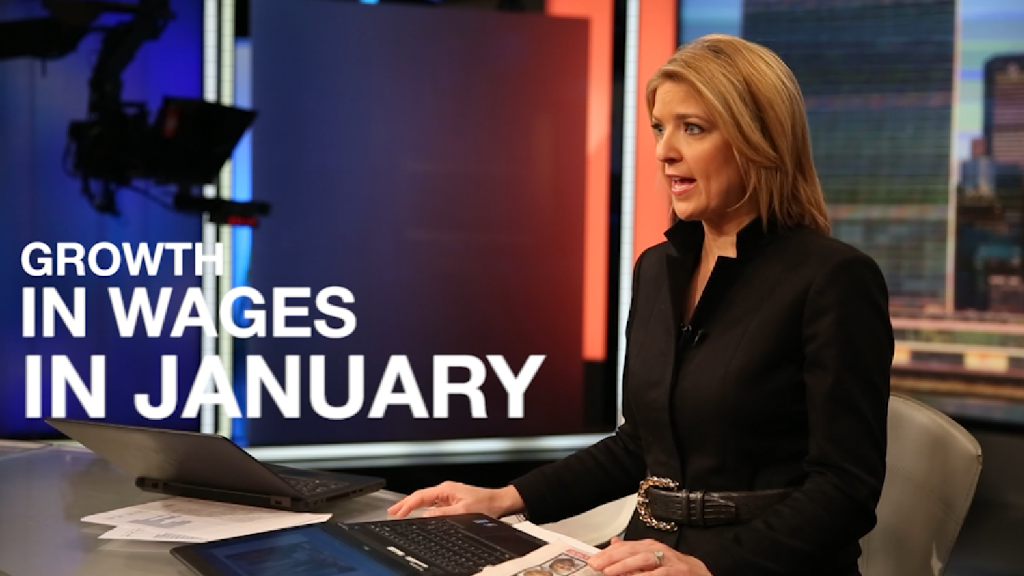 Related: Good news: Unemployment at lowest in 7 years
Wall Street Worries: Nobody is crying for big banks. They're still dishing out huge bonuses, but Wall Street bosses are starting to look concerned as headwinds grow stronger.
Banks are one of the worst performing categories in the stock market, down slightly this year while the S&P 500 is up.
Big bank stocks, like JP Morgan (JPM) or Citi (C), are flat or down so far this year. Bank of America (BAC), the nation's second largest bank, got an incomplete on its Federal Reserve stress test and will face continued scrutiny. Its stock is down 10% this year and CEO Brian Moynihan is on the hot seat.
Stricter regulation, big fines and low interest rates are squeezing banks' profits. The Federal Reserve is requiring banks that want to trade high-risk assets, like subprime mortgage loans, to hold more cash in their coffers. That's money the banks can't be spending or trading now.
And while there is much talk of an upcoming Fed interest rate hike, rates aren't expected to increase much in the coming months. Low interest rates prevent banks from charging higher rates on loans to their customers -- a major revenue driver.
The big picture still looks overcast for the banks.
Fines take toll: As a group, their earnings declined 7% in the fourth quarter in 2014 compared to the same time a year ago. Some of the largest banks paid a combined $4.4 billion in legal fees, according to the nation's bank regulator.
All together, the six biggest banks have paid $178 billion in fines since 2009, according to a December report by the Boston Consulting Group.
Oh yeah, quite a few market strategists also say stocks are overdue for a correction (when the market drops 10% or more). Many Wall Street trading desks have struggled in recent months to book the kind of profits they once did.
Related: 86% of investment managers stunk in 2014
Wall Street has a history of bouncing back, but 2015 could finally be the year Main Street rebounds too.