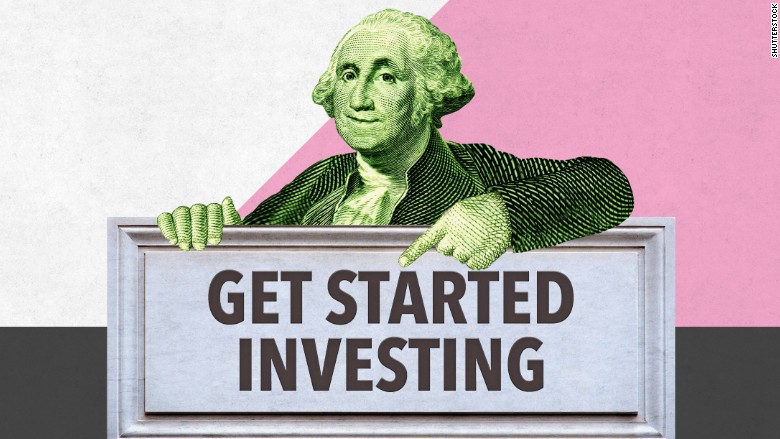 If investing looks wild and confusing to you, don't worry. We know.
There are lots of tongue-twisting acronyms like DJIA and REIT. They can make a beginner want to say WTF.
So let's clear the fog.
CNNMoney asked both normal Americans and Wall Street experts, "What would you do if you had $1,000 to invest?"
They all said the same thing: Knowing yourself is just as important as knowing all those stocks and acronyms.
"There's a lot more that you need to understand about yourself before you start saying, 'what should I put my money into?'" says Douglas Wood, a 65-year-old retiree from Kalamazoo, Mich.
Related: 6 stocks that left the bull market in the dust
Here are four questions to answer before hitting the "buy" button.
What are your goals? Outlining what you want your investments to accomplish will help guide you in the right direction, investors and experts say.
It's like creating a road map. You wouldn't drive cross-country without at least peaking at Google (GOOG) Maps.
"It's like anything, whether you're buying a house, buying a car or saving for college -- what are your goals?" says Ernie Cecilia, chief investment officer at Bryn Mawr Trust.
Are you saving for retirement? For a home? A kid's college fund? This will determine how risky you want to be with your money.
Related: Should I bet it all on Warren Buffett?
Can I see an ID please?: Your age is an important metric to understand how much risk you should take. According to investors and experts, the younger you are, generally, the more investing risks you can take.
Take 23-year-old Justin Brosseau for example. He started putting his savings into stocks when he was 15 years old and is comfortable taking risks mostly because he's young. He made a 250% profit on his first stocks he bought.
"Age was a big factor for me," Brosseau says. "I really didn't have much to lose."
Meanwhile, Douglas Wood, a 65-year-old retiree, tells new investors to start slow and "put your toe in the water." He started investing a decade ago, and he's doubled his portfolio's value. But going into retirement, Wood sensed a need to conservatively manage his money.
Related: Related: Apple stock is making regular Americans rich
"I contemplated many times, 'What should I do?'" Wood says. His advice: "Get in the game and learn."
What's your schedule? How much time do you want to spend learning about stocks, bonds, currencies commodities, ETFs, REITs....you get the point.
"People have to be honest with themselves about those limitations," says Albert Brenner, director of asset allocation at People's United Bank.
Related: 6 stocks to buy and hold for the next decade
If you're busy with work, school or the kids, individual stock picking may sound fun, but it's probably not your best bet. Experts and investors say beginners should consider exchange-traded funds (ETFs) that follow a wide range of stock, or sometimes the entire market.
Some ETFs, such as SPY (SPY) ($205 a share), track the S&P 500 -- an index of 500 of America's biggest brands. Generally these investments are less volatile than an individual stock, and they grow over the years. SPY is up almost 80% over the past five years because we've been in a bull market.
Related: Meet the #2 most popular fund in the world
"I would highly urge them to invest in funds," says James Abate, managing director of Centre Asset Management.
On the other hand, if you're willing to do your homework and want to buy individual stocks, go for big names, also called blue chips, investors say.
Brosseau first went for Citi (C) and GE (GE). Wood owns Apple (AAPL) and Cisco (CSCO). These stocks aren't guaranteed to be winners this year, but history shows that the blue chips tend to be safer investments among individual stocks.
Related: The bull market is six years old. Now what?
What's the cover charge? Whether you go for ETFs, individual stocks or another investment, keep an eye on fees. For instance, E*Trade (ETFC) charges $9.99 per order.
If you only have $1,000 to invest and you want to put some into individual stocks, you may want to just go for one or two companies. Why pay 10 fees for 10 different companies? That eats into your returns.
Making the picks on your own can be more time consuming, but it's the cheaper option compared to letting someone else manage your money. Fund managers almost always charge more fees than an account you mange yourself.
Once you can navigate those questions, then start exploring your investing options.