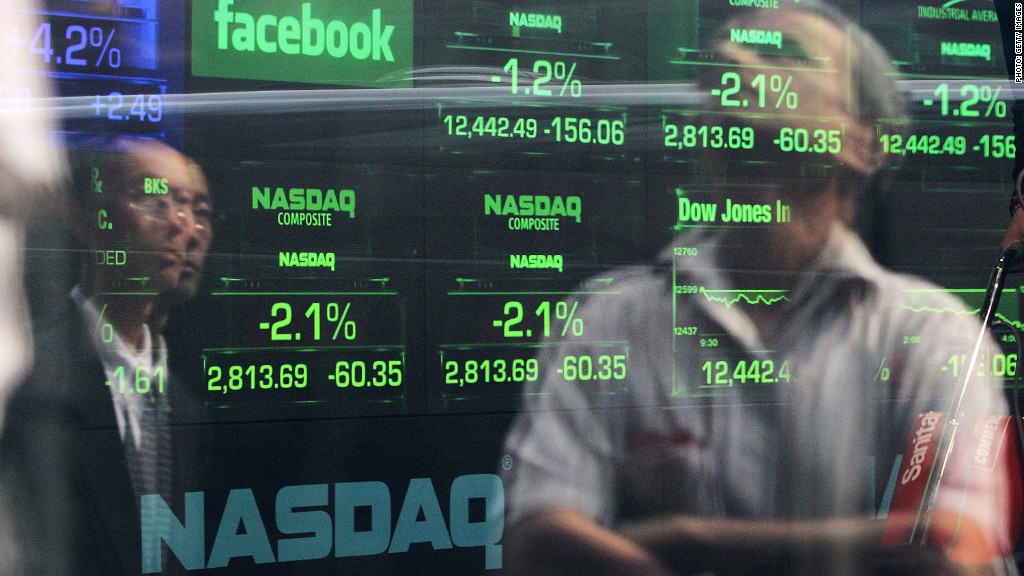 If you believe the bears, this is a stock market that only SpongeBob SquarePants could love. There appear to be a lot of bubbles.
The Nasdaq is back above 5,000 and not far from its all-time high.
And social media stocks are leading the charge in tech. Twitter (TWTR) is up more than 35% so far this year. Facebook (FB) is at an all-time high. LinkedIn (LNKD) trades for nearly 90 times 2015 earnings forecasts.
So this must be 2000 all over again, right?
Not exactly.
Sure, the sector's leaders are flying high. The stocks may be ahead of themselves and could be due for a pullback.
But Facebook, Twitter and LinkedIn are all reporting healthy gains in revenue and are expected to post solid increases in profits over the next few years.
Related: Mark Cuban is worried about a bubble in startups
These are real companies with enormous, entrenched user bases generating actual revenue from ads and fees. They are not the second coming of Webvan, theglobe.com and Pets.com.
Another difference between now and 15 years ago? Investors are also doing a better job of picking winners and losers this time around.
Companies that aren't doing well are being punished. There isn't a wave of hype lifting all social media stocks.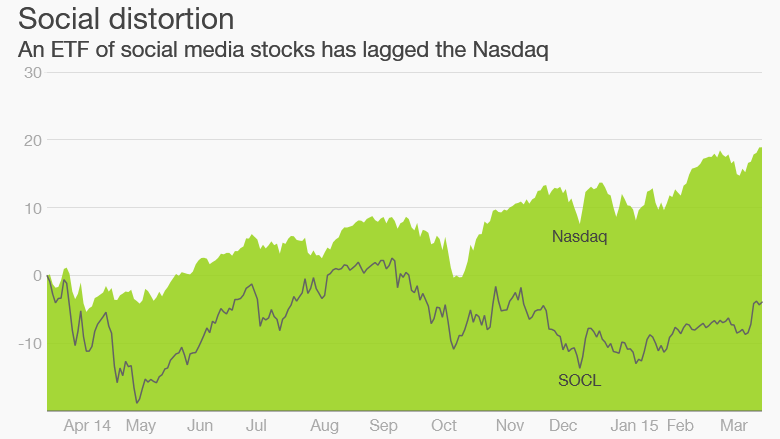 In fact, the Global X Social Media Index (SOCL) exchange-traded fund has fallen during the past year while the Nasdaq is up nearly 20%.
Even though this ETF owns the big social media companies that are thriving, it also holds many of the industry's laggards -- such as Groupon (GRPN), Zynga (ZNGA), Yelp (YELP), Pandora (P) and Angie's List (ANGI).
Related: Why this tech party isn't like 1999
If things were really as insane as they were in 2000, you would see a lot more companies with poor track records taking part in the rally along with the their stronger rivals. That's not happening now.
Yes, there are some private companies that have raised significant sums of money from prominent venture capitalists and are already worth tens of billions of dollars. That is a little unsettling.
Will companies like Uber, Aribnb and Snapchat be able to generate the strong levels of revenue and earnings growth that Wall Street will demand from them if they decide to go public? That's not clear.
Heck, Uber's $40 billion valuation makes the ride sharing app worth more than Twitter and LinkedIn.
So if there is a bubble anywhere in tech, look at the companies that aren't yet trading -- not the ones that are already public.