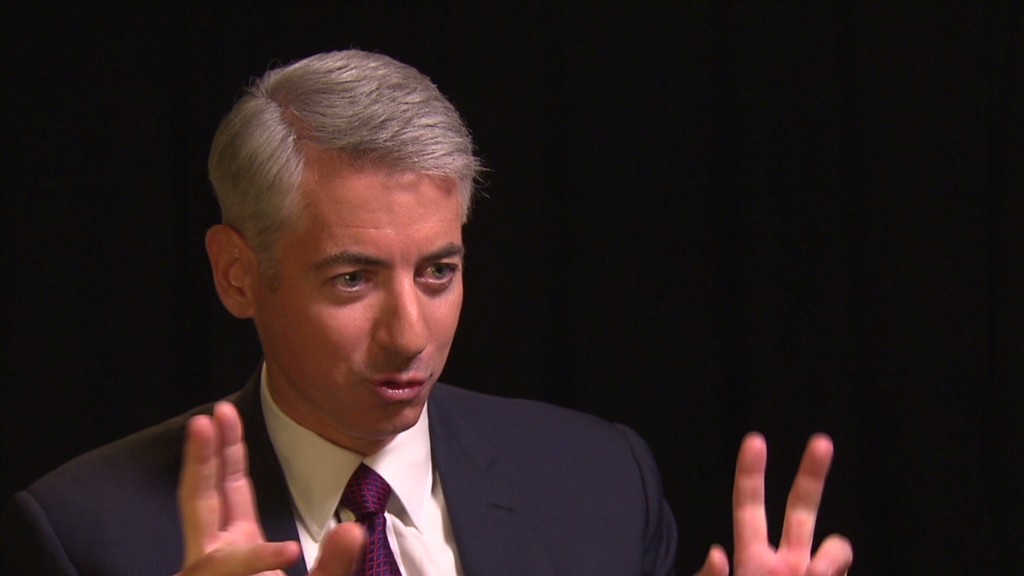 Herbalife, the nutritional supplement company that billionaire hedge fund manager Bill Ackman thinks is a worthless pyramid scheme, is having a freakishly good month on Wall Street.
Shares of Herbalife (HLF) are up nearly 40% so far in March, despite a 5% drop on Tuesday.
This is bad news for Ackman, who has a so-called short bet on Herbalife -- a way for him to profit when the stock goes down.
Why is the stock as pumped up as a bodybuilder that drinks Herbalife protein shakes?
The Herbalife saga has gone on for two years and counting. Investors seem to be betting that Ackman's long battle against the company is losing steam.
Ackman, through his hedge fund Pershing Square Capital Management, first announced in December 2012 that he was shorting the stock. It was a billion dollar bet that the company's shares would go to zero.
Shares of Herbalife more than doubled in 2013 as fellow hedge fund manager Carl Icahn acquired a stake and waged a public feud with Ackman about the company.
Related: This fund manager is not a fan of Carl Icahn
The two exchanged verbal blows in a CNBC interview that year. The two sort of kissed and made up after that. But Icahn is still Herbalife's biggest shareholder, with an 18.5% stake.
Ackman appeared to be vindicated last year as Herbalife shares plunged 50% due to renewed concerns about the company's business model and some disappointing earnings. (Shares of Icahn's investment firm Icahn Enterprises (IEP) surged in 2013 and fell last year. His Herbalife stake is one reason why.)
Trouble for Pershing and legal victory for Herbalife. But earlier this month, the Wall Street Journal reported that the FBI was looking into potential manipulation of Herbalife's stock and that agents interviewed people hired by Ackman.
Ackman denied any wrongdoing, saying in a press release that neither he nor anyone at his firm "are aware of any statements that we have made that are untrue, nor are we aware of any unlawful conduct on our part or by any consultants that we have hired."
He added that "at no time have I or Pershing Square intentionally made any false or misleading statements about Herbalife."
Related: How to invest like a billionaire
Still, the stock soared after the WSJ story and it took off again last week after a judge for the District Court for the Central District of California threw out a shareholder lawsuit by investors who lost money because they said Herbalife inflated its stock price.
Herbalife, which relies on sales reps recruiting others to market the product like Avon, responded to that news by saying that "we are confident in the strong fundamentals of our business model and remain committed to helping people and communities improve their nutrition."
Herbalife has consistently maintained that Ackman is wrong and that he is trying to push the company's stock price down so he can profit.
But Ackman was quick to point out that Pershing was not involved in the shareholder lawsuit and that "the Court's decision did not address in any way whether Herbalife is an illegal pyramid scheme, nor did the Court exonerate or bless Herbalife's business practices."
Ackman added that the "Court dismissed [the] claim because, as it explained, 'the market was already aware that Herbalife might be a pyramid scheme.' In other words, [the plaintiff] should have known of possible fraud charges against Herbalife."
Stock is too volatile for regular investors. So what's next? It's impossible to say.
Ackman's allegations have led to more scrutiny of Herbalife and other multi-level marketing firms, i.e. companies that reward those who recruit the most people to sell the company's products.
This business model is also used by consumer product firms Avon (AVP), Nu Skin (NUS) and USANA Health Services (USNA). Their stocks have been extremely volatile during the past two years.
Herbalife, Icahn and other fans of the stock can argue that shares are undervalued -- trading for just 10 times 2015 earnings forecasts -- and that the company has been unfairly targeted by Ackman.
Ackman is showing no signs of giving up. Ackman reportedly shorted Herbalife at a price of around $48, according to Bloomberg. That means his investment is currently profitable now that the stock is around $42. But it was above $48 earlier this week.
For average investors, it's probably better to steer clear of the stock. They should sit back (perhaps while enjoying a pumpkin banana smoothie) and enjoy watching the fortunes of Ackman and Icahn rise and fall.